Story highlights
Matt Eich photographed the Sellers family for 10 years
He hopes his photos will shed a new light on Appalachia
In February 2006, Matt Eich met Jessie Sellers at a car wash in rural Chauncey, Ohio. Sellers was washing dirt bikes, the tires thick with mud. He had coarse, dark hair and the shadow of a beard. He beckoned Eich over.
After a few minutes of conversation, Sellers told the young man to hop in the back of his truck and come visit his family at home.
It was the invitation Eich had been waiting for. At the time, he was just 19, a sophomore studying photojournalism at Ohio University in nearby Athens. He was on an assignment for class, to document a community through photos. While his classmates searched elsewhere for stories, Eich landed in Chauncey, a small town of about 1,000 people about 15 minutes from campus.
"I was really interested in the town," Eich said. Chauncey rests at the foothills of the Appalachian Mountains, not far from West Virginia. Like other places in the region, Chauncey's once-booming coal-mining corporations have fled, leaving the community impoverished and "brokenhearted," according to Eich.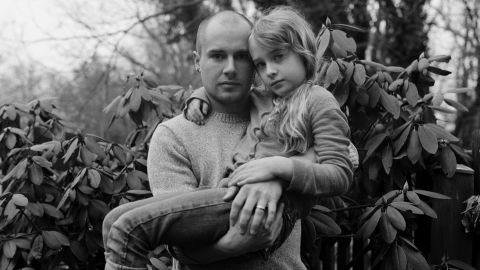 But when Eich visited the town, and especially when he met the Sellers family, he saw a different picture. The community showed tenacity, intimacy and love, even in the depths of loss and poverty.
After hitching a ride in Jessie's truck, Eich was introduced to Jessie's wife, Tracy, and their four children: Jessie Jr.; William; and Kacey and Lacey, twin sisters who were born deaf. The Sellers "accepted me as part of the family," Eich said.
With the family's permission, Eich became witness to the Sellers' daily routines. Jessie worked as a welder while Tracy stayed home with the twins, who were 4 at the time. "The house was chaotic," said Eich, who is the oldest of four kids himself.
Eich captured the family cramped on their sofa, watching TV. He followed them outside, photographing the children playing on their father's shoulders and sledding in the snow, their mother watching from the window.
One early picture particularly stood out to Eich. It's a shot of Lacey, standing in the middle of the road in their neighborhood, glancing over her shoulder. Beneath her feet is a tire mark left by her father. "You shoot hundreds of photos every day, and this was just one of the moments you wait for," Eich said.
At the time, Eich said, he couldn't put his finger on what struck him about the photo. The realization came later, when the photographer had children of his own. "In the photo, there's some uncertainty to the road; you can't really see where it leads. It makes me think of the opportunities my daughters have, compared to those that the twins have."
After Eich's assignment ended, he continued to photograph the Sellers for the next 10 years, using the images for part of his recently published book, "Carry Me Ohio." In 2010, the family moved near Columbus, Ohio, where the twins could attend a school for deaf children. Eich saw the sisters, who are now 15, grow up along with their brothers. Jessie Jr. is now graduating high school and joining the military, while William is in high school.
The biggest challenge of his 10-year project was "keeping up with people," Eich said. The Sellers family attended Eich's wedding in 2007, when he was a college junior and his wife a sophomore. The twins were flower girls in the ceremony. He graduated college in 2009 and now lives with his wife and two children in Charlottesville, Virginia, but he makes sure to visit the Sellers when he can. "We catch up, and then we're right back where we were before," he said.
As a photographer, Eich said, "I can disappear, and their life continues."
Through the years, the Sellers have watched Eich's work evolve. "I think they enjoy looking back," he said. Though it's sometimes hard to gauge a reaction from the family, Eich says it's "nice to have attention paid (to them)."
Eich hopes his photos will shed a new light on Appalachia.
"People from this part of America, they don't have a lot," Eich said. "We still need to be able to hear them."
Matt Eich is a photographer based in Charlottesville, Virginia. His book "Carry Me Ohio" is available from Sturm & Drang. The project was made possible in part by funding from The Getty Images Grant for Editorial Photography and The Economic Hardship Reporting Project. You can follow Eich on Facebook, Instagram and Twitter.