Story highlights
Murphy says his family has "never done business with Donald Trump."
Murphy's family business built two Trump-branded towers.
(CNN) —
Patrick Murphy, the Democrat in Florida seeking to unseat Sen. Marco Rubio in November, has flat-out denied he and his family have ever done business with Donald Trump, even though his family's construction company built two Trump-branded condominiums in the state and Murphy's father appeared alongside Trump at a groundbreaking ceremony for one of the projects.
Murphy, who has tried to tie Rubio to the controversial words and actions of the Republican presidential nominee, found the tables turned on him in a recent debate, when Rubio accused him and his family of making "millions" off business dealings with Trump.
After the debate Murphy told the local NBC8 station in Florida of Rubio's attack, "It's an absolute lie, we've never done business with Donald Trump. We've never had a contract with Donald Trump."
But the construction company owned by Murphy's father, Thomas Murphy built two luxury buildings that bear Trump's name — "Trump Royale" and "Trump Hollywood." The hundred plus million dollar contracts were awarded to Coastal Construction in 2005 and 2007, respectively. The younger Murphy was briefly a vice president at the construction company, and still owns millions of dollars worth of company stock gifted to him by his father.
Earlier this year, Thomas Murphy told the Palm Beach Post that Trump wasn't the developer and had no ownership stake in either project, but that Trump, as with many other properties that bear his name, was paid by the developers to license his name. The licensing of Trump's name, in theory, creates buzz around a project and attracts potential buyers.
The younger Murphy's campaign is using that arrangement as a defense to say Coastal Construction, and therefore the Murphys, have not personally profited from Trump.
However, Trump was not just the name put on the buildings. He was the public face of the projects, appearing in promotional materials, doing interviews to hype the new buildings, and attending major events associated with the developments.
In photos obtained from Getty and reviewed by CNN's KFile, Thomas Murphy can be seen with Trump at the groundbreaking ceremony for Trump Hollywood in 2007. Murphy can be seen in the photos wearing a Trump-branded hard hat.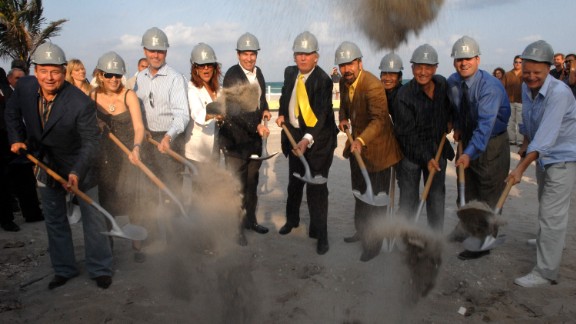 Both properties are prominently listed on Coastal Construction's website. An internal campaign self-opposition research book, published by BuzzFeed News earlier this year, showed the campaign realized the ties to Trump were a liability for Murphy. The book quoted the company president touting their construction projects "for world-renowned developers including Jorge Perez, Craig Robins and Donald Trump."
A Murphy spokesman said promotion was the extent of Trump's involvement in the project.
"Donald Trump showed up for a photo-op and collected a check to have a building named after him," said a spokesman. "The project's developer paid him for that kind of marketing, and that was extent of his involvement. Coastal Construction has never worked for Donald Trump. We welcome Marco Rubio's desire for this election to be decided over who supports Donald Trump and who wants him to be president."
A Quinnipiac university poll released last week shows Rubio leading Murphy by only 2 percentage points. The two candidates will face off on Wednesday in their second debate.