Story highlights
Turkey wants to keep Kurdish fighters from establishing control of Syria's side of border
Airstrikes come as Syrian forces, Russia begin "humanitarian pause" in Aleppo
Turkey says its warplanes have bombed Kurdish fighters in northern Syria, marking what may be the biggest single attack by Turkish forces against US-allied Kurds in that war-torn country since the Turkish military launched an incursion into Syria two months ago.
The bombings happened Wednesday night against Kurdish fighters advancing against ISIS militants near Afrin, a city about 40 kilometers (25 miles) northwest of Aleppo, Kurdish militia representatives said.
There was conflicting Information on the number of dead. Turkey said its attacks killed 160 to 200 Kurdish fighters. However, a predominantly Kurdish political party in Turkey, the HDP, said 14 people, including four civilians, were killed.
The Turkish military also reported a cross-border exchange of fire early Thursday, saying five mortars from Afrin landed in the Turkish province of Hatay. Turkey said it responded with howitzer rounds, and no casualties were reported.
The airstrikes are a new chapter in Turkey's complicated involvement in neighboring Syria, where the Islamist terror group ISIS, Syrian rebels and other factions have fought in a civil war of more than five years.
And it comes as Syrian regime forces and their Russian allies begin a "humanitarian pause" in Aleppo after weeks of bombardments against rebels there.
Turkey vs. Kurdish militias in Syria
Turkish tanks entered northern Syria in August in part to help Syrian rebels fight ISIS. At the time, Turkish President Recep Tayyip Erdogan said the incursion was part of an effort not only to battle ISIS but also the YPG, the military wing of the Syrian Kurdish opposition Party for Democratic Unity, or PYD.
Turkey and the YPG share a common enemy in ISIS. Kurds are a large ethnic minority in Syria, and they have been a US ally against ISIS there.
But Turkey is determined to keep Kurdish fighters from establishing control of Syria's side of the Turkey-Syria border should ISIS be pushed out.
Assad's wife: I turned down chance to 'run from Syria'
Turkey says the YPG and PYD are linked to Turkey's own Kurdish insurgents, the outlawed Kurdistan Workers' Party, or PKK, which Turkey has designated a terror group and has been fighting for years.
The YPG said that Turkey's airstrikes Wednesday night targeted fighters from the YPG-affiliated Jaish al-Thuwar, or Revolutionary Front, which it says was advancing against ISIS in the eastern part of Afrin.
Turkey's military said it hit targets that PYD and PKK control with 26 bombs, destroying headquarters, ammunition storage and shelter.
Elsewhere in northern Syria on Wednesday, the PYD and PKK took control of five residential areas near al Bab, more than 40 kilometers northeast of Aleppo, extending the area those groups controlled to the east, according to the Turkish military.
In response, Turkey said it hit 13 PYD/PKK targets and 24 additional ones belonging to ISIS; further details were not released.
In recent months, much of Turkey's firepower has been directed at the Kurdish separatist PKK in southeastern Turkey and across the border in northern Iraq. It has also occasionally attacked ISIS positions in northern Syria.
The Turkish leadership has strongly expressed a desire to be part of the Iraqi-led coalition to oust ISIS from the northern Iraqi city of Mosul, just across the Syrian border, but Iraq's government has so far rejected the overtures.
Suicide bomber killed by anti-terror forces in Turkish capital
Lull in Aleppo airstrikes
Russia halts Aleppo airstrikes for 8 hours
In east Aleppo, a Russian-declared "humanitarian pause" began Thursday, which Russia says will allow rebels and civilians to leave rebel-held sections of the city during daytime for three days.
The Russian Defense Ministry unexpectedly announced the pause Tuesday after a weeks-long bombardment of the Syrian city. The airstrikes and the rising death toll received fierce criticism from Western powers.
There have been no airstrikes in the city since dawn Tuesday, Aleppo residents told CNN.
The "humanitarian pause" will run until Saturday for 11 hours daily, starting 8 a.m. local time (1 a.m. ET), Syria's army said. Russia has urged rebels to withdraw from the area using two corridors that lead west to the rebel-held Idlib province. However, rebel groups have told CNN they have no intention of accepting the offer.
Six other corridors will reportedly be available to civilians who want to leave the besieged area, home to more than 250,000 people.
UN's special envoy warns 'Aleppo will not be there anymore'
'We don't trust the regime'
Video recorded Thursday by a photographer in the city showed no one using one such corridor.
A resident of a rebel-held area of east Aleppo said two factors appeared to be keeping people from taking advantage of the corridors.
"Many residents … actually want to go out of the city, yet we don't trust the regime," he said on condition of anonymity.
But he said that mortars launched Thursday in the Bustan al-Qasr neighborhood, apparently by rebels, also appeared to be intimidating civilians.
"It is like as if it was intentional to prevent civilians from thinking about trying to go out," he said.
Another resident who lives in a regime-held area said Thursday that Syrian forces were blasting an audio message telling people they will be safe if they leave rebel-held neighborhoods.
But no one appeared to be leaving, she said, also on condition of anonymity.
Syrian military to rebels: Take amnesty offer
The Syrian military urged armed rebels in east Aleppo to "to leave their weapons, with assurances that they will benefit from the amnesty decree," according to a statement Wednesday from the General Command of the Armed Forces.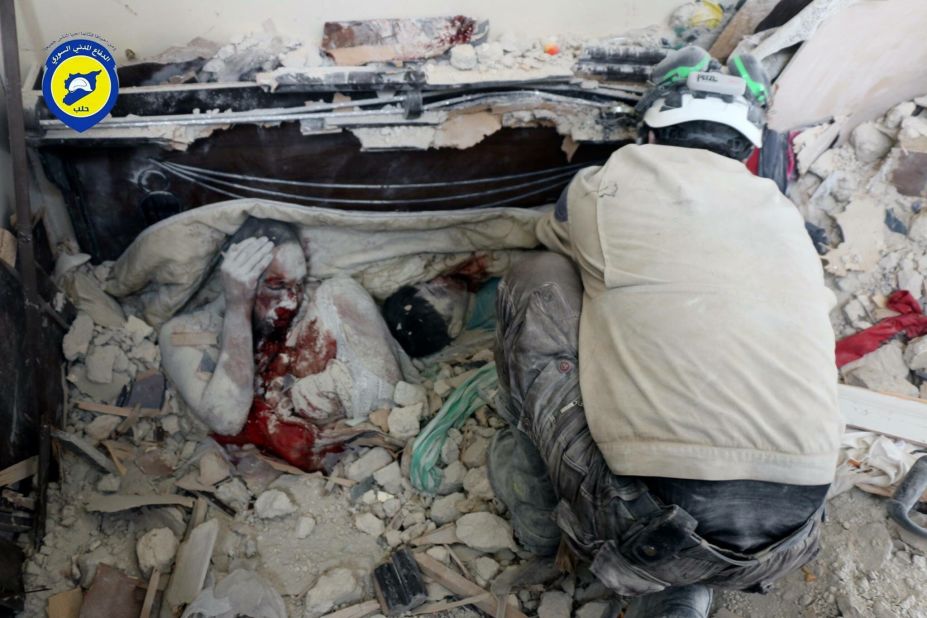 Syria: The tragedy of Aleppo continues
The statement referred to an earlier government decree that said rebels who lay down their arms would receive "amnesty" along with an opportunity to be transferred with their families to other parts of the country under rebel control.
The Syrian military also reiterated past warnings that "the army and armed forces have accurate information on the locations of the gunmen."
"Anyone who does not make use of the available opportunity will face their inevitable fate," the Syrian military statement said.
CNN's Isil Sariyuce reported from Istanbul, with CNN's Jason Hanna and Max Blau reporting and writing from Atlanta. CNN's Eyad Kourdi, Euan McKirdy, Tim Lister and Sara Mazloumsaki also contributed to this report.