Story highlights
12 people are being investigated for lese majeste, Thai police say
Country's strict law stipulates harsh punishments for insulting royals
Thailand's justice minister has praised the taking of "social measures" against people who insult the monarchy.
General Paiboon Kumchaiya's comments come as police said they are investigating 12 people under Thailand's strict lese majeste law, which stipulates harsh punishments for defaming or insulting the royal family.
Paiboon warned that Thais "couldn't accept" actions that insulted the monarchy, and accused people "outside of the country" of instigating criticism.
Lese majeste: Thailand's most controversial law, explained
Lese majeste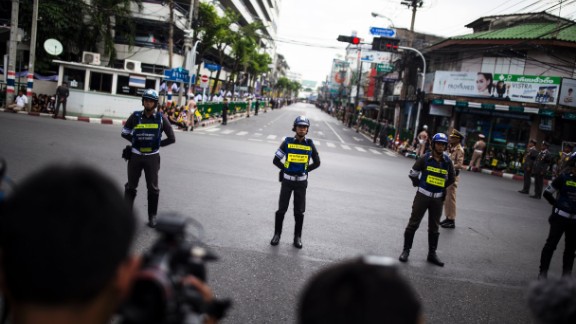 Aaron Joel Santos/Getty Images AsiaPac/Getty Images
Since the death of King Bhumibol Adulyadej last week, Thailand has been plunged into deep mourning. Millions of people across the country are dressing in black and gathering to pray for the king.
Emotions are running high, and there have been a few reports of people being confronted or even attacked over allegations they insulted the late king.
In eastern Thailand's Chonburi province, a 20-year-old man was arrested and charged with lese majeste for posting messages about the king on Facebook.
A group of people confronted the man at his house and brought him to the police station, where he confessed, police colonel Preecha Somsathan told CNN.
A video posted online shows the man being forced to kneel by men wearing black. He is then kicked and punched by a small crowd of people.
In a separate incident, a 43-year-old female tour guide was arrested the popular tourist resort of Koh Samui.
She is currently being held in Koh Samui prison on suspicion of lese majeste, but denies the charges, police captain Boonnak Srinarat told CNN.
Video of her arrest shows police making her kneel in front of a portrait of Bhumibol as bystanders take photos.
Thai police could not release details of what the two people are accused of saying, as to do so would in itself breach lese majeste.
Sad scenes
Thailand remains in deep mourning for Bhumibol, with millions across the country dressing in black and gathering to pray for the king.
As the country comes to terms with losing the only monarch most Thais knew, questions about the timing of the succession remain unanswered.
Crown prince Vajiralongkorn is expected to become king in the next month or so, but has said he