Story highlights
Jack Osbourne was diagnosed with multiple sclerosis in 2012
Osbourne said he still battles depression because of his disease
(CNN) —
Jack Osbourne has been living with multiple sclerosis for four years but admits there are still days he has those "why me" moments.
"Depression is the most common side effect of sufferers with multiple sclerosis," Osbourne told CNN. "I don't take medication for it but I do have bouts of it."
Osbourne was diagnosed with relapsing-remitting multiple sclerosis (RRMS) in 2012, after he noticed numbness in his legs and went blind in his right eye.
"I get frustrated at the notion when I start going down that hole at like, 'Oh I can do all this stuff' but if I woke up tomorrow I'd be really f**king annoyed if something is not working right. Like, I can't grip well or I lose vision in my eye again," he said.
Osbourne credits his wife, Lisa Stelly, with helping him get through the dark days.
"If I'm down in the dumps she says, 'Get your sh*t together.' My tendency is I tend to have a more dismal approach."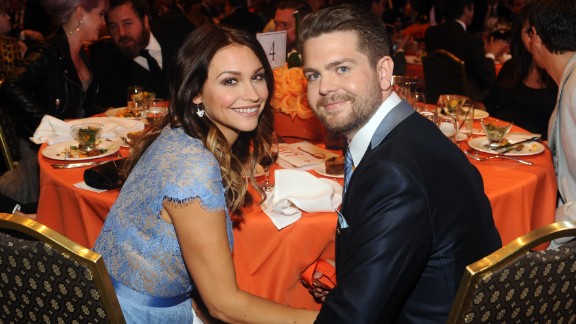 Stefanie Keenan/Getty Images North America/Getty Images for Race To Erase MS
But Osbourne said he's committed to not allowing his diagnosis to get the best of him. That's why he created a website, You Don't Know Jack About MS, to spread awareness about the disease for those who are newly diagnosed or living with MS. He also documents his own daily struggles in webisodes and features others who are managing the disease.
"I'm very fortunate. Admittedly, that's not the case with everyone with MS," Osbourne said. "In some regards, people might say I'm not the best spokesperson for MS because I'm the better side of things, and some people have been frustrated by this, but that's the diversity [of this disease]."
Related Link: New stem cell treatment 'halts' effects of multiple sclerosis
Osbourne, who takes medication injections three times a week to suppress his MS, said there's always a cloud of potential relapse looming over him. But he understands the need to take advantage of his life.
"I'm not going to waste a weekend just sitting around at the house," he said. "I'm going to go do something and it's usually something active."
That includes working with his father, rocker Ozzy Osbourne, on their reality TV show "Ozzy & Jack's World Detour." The show premiered on the History network in July and followed the father and son on road trips around the world.
"Inevitably, you end up learning the things that annoy you the most [during a road trip]," he said. "My dad is a terrible navigator. He is a really loud eater and he doesn't follow the ultimate road trip rule: If you fart in a car, roll the window down. He just lets it f**king stew. So you're like, 'Come on dude. There's rules and if we're doing this, you have to follow them.'"
While Osbourne may be following rules and embracing healthier living these days, his family's reputation for frankness clearly remains intact.