In his three months in office, Philippines President Duterte has rarely left the headlines.
He's caused an uproar on the international stage with his abrasive approach to international diplomacy. He has human rights groups up in arms over his much publicized war on drugs, and relations with longtime ally the United States are at an all time low.
On Tuesday, he began an official trip to China as he seeks to repair ties damaged by a long-running territorial dispute with the Philippines' massive neighbor.
Philippines' China gamble: From ardent critic to unlikely ally?
Despite multiple scandals, a recent satisfaction poll found that 86% of Filipinos have "trust" in the President's performance.
We ask five Filipinos why – despite the controversies, negative press and international condemnation – they still want him at the helm.
DOCTOR: 'NOTHING SHORT OF AWESOME'
Long-term volunteer and NGO worker, Dr. Lorraine Badoy, only decided to vote for Duterte days before the election.
She thinks his first 100 days were "nothing short of awesome."
Badoy worked extensively in areas hit by Typhoon Haiyan, a tropical storm that decimated the Philippines in 2013.
According to Badoy, former president Aquino ineptly handled the tragedy and she is convinced that Duterte, by contrast, is a man of action. "He got things done that other presidents haven't," she says. "They didn't even try."
Initially, she thought Duterte's rhetoric on "the drugs menace" seemed over the top. But once things started to unfold she began to understand why he was he was so focused on – and almost obsessed with – this particular issue.
Now she thinks even he didn't fully understand the scope of the problem. "They're afraid of him. Where before there was no respect for the law, now there is."
READ: Philippines' war on drugs
She has her reservations about some of his more outrageous commentary and was stunned by his "unfortunate" Hitler-related remarks. "I wish he'd shut up and do what he does best," she says.
But his rhetoric doesn't impact her trust in him as a leader, because she believes his heart is truly in public service and helping poor people. She thinks he's done "amazing things."
Even so, Badoy doesn't necessarily guarantee her support will last the duration of his term. She's not one of Duterte's rabid supporters and wants people to think critically about him. She thinks a clash of opinions is good for the country.
"He's a rollercoaster, this guy! I hope I've read him right."
OVERSEAS WORKER: 'HE'S LIKE US'
Fifty-year-old mom of three, Christina Fabiala, has been working as a domestic worker in Hong Kong for nearly 20 years.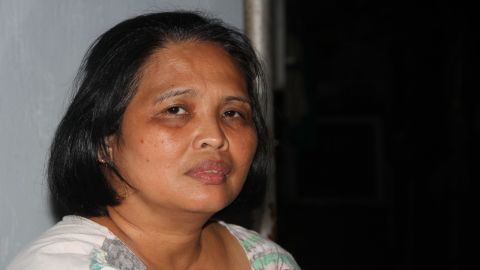 She says she voted for Duterte because he's different from the other politicians. "He has the guts to do what no other politicians did before," she says.
With such a high percentage of the nation still mired in poverty, she says it was time to try something new.
"Traditional politicians mostly catered for rich people… Duterte, he can talk to the people the way poor people talk."
She believes this is why he won by a landslide.
"If you saw Aquino on the street, you'd look the other way: you'd be shy. But if you saw Duterte, you could go: 'Hi, president! How are you?' He's like us."
Even so, she has some doubts about how he speaks in the media and the degree to which he's homed in on the nation's drug problem.
"Filipino people are also in need of housing, food, education and labor," she says. "If he really wants to help the Filipino people, he needs to broaden the horizons."
Overall, however, she approves of Duterte and his approach to what she calls the "main issue in the Philippines." Drugs. "No – he's not killing people. He just says things in the media," she insists.
She believes vigilante groups – not necessarily connected to Duterte – use these proclamations as an excuse to carry out killings.
READ: Duterte's crackdown – 6 stories from the front lines
"So these words then come back to him," she says. "And he's the bad guy."
CONVENIENCE STORE OWNER: 'DRUGS CAUSE CRIME'
Sixty-year-old Melchor San Jose lives in Makati City, stronghold of presidential candidate and former vice president, Jejomar Binay.
The grandfather of three voted for Binay but now supports Duterte because of his tough position on crime.
San Jose values international relations. He says he's not a fan of the president's nationalistic rhetoric or his foul language.
READ: Philippines' President tells Obama to 'go to hell'
But he thinks the biggest problem in the Philippines is criminality, and as drugs cause crime, he fully backs Duterte's campaign.
He says this is the fastest way: "If you let these (cases) go through the legal system, that takes too long. You'll count years."
"If the cases pile up, we'll never find a solution. Judges and lawyers are paid off. It will never stop."
FORMER AMBASSADOR: 'CANNOT DOUBT HIS SINCERITY'
General Vidal Querol was the Metro Manila Police Chief from 2005 to 2006 and Ambassador to Indonesia from 2007 to 2010.
He and his entire family supported, volunteered and campaigned for Duterte. "I chose Duterte because of his sincerity," he says.
He admits he didn't know much about the mayor from Davao when he first emerged, but it was important to Querol that people believed in him. "Information coming from the city points to him doing his job of Mayor with no corruption," he says.
According to Querol, this is because Duterte is not beholden to any of the political, social or economic elite. Without being beholden to anyone, he can focus his energy on helping the people.
"We cannot doubt the sincerity of this man to help the poorest of the poor," he says.
Querol believes this passion will allow all sections of society to more fully enjoy the "fruits of democracy," and although the country is polarized, he believes democracy in the Philippines is thriving.
As long as he continues to do what is good for the country, Querol thinks the ordinary citizen can forgive the uncouth behavior and foul language.
"His loyalty is to the flag and the country."
CASINO WORKER: 'WE KNOW THE PROBLEMS WE HAVE'
"The President will go down in history as a hero," says Jr de Guzman, adding that Duterte is his idol.
"I like it when he says, 'My God, I hate drugs!'" he says. "It's so beautiful, like Duterte's heart is really in his outbursts."
De Guzman says that Duterte is at least open, unlike other politicians who might be quieter, or present themselves better, but "deep inside they do horrible things."
The 30-year-old strongly supports the war on drugs and believes that if the President doesn't fight it, more innocent people will die. He says the media only reports bad news around the killings, rather than the good news about what Duterte has accomplished. "There is nothing to fear if you're not doing anything against the law."
He thinks it's better to have the drug dealers killed than to let the drug problem get worse.
"We live here. We know the problems we have here. And Duterte is a good man."