Editor's Note: This story was first published on October 17, 2016.
Story highlights
CNN interviewed more than 40 Muslim Americans in three communities
Their consensus: 2016 is worse than the aftermath of 9/11
Muslim Americans describe the September 11, 2001, terrorist attacks as a seminal moment that painfully altered their place in American society.
But when CNN interviewed American Muslims about the presidential election, we heard a startling message: 2016 is worse.
CNN traveled last month to three growing Muslim communities – in Minneapolis, Northern Virginia and Staten Island – which represent the diversity and increasing political engagement of Muslims in the United States. The majority of people we spoke to said it is harder to be a Muslim American today than it was even after 9/11.
"I have never thought I would hear my young daughter say, 'Dad, people were asking me about my scarf in the school,' " said Hamse Warfa, a Somali refugee who immigrated to the US as a teenager and now lives in the Minneapolis suburbs. "After 9/11, there was no ring-leader, so to speak, who was championing, mainstreaming, hate."
That "ring-leader" Warfa was referring to is Donald Trump, the Republican nominee for president.
Trump has run a hardline, anti-immigration campaign built on promises to erect a wall and deport millions of undocumented immigrants. Last December, he announced a proposal to ban Muslims from entering the country. And he has suggested that profiling would be an effective strategy to prevent terrorism.
CNN interviewed more than 40 Muslim Americans who expressed raw emotions ranging from disbelief to anger to fear. Perhaps most disturbing about this election, many said, is the perception that Trump has helped to normalize animosity toward and suspicion of Muslims in the US.
These tensions have been exacerbated over the past year by a series of attacks carried out by individuals who claim to be motivated by radical Islam, and in some cases swear allegiance to ISIS.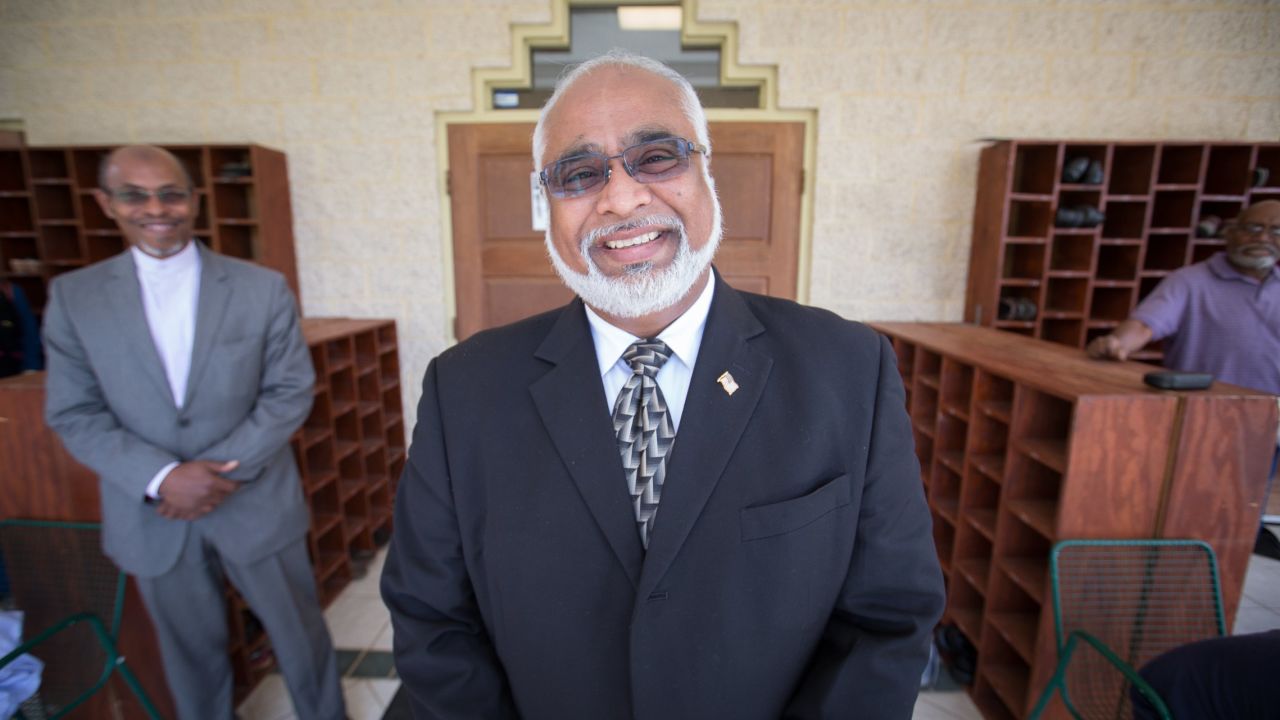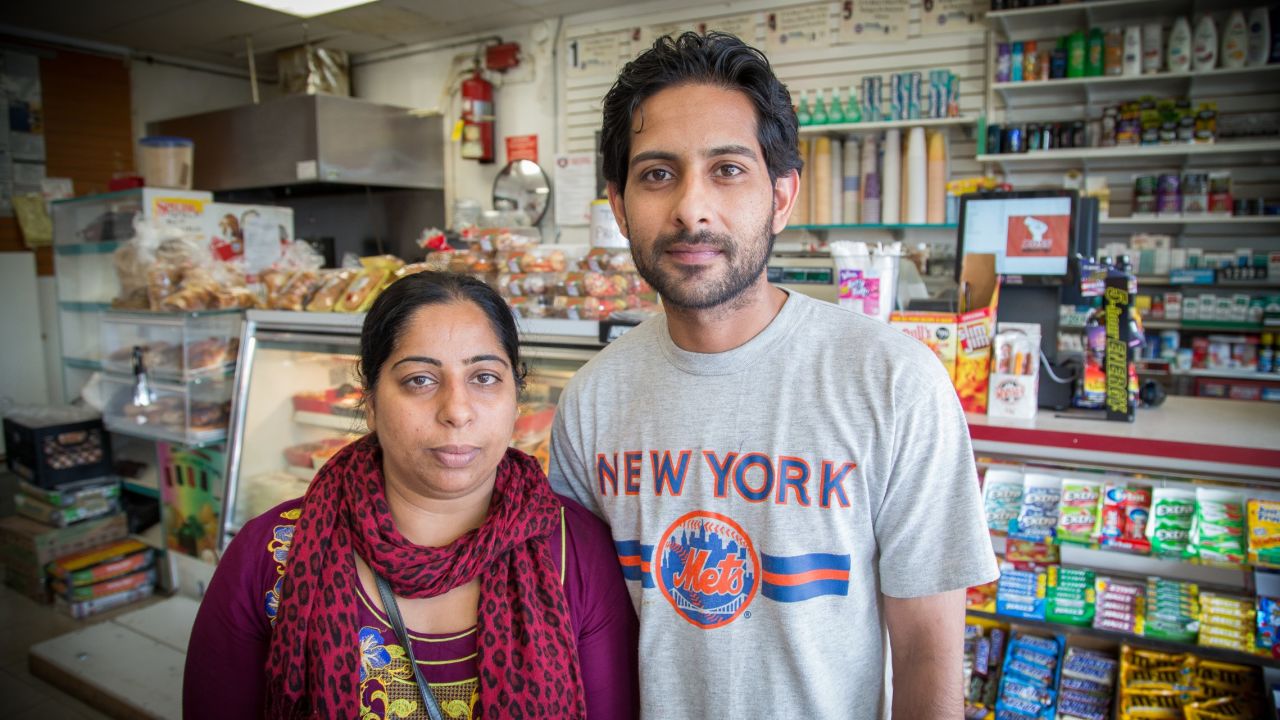 Trump has repeatedly seized on these moments to question the loyalty of all Muslims. He did so as recently as the second presidential debate, when a Muslim woman asked Trump and Democratic nominee Hillary Clinton: "With Islamophobia on the rise, how will you help people like me deal with the consequences of being labeled as a threat to the country after the election is over?"
Trump responded by calling for "extreme vetting" – and for Muslims to police one another.
"We have to be sure that Muslims come in and report when they see something going on. When they see hatred going on, they have to report it," he said.
Clinton told the woman: "I've heard this question from a lot of Muslim Americans across our country because unfortunately, there's been a lot of very divisive, dark things said about Muslims."
The two candidates meet again Wednesday in Las Vegas for their final debate.
Hate crimes against Muslims appear to be on the rise – researchers at California State University found that they were up 78% in 2015.
Hina Ansari, an American-born Muslim woman who lives in Woodbridge, Virginia, told CNN that she found Trump's rhetoric about immigrants "terrifying."
"I'm imagining internment camps for all of us if Trump won the election," said Ansari, who supported Bernie Sanders during the primaries and now backs Clinton. "The way that he talks, the hate speech that he uses, that he brings people towards him – it's scary to know that so many people who seem like perfectly reasonable people that I know support him."
Concern has become a catalyst for action. Immigration advocates across the country have launched local and statewide voter registration campaigns, including efforts aimed at bringing into the fold first-time Muslim voters.
Those votes will become increasingly important. Muslims make up a small slice the country – the Pew Research Center estimates that there were about 3.3 million Muslims in the US last year – but by 2050, Muslims are expected to make up 2% of the country's total population.
Amin Shehadeh, a 47-year-old Palestinian American who has been a US citizen since 1996, will vote for the first time in his life this November for Clinton.
"Because I don't like Trump," Shehadeh said. "This year, my daughter, she make the registration."
Staten Island: 'I'm American. He can't kick me out.'
Haji Khan brims with pride. As he browses the aisles at a halal grocery store in northern Staten Island, Khan mentions repeatedly that his oldest son is an Army Lieutenant who was deployed for two years in Afghanistan. He wants his youngest child, who is starting high school this year, to join the ROTC.
"I want my children to be soldier to defend this country, to fight for this country," says Khan, a Pakistan-born immigrant who came to the US in 1980.
This summer, Khan, 56, watched in dismay as Trump attacked the father of a fallen soldier – a man who shared Khan's last name.
Khizr Khan, whose Army captain son died in Baghdad in 2004, delivered an impassioned speech at the Democratic National Convention, blasting Trump for his rhetoric about immigrants.
"Go look at the graves of the brave patriots who died defending America – you will see all faiths, genders and ethnicities," Khizr Khan said, with his wife at his side. "You have sacrificed nothing and no one."
Trump went on offense, saying Khizr Khan had "no right" to criticize him and even questioning why Khan's wife did not speak.
For Haji Khan, who calls America "beautiful like the song," Trump's animosity toward this grieving father was deeply unsettling. Trump's remarks struck Khan as counter to the values of a country that he says graciously fed and housed him when he first arrived here.
"This country was never like this," Khan says. "America was beautiful paradise when I came to this land… It was a welcome people. Beautiful people."
A short ferry ride from downtown Manhattan and New York's least populated and most conservative borough, Staten Island has become known this year as Trump Country.
More than 8 out of 10 Staten Islanders who voted in New York's GOP primary in April backed Trump, marking almost double the level of support the Queens native received in Manhattan.
Muslim Americans spread out across this island have confronted an uncomfortable reality during this election: Many of their neighbors support a candidate whose policy ideas have taken direct aim at their community.
Tarek Wazzan, 41, operates a family-owned halal restaurant and grocery store called Shop & Eat on Forest Ave. Wazzan, who was born in Egypt and came to the Untied States in the 1990s, said more alarming than Trump's words is the overwhelming support the candidate enjoys in the borough.
"I think they are more educated. Why would they do that?" Wazzan says of Trump's supporters here. "I don't take what (Trump) says seriously. What bothers me is what people are listening to him are doing now."
As Trump gained popularity, tensions between the candidate's supporters and his foes have escalated this year.
In January, Rose Hamid, a Muslim woman wearing a hijab, was escorted out of a Trump rally in South Carolina after she stood up in silent protest. As she was escorted out, Trump supporters jeered, and one person shouted: "You have a bomb, you have a bomb."
Hamid later told CNN: "The ugliness really came out fast and that's really scary."
Some fear that a recent string of hate crimes – the killing of an Imam in Queens; an attack against two Muslim women pushing their children in strollers in Brooklyn – foreshadow more to come as Election Day draws closer.
And even while stories of open clashes are rare, some Muslim residents of Staten Island described to CNN the nagging feeling that they are being targeted because of their ethnicity.
Samaira Kouser, 31, was born in Pakistan and is a housewife and mother of three young daughters. She moved to the US when she was 12, and says she has always found Staten Island to be a friendly community. But recently, she says, some of her neighbors have begun to complain about her children playing outside.
"Somebody is in my block who don't like us," Kouser says. "This about (the fact that) we are Muslim."
Kouser's husband, Muhammad Saqib, is also from Pakistan and in the process of becoming a US citizen. He works the cash register at a convenience store, and with his limited income, the family of five lives in a basement apartment that Kouser describes as just one room and a kitchen.
They are currently dependent on food stamps – information that Kouser readily volunteers as proof that the US is a great country that helps the needy.
Despite their financial difficulties and concerns about the current political climate, Kouser is optimistic about the future. She says she is confident that her children can achieve anything they want in America – one of her daughters wants to be a dentist; another, a cop.
"This is my country. I live here," Kouser says. "I'm American. He can't kick me out."
Northern Virginia: Muslims have to 'step up our game'
Hundreds of worshippers have filed into the Dar Alnoor mosque in Manassas, Virginia, for Friday midday prayers. Imam Sulaiman Jalloh speaks with urgency, pleading with his congregation to take action: Come November, he says, everyone must get out and vote.
"Today, some people say, 'You and I have no right to be here.' That although this nation was founded on freedom of religion, your religion and mine is not welcome here,'" Jalloh says. "My dear respected brothers and sisters: This time, I believe none of us has the option to just sit home."
There is little doubt that the Imam is referring to Trump's rhetoric during this campaign.
Many Muslims in Northern Virginia whom CNN interviewed said they are obsessively following the election. In places of worship, community centers and schools – both in private conversations and in public – Muslims of all backgrounds worry about the toll the campaign is taking.
Even children are not immune.
At the ADAMS Center's Radiant Hearts Academy in Sterling, Virginia, where preschoolers to second graders are taught a curriculum centered on Islamic values, teachers and parents are grappling with how to explain the election to children.
"You can't really hide it, you know? If it's in the news and your parents are watching the news, it'll come up and the word 'Muslim' will come up," says Hurunnessa Fariad, the school's vice principal.
Originally from Uzbekistan, Fariad moved to the US when she was little and now has four daughters.
"You have to constantly tell your children, 'No, we're not going anywhere. We're here, you know, we haven't done anything wrong,'" she tells CNN. (Fariad doesn't want to share who she will vote for in November, only saying: "It's obvious.")
Sadia Naureen is a 16-year-old resident of Falls Church whose family is from Pakistan. Naureen says she has heard multiple stories about Muslims getting attacked and women choosing to take off their hijabs. She no longer feels safe walking alone.
Naureen blames Trump for making her fear for her safety.
"He should know that the stuff he's saying is really affecting people. It's not just words anymore to get votes – it's going to change people's lives for the worse," Naureen tells CNN.
Dar Al-Hijrah, where Naureen's family worships, felt shaken in November when a man left a fake explosive device at the mosque. Months later, a sign in the lobby cautions that in light of the shooting of an Imam in New York City, Dar Al-Hijrah's security is monitoring all suspicious activity.
Although she is not old enough to vote, Naureen is an avid Clinton supporter and is working with an immigrant rights group to encourage people to register to vote.
The US Council of Muslim Organizations, one of many groups involved in voter registration efforts this year, said as of last month, it had helped an estimated 500,000 Muslim Americans register to vote this cycle.
The influx of new Muslim voters – many of whom are turned off by Trump's message this year – along with anecdotal evidence of Republican-voting or independent Muslims turning their backs on the party this year, could haunt the Republican Party far beyond 2016.
David Ramadan, a former member of the Virginia House of Delegates and an Arab-American who comes from a Muslim family, suspended his membership with the Republican Party when Trump became the presumptive nominee.
"I was absolutely distraught and offended that my party, the party of Reagan, the party of Lincoln, the true big tent that aspired for a great America, has today nominated a candidate who is a bigot, racist, demagogue," Ramadan says in an interview at his home in Dulles, Virginia.
Born and raised in Lebanon and a life-long supporter of the GOP, Ramadan doesn't yet know what he will do after the election. He predicts that the political views that take hold among ethnic minorities this year will far outlast the 2016 election.
"They're saying, 'What happened here? We need to be more involved so that we don't see this rhetoric again,'" Ramadan says.
Da'in Johnson, one of the worshippers at Dar Alnoor who works for the Department of Labor, says the silver lining for Muslims in the 2016 election is that the community is being forced to "step up our game." Part of that effort, Johnson says, is making clear to political candidates that no Muslim vote should be taken for granted.
"I think that no reasonable-thinking Muslim likes or agrees with what Donald Trump is saying," Johnson, 55, says. "But it's not a lock step for the Democratic nominee."
Minneapolis: We were 'double victims' of 9/11
Fifteen years ago, Muslim Americans watched the horrific images pouring out of downtown New York, the Pentagon and Shanksville, and tried to make what little sense they could of the incomprehensible massacre and destruction of September 11, 2001.
But even before they could begin to mourn, they felt besieged. Their religion was under attack and calls rang out for their community to apologize for the horrific actions perpetrated by terrorists.
It was a kind of Islamophobia that Muslims in America had never before encountered.
Here in Minneapolis, where the country's biggest concentration of Somalis resides, many share a similar story of being displaced by war, spending years at refugee camps and finally arriving in the United States to start a new chapter of their lives.
And they remember distinctly how their lives were altered after 9/11.
"Things really got very tough for us," says Safiya Mohamud, 33, who came to the US as a Somali refugee in 2000 and works at her sister's clothing and accessories store at Karmel Square mall. "At the airport, people would just assume that you dress different so something will happen or something will go wrong. You always get that extra look."
Abdirahman Kahin, who also came to the US from Somalia, says Muslim Americans were "double victims" of the attacks.
"9/11, because of what these guys did, this affected me as an American," Kahin says. "At the same time, other Americans see us as traitors."
But the community describes a gradual easing of tensions and normalization in the 15 years since the attacks.
Rep. Keith Ellison says after he became the first Muslim American elected to Congress, George W. Bush "extended his hand to me and said, 'Ellison, I'm glad there's a Muslim in the Congress.'"
The congressman supported Sanders during the primaries and now backs Clinton. He hopes to see the Democratic nominee visit a mosque – the same way that Bush did days after the 9/11 attacks.
Bush "stood with Muslims and he said that Islam's not the problem – these terrorists, murderers and maniacs are the problem," Ellison says. "George Bush doesn't get enough credit for that."
One nominee who has eagerly credited Bush this year is Clinton.
"The week after 9/11, George W. Bush went to a mosque and declared for everyone to hear that Muslims 'love America just as much as I do,'" Clinton tweeted this summer.
Last month, after a bombing in Manhattan's Chelsea neighborhood, Clinton urged Americans to remember that there are "millions of law-abiding, peaceful Muslim Americans."
"We are going after the bad guys and we are going to get them, but we are not going to go after an entire religion and give ISIS exactly what it is wanting," Clinton said.
Kahin is one of many Somalis who have worked to build a comfortable middle-class life in Minneapolis. His two restaurants in Minneapolis and St. Paul are thriving and he feels at home in Minneapolis' diverse community. Earlier this year, Kahin was even invited to attend President Barack Obama's State of the Union speech as a guest of Sen. Al Franken.
"We've been very welcomed by the community," Kahin says.
Never did he imagine that 15 years after 9/11, things could suddenly take a turn for the worse.
"A lot of people believe what Donald Trump (is) saying about us," he says. "That we are violent. That our religion is not like any other religion."
The election became deeply personal for Somali Americans this summer when Trump singled out the community at a campaign rally. Trump warned that Minnesota was having "tremendous problems" and pointed to the state's Somali refugees as an example of a "rich pool of potential recruiting targets for Islamist terrorist groups."
The remarks set off outrage and alarm.
Amal Aynab, a 27-year-old personal banker who was born in Somalia, says she has never experienced discrimination in Minneapolis. But she fears that outside the confines of an ethnically diverse city, the kind of hostility toward Muslims that became so prevalent after 9/11 could be making a comeback, fueled by Trump's rhetoric.
When she recently went to a mall in the city of Edina, Aynab says she encountered an elderly woman who angrily told her that she didn't belong.
"She was like, 'Oh my God. Since you're Muslim you're not supposed to be in the country. Just get out of our mall,'" Aynab says. "I just walked away."
Warfa, the Somalia-born refugee who came at a young age, recently had a similar experience. He was shopping at a Target store in Savage when he says three men confronted him, making derogatory comments about Somalis and Muslims and telling Warfa to "go back to your country."
"I have never seen the level of fear that I see now among Muslim community since 9/11," says Warfa, a social entrepreneur. "People are very fearful now."
The Muslim Americans CNN interviewed overwhelmingly rejected Trump's rhetoric about their community, but a number of them also expressed ambivalence about Clinton. Many of the interviewees had supported Sanders during the primaries, drawn to the Vermont senator's economic populism and his appeal to the younger generation.
Zamzam Ahmed, 22, immigrated to the US when she was 9 from Somalia. She is now a senior in college and won't be a citizen in time to vote in November. But if she could, Ahmed says, she would consider supporting Trump, despite feeling disturbed by Trump's rhetoric about Muslims.
"I wouldn't mind voting for Trump. In all honestly because Trump is, as wrong as some of the things he says are, he's being honest," Ahmed says. "I think that's why he gets most of the votes that he is getting."
In the final stretch of a wild presidential campaign that is growing increasingly nasty, many Muslims told CNN they wished to see bigger gestures from elected officials and political candidates to address the recent rise in Islamophobia.
They say they crave declarations that remind the country Muslim Americans are just as American as anyone else.
"This is our home. We are Americans," says Mohamud, the Somali American who works at Karmel Square mall. "If somebody comes to you and says that they're going to chase you away from your house, where would you go?"