Story highlights
Tom Steyer is helping fund liberal efforts to match the Koch brothers-run political operation
Wisconsin, where Trump visits Monday, is a target for new organizing tactics by Democratic-oriented groups
Milwaukee, Wisconsin
CNN
—
Tom Steyer envies what Charles Koch built.
There's Koch's tens of millions of dollars, routed through a byzantine maze of outside groups, each with their own ideological tinge. There's his state-of-the-art software that pools the responses collected at thousands of doorsteps each day. And there's his sprawling network of activists, working outside the party system but fiercely committed to the vision pitched by their titan of industry.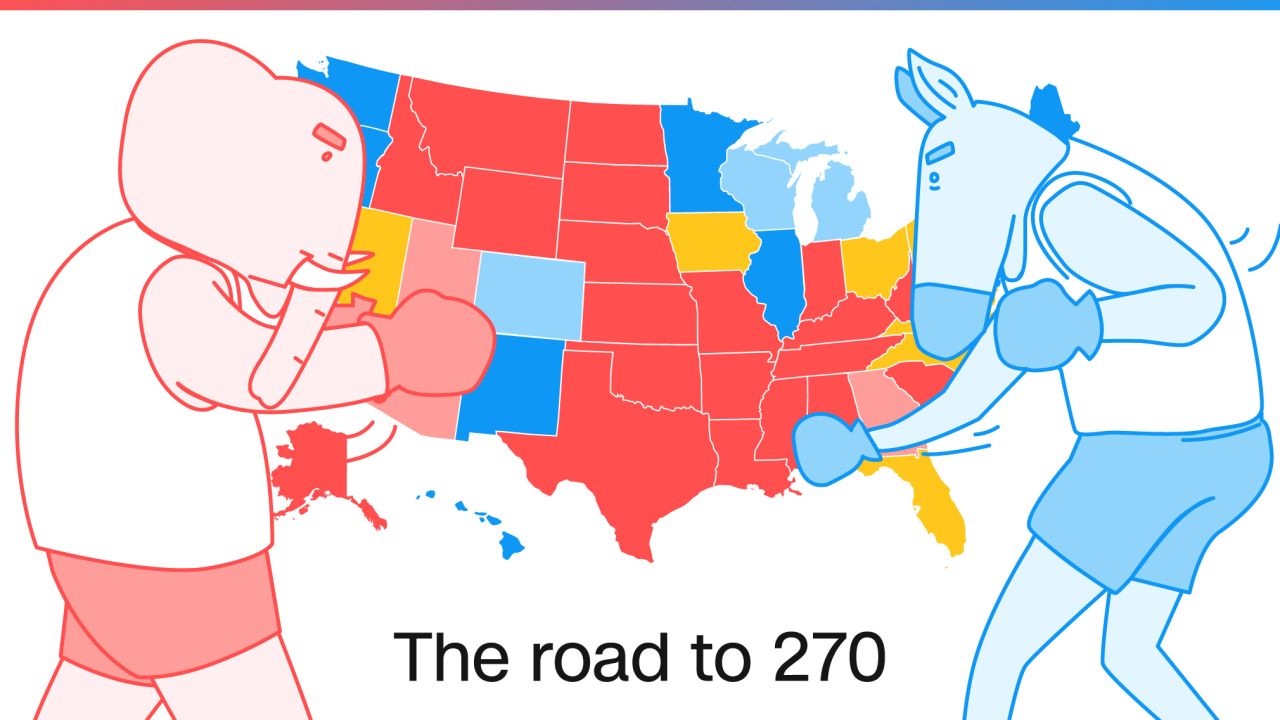 Steyer, a hedge fund manager whose main focus is fighting climate change, has none of that. But quietly, in neighborhoods like Milwaukee's Hispanic south side or in its working-class Polish suburbs, Democrats are replicating the fundamentals of the massive and powerful network assembled by GOP billionaires Charles and David Koch.
Steyer spent $75 million in 2014 – more than anyone else in the country – on television spots. Democrats lost nearly every race. This year, armed with $60 million, Steyer and Democrats are copying the Kochs' strategy – beginning with saying yes to issue-based canvassing, and no to gauzy ad buys.
"What they must have observed as well," Steyer said in an interview, is that television "has a very ephemeral impact."
This activity is critical if the Democrats are going to keep the White House and win back the Senate. Here and in states like Pennsylvania and Ohio, Koch groups are working overtime to get Republicans to vote despite the fact Donald Trump is scaring some of those people away – and opinion polls show their efforts are working.
Steyer's vehicle: A new super PAC called For Our Future, which is trying to crack a chronic problem for Democrats: how to convince a seemingly endless cadre of niche Democratic interest groups, each with their own field programs, to work together. It's a question of trust as much as it is coordination.
The Koch brothers and their donors funded a battery of complementary non-profit groups, such as the Libre Initiative for Latinos, Generation Opportunity for millennials and Americans for Prosperity, their flagship program. Similarly, Steyer and the dozen unions who are funding For Our Future issue grants to their own army of distinct organizations: Voces de la Frontera, a Hispanic community group; NextGen Climate, Steyer's environmentalist network; or the AFL-CIO, the massive federation of trade unions who have long been a bedrock of Democratic organizing.
For Our Future is by no means as politically mature and or tactically proficient as the decades-old Koch network. The scale, though, impresses even Koch officials: For Our Future claims 900 paid canvassers – just a few hundred less than the entire Koch network – and knocked on their four millionth door of the cycle this weekend. And the organizing principles are nearly identical.
Challenges in the Latino community
Wisconsin, where Trump visits Monday, is a ripe target for these new organizing tactics by Democratic-oriented groups. The Badger State has gone Democratic in presidential races from 1988 on. But it's still at least a second-tier battleground state with electoral map targets by the Trump and Hillary Clinton campaigns still in flux. And there's a competitive Senate race in Wisconsin, too, as Republican incumbent Ron Johnson aims to stave off a return attempt by former Democratic Sen. Russ Feingold.
For Our Future was making a particularly aggressive push via canvasses and City Hall press conferences in recent days – ahead of the opening weekend for early voting here in Milwaukee, when Democrats hoped to rush in low-propensity voters.
Some of those targets: Latino voters, who dominate Milwaukee's south side. That's where Andrea Gomez, a 19-year-old sophomore at the University of Wisconsin-Milwaukee, and Maria Ornelas, a recently laid-off manager at a dog-treat factory, paced for $15-an-hour a modest neighborhood home to the Mexican Independence Day parade and taco trucks parked alongside sedans.
Few voters on a recent afternoon expressed any excitement about Clinton – and many seemed downright dour about two uninspiring options, even if they had a special resentment for Trump.
"She's the only one we have left," said Maria Ortega-Villa, as her two toddlers hugged her legs.
"The best choice we have right now?" Ornelas asked, leaning down to speak with the kids in Spanish.
"I guess," she replied.
Neither Gomez nor Ornelas has much experience canvassing – Gomez found the group circuitously through campus politics. Ornelas merely needed a job. And they rarely pitched Clinton with full fervor, passing up opportunities to sway the undecided and merely asking them to fill out a half-page "pledge cards" in which they commit to vote.
Donned in Voces de la Frontera t-shirts and toggling quickly between English and Spanish, the canvassers present no connection to the big-money super PAC that funded their efforts.
A low-tech labor effort
Not 10 miles away, another Democratic group linked to the exact same super PAC executed a wildly different canvass operation.
The tech was even more rudimentary for John Jacobs as he drove in a minivan from door to door in a quintessential Polish neighborhood, West Alilis, famous for its Christmas season decorations. He and his team hit doors on Saturday on behalf of the AFL-CIO — and they, too, had only a limited idea about how their work fed into the grand For Our Future plot.
They did not have even basic tablets like Gomez or Ornelas – they were using pen and paper to code responses, which some volunteer would painstakingly scan in later that night. They had no fancy literature, just black-and-white one-pagers on computer paper, which Jacobs would scribble on when leaving a "I missed you" note. There language was that of the labor movement when greeting a voter at a door – frequently someone they knew personally from the union world.
"We've got to rebuild stuff, you know?" said Brandon Jeske, a Clinton supporter coming to the door as his two kids bathed.
"Infrastructure," Jacobs, an electrician for 22 years, nodding knowingly. "Being an ironworker, you know that."
To Jacobs, it is "old-fashioned." To groups like the Kochs, it is antiquated.
Their Republican role-models
An hour north along Lake Michigan in the suburb of Sheboygan, Republican activists executed what Democratic activists aspire to.
Armed with an iPad and a 10-year-old sidekick who rang the doorbells, Americans for Prosperity organizer Kayle Gabrielse bounced quickly from house to house, reading carefully off a script tested by Koch leadership and filing her data instantly back to headquarters. Unlike the Voces canvassers, Gabrielse is a veteran – she has been doing paid canvass work since 2011.
That's why while Wisconsin AFP head Eric Bott acknowledges some similarities between their tactics, he isn't worried about For Our Future. His canvassing science, he is certain, is more fine-tuned than the late-to-arrive forces on the left.
"It's never a turnkey operation," Bott said. "I don't judge them to be a threat."
One instructive example: deciding which network to use for their iPads' data service. They initially used AT&T, but discovered connection problems years ago – so they switched to U.S. Cellular in remote western Wisconsin, and to Verizon for more populated areas.
But even with Bott's more sophisticated operation, the message from the top still matters, and the Republican ticket is likely to lose in Wisconsin on Election Day.
Trump touches down for a rally here in Wisconsin on Monday, but the is now trending badly away from him. And that was true even before a spate of allegations of sexual assault enveloped Trump's candidacy – which is expected to tear into Trump's numbers with suburban women in places like Milwaukee's collar counties, even though no voters brought it up over three canvasses last week, and groups on both side of the aisle are steering clear.
"I'm not sure it rearranges our priorities, but it rearranges our expectations," Steyer said. "Every single piece of evidence is just throwing a little more gasoline on fire… and then it just becomes a bonfire."
Steyer's vision: Liberals United
For Our Future is effectively a clearinghouse for its partners, a bank account, a data repository and a conflict mitigation expert all at once. Its goal is to run the closest thing there can be to a coordinated campaign among outside groups, cutting turf so that a unionist doesn't have his door-knocked by a bilingual immigration activist, and so that a Mexican-American family isn't door-knocked by by a pipefitter.
Or worse: A target Democrat who is greeted at the door by both just days apart, wasting valuable time on someone who has already been canvassed. Democrats here say that was a real problem in previous cycles, even though unions tried to coordinate when preparing for battle against Scott Walker in 2011 and 2012.
"He lit a fire under the people to say: 'Hey we need these unions. There's a reason they're trying to crush us'," recalled electrical worker Dean Warsh, 46, as he drank Pabst Blue Ribbons and flipped brats for the post-canvassing lunch rush at his hall.
The problem dates back to Citizens United: Before that 2010 decision, labor unions could only canvass their own members – and only by their own members – creating an orderly, even if restrained, volunteer Democratic field operation, where each union knew exactly who one another was targeting.
But then suddenly, the rules changed. Unions could contact anyone they sought. And each group had an incentive for their own paid canvassing operation – especially since they could now hire from outside their ranks.
"If everybody had pursued an independent strategy of funding their own organization in different places, then that would have been chaotic," explained Mike Podhorzer, the longtime political director of the AFL-CIO.
The unions, without the cash to canvass the much-expanded voter universe, could try to pool their war chests and do as much canvassing as that money would take them. Then Steyer – and his $20 million – showed up.
"It is a deeper engagement, certainly, than a 15- or a 30-second ad," said Steyer, who has not given a single dollar to Priorities USA, Clinton's television-centered super PAC this cycle. Steyer said he still expects to surpass the $75 million he gave in 2014 – but through field-program spending. "It is building something with a different trajectory. It doesn't end on November 8."
Tension between the various constituencies persist, with members overheard at a union hall here dissing laborers from other trades. And the conflict between union partners and Steyer's environmentalist faction – which exploded into a high-profile fight as soon as For Our Future was created – has not dissipated.
And if labor could cohesively organize anywhere, it would be here in Wisconsin, where the wounds of the Walker labor battles remain raw (at least one union hall bathroom features a "Scott Walker Urinal Target" sticker). But those screaming matches similarly motivated the Kochs, who are personally close with Walker and placed one of their original AFP chapters in the Badger State in 2005.
Add in the lack of any substantial presidential advertising – Trump just began a small television buy last week, the first by either candidate – and Wisconsin politics this cycle is placing a particular premium on the nuts-and-bolts organizing that both labor and the Kochs are prioritizing nationwide.
But after this cycle? Despite their similar tactics – and their promises to hold politicians accountable after Election Day – the Kochs profess a confidence that their influence in politics will not budge.
"It'd be smart if they could pull it off," Bott said back at AFP headquarters in Sheboygan. But he's already wondering whether his rivals might pack up shop: "Are they going to be in Wisconsin in January?"