Story highlights
Conjoined twins Anias and Jadon McDonald were separated more than 16 hours into surgery
New: After 27 hours, both twins are out of surgery and in intensive care
After 27 hours of surgery, twin boys Anias and Jadon McDonald – born joined at the head 13 months ago – began a new life apart on Friday.
The round-the-clock operation at the Children's Hospital at Montefiore Medical Center in the Bronx began Thursday morning and ended Friday. The separation procedure itself lasted 16 hours, followed by more hours of surgery to rebuild their skulls and make them whole.
Jadon was the first of the boys to be finished. He was wheeled out of the operating room around 7:40 a.m. on a stretcher, his perfectly shaped head wrapped in white gauze.
He was taken on an elevator to the pediatric intensive care unit on the 10th floor, where he was reunited with his parents, Nicole and Christian McDonald.
"My boy," Christian said with tears in his eyes.
Nicole bent over in tears.
More than five hours later, around 1 p.m., surgeons finished operating on Anias, and he was brought to the 10th floor unit – where the family was finally reunited.
Photos: Conjoined twins separated: New life, apart
Photos: Conjoined twins separated: New life, apart
Photos: Conjoined twins separated: New life, apart
Photos: 80 moments from the '80s
Photos: Conjoined twins separated: New life, apart
Photos: Conjoined twins separated: New life, apart
Photos: Conjoined twins separated: New life, apart
Photos: Conjoined twins separated: New life, apart
Photos: Conjoined twins separated: New life, apart
Photos: Conjoined twins separated: New life, apart
Photos: Conjoined twins separated: New life, apart
Photos: Conjoined twins separated: New life, apart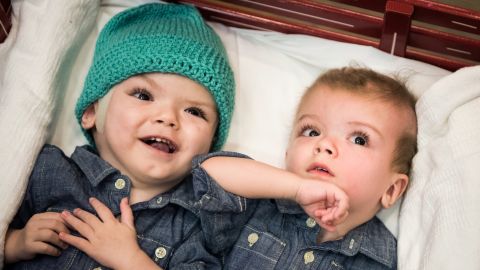 Photos: Conjoined twins separated: New life, apart
Photos: Conjoined twins separated: New life, apart
Photos: Conjoined twins separated: New life, apart
Photos: Conjoined twins separated: New life, apart
Photos: Conjoined twins separated: New life, apart