Story highlights
At least 30 US deaths have been blamed on Matthew
At least 22 dead in North Carolina
Hurricane Matthew has passed. But its lasting imprint will long be felt in US communities where flooding rivers delivered a ferocious one-two punch.
At least 30 US deaths have been blamed on Matthew. North Carolina saw at least 22 residents die as major rivers hovered above flood stage in the storm's aftermath. Hundreds more lost their lives in the Caribbean.
Images and video – such as this bird's-eye drone footage of the devastation – offer a stark portrait of Matthew's lingering aftereffects in North Carolina. Many had not witnessed such destruction since Hurricane Floyd in 1999.
Downtown streets become flowing streams
The city of Lumberton in Robeson County, about 65 miles northwest of Wilmington, saw the worst of it.
The surging Lumber River cut a glistening path across Interstate 95, shutting down a section of the main highway along the East Coast.
Travis Long/The News & Observer/AP
In Lumberton, downtown streets became flowing streams, passable only by small vessels.
Travis Long/The News & Observer/AP
Boats and helicopters plucked hundreds of stranded residents from homes and rooftops.
About 3,000 people in Robeson County sought refuge in shelters.
Homes, restaurants, businesses and even water treatment plants were damaged or lost in the deluge.
Travis Long/The News & Observer/AP
Reeling in catfish from the porch
Some tried to make the best of hard times.
In the town of Windsor, in North Carolina's Inner Banks region, members of the Jinnette family reeled in catfish from the front porch.
But the rest of Windsor was surrounded by muddy water.
In many places, such as Rocky Mount, homes became islands amid a sea of floodwater.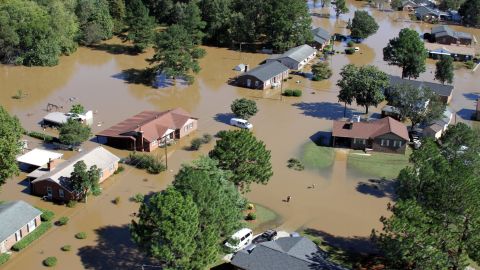 Thomas Babb/The News & Observer/AP
Small boats and canoes were the only way to get around water-logged communities such as Fair Bluff, where traffic signs jutted out from the murky water.
Threat is not over
The federal government has declared disasters in 34 of North Carolina's 100 counties, state officials said Wednesday night. The declaration allows federal aid to supplement state, tribal and local recovery efforts.
The threat is far from over.
In Pitt County, an estimated 10,000 residents have been evacuated, with 1,000 of them needing assistance from emergency services.
The Tar River is forecast to crest Friday at 25.2 feet, 12 feet over flood stage.
Some North Carolina fatalities involved people who drowned after driving onto flooded roads. Officials urge motorists not to drive through high water. The tops of submerged cars rose from the water like buoys.
Sean Rayford/Getty Images
Stranded souls plucked to safety
Many residents fled homes with whatever they could take.
Sean Rayford/Getty Images
Others were not so fortunate. For days, rescue crews worked to pluck the stranded to safety.
Sean Rayford/Getty Images
Responders pulled people from submerged homes, placed them in rafts or choppers, and whisked them to safe and dry ground. Some pets stayed behind.