Story highlights
Matthew shot up from a Category 1 to a Category 5 hurricane in one day
It stayed a Category 4 or 5 hurricane longer than all Atlantic hurricanes from the past eight years combined
Record flooding. Hundreds of deaths. A hurricane so unusual, even forecasters were astonished.
Hurricane Matthew shattered several records during its deadly march through the Caribbean and up the southeast US coast.
Here's what we've learned about the extraordinary storm and the catastrophe it left behind:
Record-breaking stamina
"Matthew is the longest-lasting Category 4 or 5 hurricane in the month of October since record-keeping began" more than 50 years ago, CNN meteorologist Allison Chinchar said.
That means Matthew hurled maximum sustained winds of at least 130 mph for more than four days straight. That's unusual in October because the water is typically cooler.
"The reason it lasted for so long is because it avoided as much land for as long as it possibly could," Chinchar said.
"Elevation is normally a good storm killer. The fact that it never made a big landfall on a big landmass or on high elevation is why it maintained intensity."
Hundreds of deaths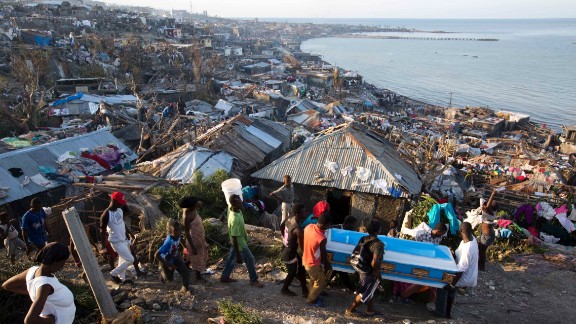 Dieu Nalio Chery/AP
Matthew annihilated Haiti, a country that really couldn't take another deadly disaster. At least 60,000 people were still living in makeshift homes after the catastrophic 2010 earthquake that killed more than 200,000 people.
The hurricane killed at least 300 people there, said Paul Altidor, Haitian ambassador to the United States.
"We expect, unfortunately, that number to rise a little bit as we begin to access communities, regions that were inaccessible because of the roads, because of the bridges that fell due to the hurricane," Altidor said.
Others report much higher death tolls. Reuters said more than 800 people died in Haiti, citing local civil protection officials.
Adding to the catastrophe: A bridge collapsed and severed National Route 2, the main road between the capital and Haiti's devastated southern peninsula.
Matthew also killed at least 15 people in the United States: seven in North Carolina, four in Florida, three in Georgia and one in South Carolina.
It also claimed the lives of four people in the Dominican Republic and a teenage boy in St. Vincent and the Grenadines.
A freakishly rapid intensification