Story highlights
Guardiola pays tribute to mentor Cruyff
Aims to continue Dutchman's legacy
He's won six league titles as coach of Barcelona and Bayern Munich as well as two Champions League finals with the Spanish club.
But for Manchester City manager Pep Guardiola there's no bigger title than fulfilling the legacy of his late mentor Johan Cruyff.
"It's a big honor that people think I can follow his legacy, or even try," Guardiola, who played under Cruyff when the Dutchman was coach of Barcelona between 1988 and 1996, tells CNN. "There's no bigger title than that."
For just as the La Masia graduate says meeting Cruyff for the first time opened up a "new world," Guardiola, who made his Barcelona debut in 1990, admits there's always more to learn – and this even after over three decades at the top of the football pyramid.
"I'll always believe that to create something revolutionary like Johan was, and Johan did, you need to be revolutionary," Guardiola says.
"Maybe (revolution's) coming. I don't know. Maybe it's going to show us something new I never saw before. But he did it. Especially in Barcelona. He arrived when we didn't know about many, many things.
"He showed us; he taught us."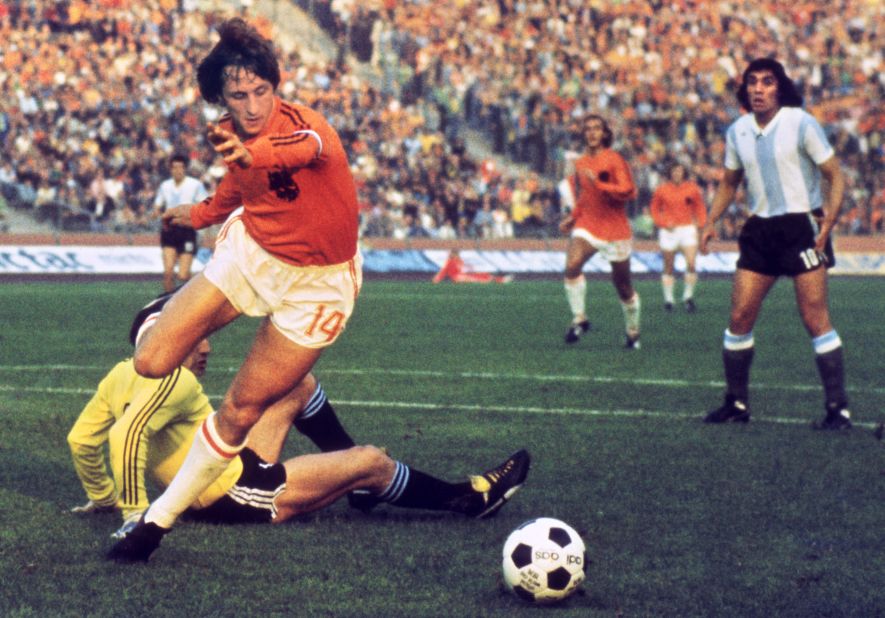 Football legend Johan Cruyff dies aged 68
My Turn
One of the game's most progressive thinkers, Cruyff – who passed away in March, aged 68, after a battle with lung cancer – leaves a legacy far greater than his mesmerizing turn, having helped define football as we know it today.
"I am sitting here in London, as coach of Manchester City … because I met him," said Guardiola, flanked by Cruyff's son Jordi at the posthumous release of the football great's autobiography.
The former Ajax star always looked forward – whether that meant bewitching the watching world with that singular piece of skill at the 1974 World Cup, pioneering Total Football or analyzing traffic lights to plan the optimum route through Barcelona's boulevards with his family.
The book's opening line – "The past is not something I think about too much … Everything I have done has been done with a view to the future" – says it all about how Cruyff approached his life.
Cruyff's long shadow
But given the problems affecting football in the Netherlands today, it's difficult not to look back.
With a population of just 17 million, Holland has traditionally punched above its weight in international football, reaching the World Cup final three times and winning Euro 1988.
However, since the country's last World Cup final appearance two years ago, the Dutch have been defeated in 10 of their past 23 matches.
Holland didn't even qualify for Euro 2016 – missing out on the tournament despite the expanded format comprising lesser footballing nations like Northern Ireland, Iceland and Albania.
Cruyff's legend looms large over Dutch football, such that it is impossible to consider the fabled orange shirts without recourse to a style of football perfected over 40 years ago.
"Of course, football has changed a lot from Total Football in the '70s to now," Jordi Cruyff tells CNN.
"Things have been modernized and there's not one coach who's going to do what [Cruyff] did, nor would he do what a coach today does."
READ: The hidden depths to football's 'quiet manager,' Carlo Ancelotti
Courage
While he believes there are managers continuing his father's legacy, Jordi Cruyff acknowledges that it isn't easy to be a pioneer.
"I think you need to come with fresh, new ideas. I think you have to have courage above all – 100% commitment to your own convictions and your own idea, to know how to convince the rest that your idea is the right way.
"Obviously he had his ideas and he opened up a way of thinking. But in the end, every successful coach has added something of their own – their own personality and their own vision."
Total Football has not been forsaken, Jordi Cruyff contends – merely updated.
"Maybe not everything that my father liked is agreed upon by all the coaches. Everybody adds their own part of personality to a certain football idea. I just think that every day there is an evolution."
Total Football reconfigured
That evolution – at once everlasting and based on a single ideal – is embodied in the teams of Guardiola as he's moved from Catalonia and Bavaria to a new challenge in the north of England.
"I realized that in England they still play 11 vs. 11 as well. One ball," quips Guardiola, slipping into aphorism mode in a manner reminiscent of Germany's 1954 World Cup winning coach Sepp Herberger.
"The pitch is sometimes smaller in some places but it's the same – why should we change?
"At the end of the day, the coaches and managers adapt to the quality of their own players. My players now are completely different to in Munich and Barcelona, but the principles – the fundamentals – are the same."
Visit cnn.com/football for more news and videos
It's a moment that makes Jordi Cruyff smile.
"If my father had to single out somebody now that's continuing Total Football, you just have to look beside me."
My Turn: the autobiography by Johan Cruyff, is published by Pan Macmillan.