(CNN) —
Property prices in London are famously insane – the average house costs something in the region of $750,000, and many young families find it impossible to buy their first home in the British capital.
Take Mindy and Joel Friedman, for example. Until this summer, they and their six children were renting a two-and-a-half bedroom terraced house with one bathroom in north London.
The house would have sold for 800,000 pounds ($1 million), Joel estimates. Buying it would mean "being in debt for the rest of my life for a house which is far too small."
So they decided to move out of the city.
That wouldn't be a surprising decision for many young Londoners, but the Friedmans are ultra-Orthodox Jews, part of a community which tends to cluster in tight-knit neighborhoods in order to be within walking distance of their synagogues, schools, and kosher food.
Brexit backers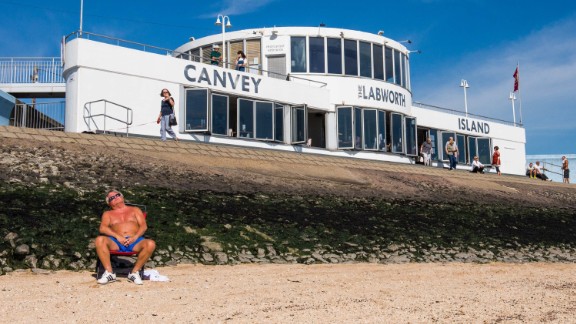 Sarah Tilotta for CNN
Even more startling is where they decided to move: Canvey Island, a small, 97% white coastal town where the UK Independence Party made a strong showing last year. The party attracts more anti-Semitic supporters than other leading British parties, a survey last year suggested.
The district that includes the town had the third highest majority in favor of leaving the European Union in this June's Brexit vote. (The district the Friedmans moved from, on the other hand, had the third highest Remain vote in the UK.)
The Friedmans aren't alone - they are one of eight ultra-Orthodox families who have moved to Canvey Island in the past few months, and Joel hopes the community will eventually have 50 to 60 families.
"Everyone agreed we had to move out.
"People, unless they're very wealthy, haven't bought (houses) when they have 6, 8, ten kids. Our generation is stuck," he said.
'Chosen Place'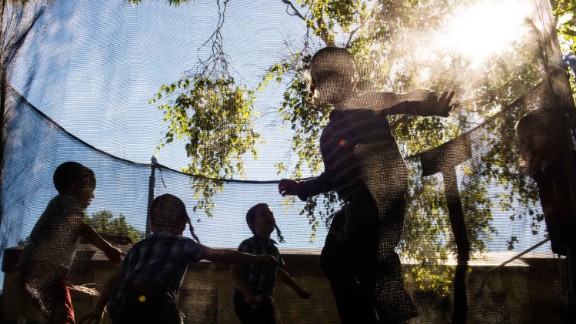 Sarah Tilotta for CNN
London's ultra-Orthodox community set out to find a new home near the capital, where many large houses were coming onto the market.
That's how they settled on Canvey Island.
Friedman said that a generation is "downsizing" there after buying their London homes 30 to 40 years ago, raising families, and seeing their children move away.
Small-town Essex became the unlikely "Chosen Place," he added with a chuckle.
Building a community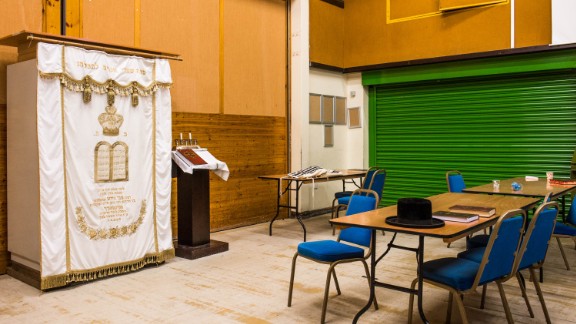 Sarah Tilotta for CNN
The fledgling community has bought an abandoned elementary school campus and is turning it into a community center, hoping that its gymnasium will eventually be a synagogue when enough Jews move from London.
Friedman calls it a "satellite community" to London, not a new community.
For now, they don't even have a rabbi, but Friedman said that wasn't a problem, even during this month's Jewish High Holidays of Rosh Hashanah and Yom Kippur: "Ultra-Orthodox Jewish services don't center around a rabbi," he said.
But religious life in Canvey Island is much less rich than in London's Stamford Hill neighborhood, where he came from, Friedman concedes: "We need 10 men in order to pray three times a day. In Stamford Hill, you've got 10 places, 20 places, where you can pop in and pray any time, round the clock."
Live and let live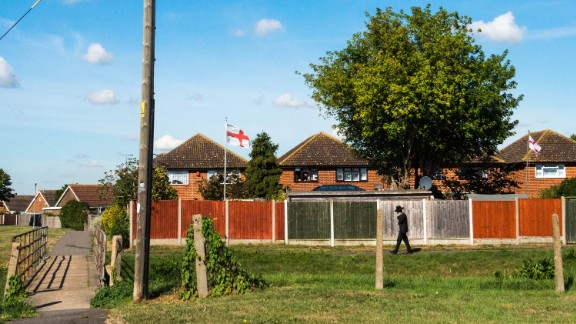 Sarah Tilotta for CNN
Since they arrived this summer, Friedman says locals have been overwhelmingly welcoming – one neighbor brought a kosher cake to welcome his family, and another waved off his apology when his kids made a lot of noise on their trampoline, saying it was good to have a new generation of children in the area.
He remembers offering an explanation to another neighbor who he thought was staring at his outfit.
He was dressed in his Shabbat best at the time - white knee socks and knee-length breeches.
"I said to her, 'It's traditional, this is how Jews dressed in the 17th and 18th centuries,'" he said. "And she said, 'Why are you telling me? Dress however you like!'"
Strange rules? No problem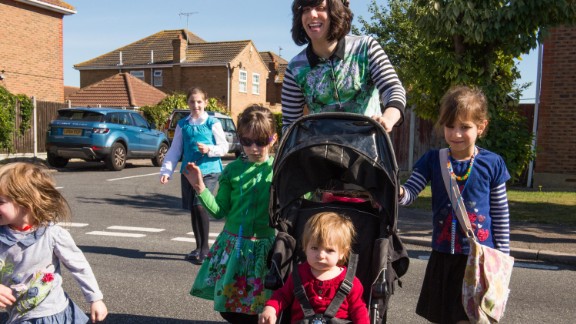 Sarah Tilotta for CNN
Canvey Island resident John Bannon is similarly laid-back about the influx of outsiders.
He lived next to a synagogue in London before moving here in 1995.
"They've got some strange rules, but hasn't everybody? You could say they're a target for terrorists, but ain't everybody?" he asked rhetorically.
He's not religious himself, he said, but doesn't mind other people's religion as long as they don't try to push it on him: "I don't ram my non-beliefs down your throat, don't ram your beliefs down mine," he said. "Don't argue about religion or politics. You can't change anybody's mind."
Home sweet home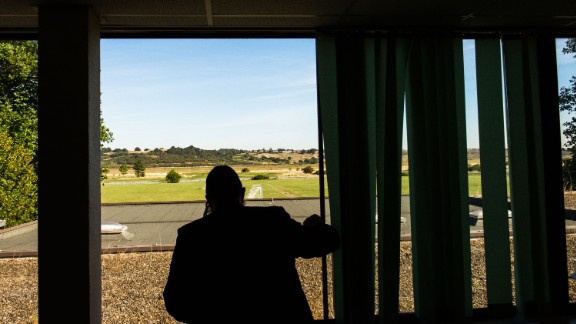 Sarah Tilotta for CNN
The Friedmans are now settled in a five-bedroom house with a trampoline in the backyard, toys in the sunroom and a piano in the dining room.
Joel bought the piano off eBay, and it sits next to a wall of bookshelves stacked floor to ceiling with religious works.
"It's not luxury we're after," he says. "It's just space. It's a human right."
READ: Woman rabbi makes Orthodox Jewish history
READ: Ultra-Orthodox Jews go high-tech