(CNN) —
Hurricane Matthew, now a Category 2 storm, is hitting the Florida coast today. It will then turn north and head for Georgia and South Carolina.
CNN reporters are in areas under threat. Here's what we're seeing on the ground, beginning in the south of Florida and continuing on the storm's path.
Daytona Beach, Florida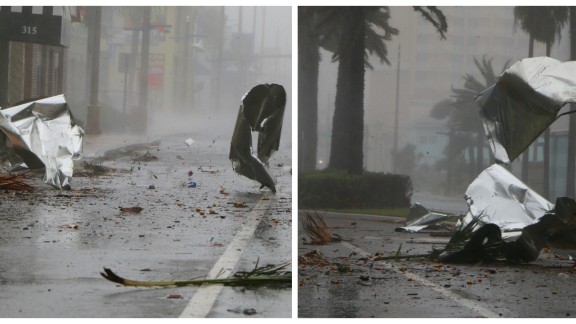 robert ray/cnn
Band after band of winds upward of 60-70 mph are pounding the area. Palm tree leaves, signs, sheets of metal, some roofing insulation and other debris are flying through the streets.
The rain is really coming down, seeming to fall sideways at some points.
In some moments, it looks and feels like just a typical Florida storm. But within seconds it all changes. This morning, we had to run as things took a drastic and dangerous turn. Power lines and palm trees were twisting and bending, looking like they could snap at any moment. Lights have been flickering on and off.
We checked the other side of the hotel, where waves are enormous. The boardwalk in the area was inundated the last time it took a direct hit.
Earlier today, a wave surged over the boardwalk wall in Daytona Beach.
-- CNN's Boris Sanchez, Kevin Conlon and Yon Pomrenze
The eye of the storm has passed off the coast of Daytona Beach and the winds and rains have died down.
But things are still dangerous here. Debris is being picked up by gusts of wind and blowing them around.
We've seen metal roofs as well a pieces of wood flying by in the gusts.
Earlier, a huge window flew and landed 20 feet away and shattered. We were all told to go inside immediately.
We haven't seen many people out and about. It is very eerie, but it seems people have heeded warnings.
– CNN's Jeremy Grisham and Holly Firfer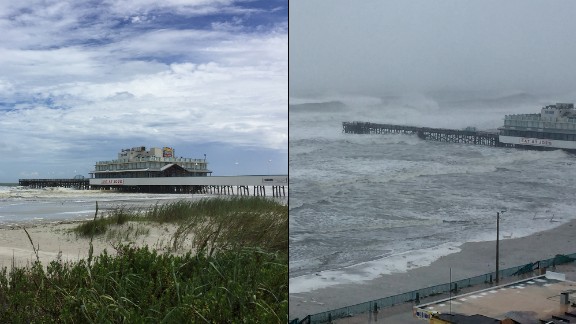 Traci Tamura/CNN
Strong winds pounded Daytona Beach all night long. A midday view from the hotel gives a small glimpse at some of the damage.
With the worst bands of rain inching closer, there are growing concerns about those who have chosen to stay. Daytona Beach's no-nonsense police chief, Michael Chitwood, warned: "There will be a point where we can't rescue you."
It was a direct warning to those who chose to ride out the storm.
We went back Friday afternoon to see how the folks who boarded up and rode out the storm at Cruisin Cafe fared. No damage, they say.
– CNN's Sara Sidner and Traci Tamura
Orlando, Florida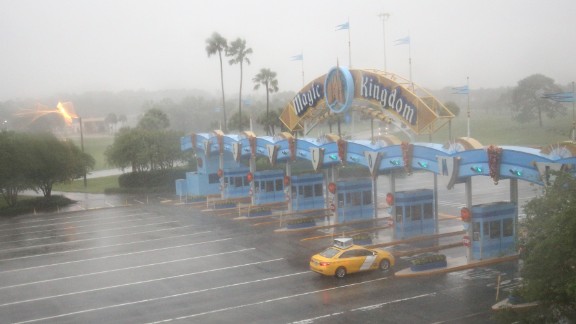 GREGG NEWTON/AFP/AFP/Getty Images
Tons of people are hunkered down at Disney in Orlando. It may not be operational, but many hoped the big tourist attraction would yield them a place to stay.
Strong gusts of wind come through with rain on and off. There is a curfew in effect until Saturday morning.
We stopped at a Waffle House down the street a few times today. It's the only place open that we've found. A few people mentioned to me they had to check out of their hotels and are still working out their next move until the storm clears up. All the hotels are sold out for the next several nights.
It turns out the Waffle House workers are actually from the restaurant in Mobile, Alabama. They came as part of the company's disaster relief efforts program that allows local employees to evacuate with their family so that they don't have to split up.
– CNN's Audrey Benson and Alison Kosik
Jacksonville, Florida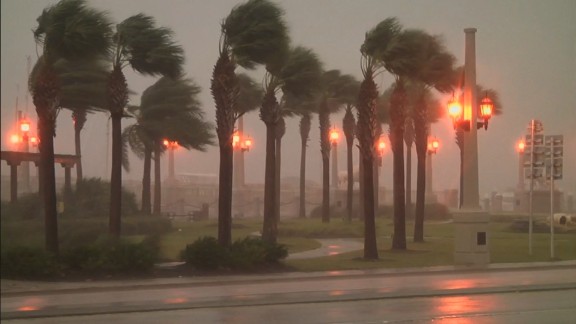 WJXT
Things are going downhill in the most populated city in Florida. Though it is several hours before the worst of Hurricane Matthew will impact Jacksonville, the conditions have deteriorated considerably.
The winds have picked up, and the sheriff's office is advising everyone to stay exactly where they are, tweeting: "Do not go outside until you get clearance from the Emergency Operations Center."
There is great concern about the threat of downed trees and power lines, which has already started.
But water is the bigger concern here. The storm was producing 17-foot waves when it was about 20 miles off shore, creating great concern about storm surge. And in Jacksonville, the presence of the St. Johns River means there is a possibility it will spill over into the city creating major problems.
CNN's Rolling Coverage vehicle is driving through town now as the water of St. Johns begins to rise.
Some residents found refuge at the Salvation Army shelter downtown. About 60 slept there Thursday night, many of them homeless. The shelter can house up to 120 people.
But officials still worry not enough people evacuated to another city or shelter. One woman says though the water is creeping up, she's lived in Jacksonville for 60 years and feels confident her home is high enough up that it will survive the surge.
– CNN's Victor Blackwell, Chris Cuomo, Jason Morris and Rosa Flores
Tybee Island, Georgia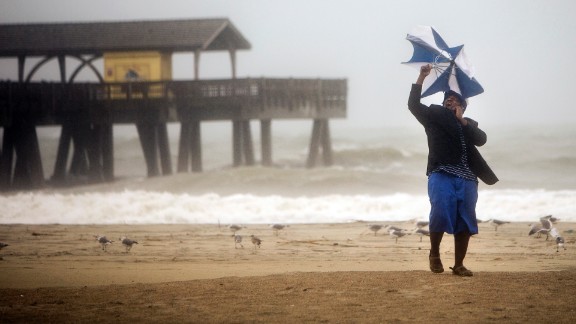 Stephen B. Morton/AP
Many people here are following evacuation orders, but some have chosen to ride it out as long as they can.