Story highlights
Main bridge leading to devastated southern Haiti has collapsed
Matthew is set to pummel the United States later this week
Editor's Note: Are you affected by Hurricane Matthew? If it is safe for you to do so, WhatsApp us on *+44 7435 939 154* to share your photos, experiences and video. Please tag #CNNiReport in your message.
Hurricane Matthew took aim at the Bahamas on Thursday after leaving behind a humanitarian crisis in Haiti.
At least 276 people have been killed so far in Haiti, the Dominican Republic and St. Vincent and the Grenadines, officials said, with the death toll expected to rise.
Haiti, still recovering from the catastrophic 2010 earthquake which killed hundreds of thousands, was hit hardest with more than 271 people reported dead as of Thursday evening, local time.
National Route 2, which connects Port-au-Prince with Haiti's southern peninsula, broke apart when the bridge collapsed, the country's civil protection agency said.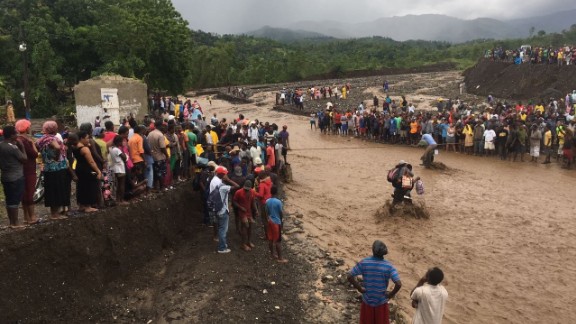 CNN
Tim Callaghan, assistance response team leader for the US Agency for International Development in Haiti, told CNN that much of the damage in Haiti's hardest hit areas – the southwestern cities of Les Cayes and Jeremie – appeared to be structural, and not the result of heavy rainfall.
Bahamas: Damage still unknown
As of Thursday morning, Matthew hurled 125 mph (205 kph) winds as it churned toward the Bahamas, the National Hurricane Center said.
The storm was about 60 miles (95 kilometers) southeast of Nassau and was moving northwest at 12 mph.
Hurricane Matthew: Live coverage
Farther south, on the outer island of Long Island, residents began to feel Matthew's presence.
Jeanette Walker said she lost power around noon as winds whipped palm trees and angry waves crashed on the beach, shaking her home.