Story highlights
Rosetta's last act is to set down on the comet surface
The Philae lander discovered 16 organic compounds
Spacecraft traveled billions of miles
Mission cost $1.57 billion
The Rosetta space probe has crash-landed on the surface of a distant comet, ending a remarkable 12-year mission that made a series of breakthrough discoveries.
It was the final act of an epic project to chase a comet in its orbit around the sun, put a sister spacecraft on the surface and gather information about its behavior and chemical composition.
After confirmation that Rosetta had landed, the mission controllers sent out a simple tweet in many languages, just saying: "Mission complete."
'Sleep well Rosetta'
Rosetta lander system engineer Laurence O'Rourke paid his own emotional tribute to the project, telling CNN it had been and "exceptional" mission.
"Sleep well Rosetta. You leave a legacy of science for generations to come," he said.
"To have seen the signal lost was a sad moment for all of us on the project and yet to have ended it in such an extraordinary way has made that moment also very special for us too.
"I was watching the images come down during the morning and each one was better than the last. The final ones taken were the cherry on the cake of this exceptional mission; they really showed the surface at amazing resolution."
DANIEL ROLAND/AFP/AFP/Getty Images
The European Space Agency (ESA) which led the mission consortium, including NASA, decided that setting down the orbiter on Comet 67P/Churyumov–Gerasimenko was the best way to close the project.
Airbus Defence and Space, which built the Rosetta probe, said the impact was at a sedate walking pace of about one mile per hour.
O'Rourke earlier told CNN that Rosetta was too far away for its solar panels to be effective in running the heaters or the computers.
The orbiting spacecraft was not designed to land on the comet but by making a controlled descent and impact, it was thought possible to gather more pictures and data on the way down.
Photos: Rosetta: The comet chaser
Photos: Rosetta: The comet chaser
Photos: Rosetta: The comet chaser
Photos: Rosetta: The comet chaser
Photos: Rosetta: The comet chaser
Photos: Rosetta: The comet chaser
Photos: Rosetta: The comet chaser
Photos: Rosetta: The comet chaser
Photos: Rosetta: The comet chaser
Photos: Rosetta: The comet chaser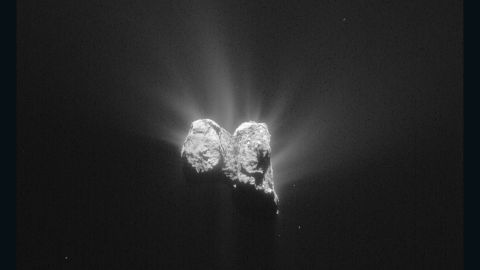 Photos: Rosetta: The comet chaser