Story highlights
Clinton's path to the White House is paved with support from Obama's voters
Democratic nominee is aiming her post-debate message at this group
Hillary Clinton had a question for the energetic, young and diverse crowd she greeted at a North Carolina rally Tuesday: "Did anybody see that debate last night?"
"Wow," she said.
The Democratic nominee was seeking to quickly lock in a political dividend among voters of the crucial Obama coalition after what was widely hailed as a victory in her first debate clash with Republican Donald Trump.
Clinton's path to the 270 electoral votes needed to win the White House is paved with support from the millennials, women, African-American and Hispanic voters who lined up behind President Barack Obama in 2008 and 2012. But there have been mounting concerns among Clinton supporters that key elements of Obama's base vote are not enthusiastic about her campaign as pre-debate national and battleground polls tightened.
So while her clash with Trump on Monday night at Hofstra University in New York was primarily about who had the temperament, experience and knowledge to serve in the Oval Office, it's no surprise that Clinton's debate strategy and rhetoric was laced with subtle outreach to the diverse Democratic coalition she badly needs to flock to the polls in November.
Clinton gloats and Trump fumes
She prodded Trump on his treatment of women and offered an emotive defense of Obama over the GOP nominee's so-called birther crusade. And she made a Latina beauty queen who says she was insulted by Trump over her weight and ethnicity the centerpiece of a fresh outreach to women and Hispanic voters.
Knitting together Obama coalition
The visuals of Clinton's first post-debate campaign trip in the crucial swing state of North Carolina on Tuesday tell everything about how she plans to knit together the Obama coalition. The crowd seemed far more enthusiastic than some of her recent audiences, no doubt given an extra boost by her debate performance on Monday.
Clinton pointed out that she needed every single vote from the diverse Democratic coalition, knowing that even if Trump maximizes the white Republican vote, demographics in the election appear to favor Democrats.
"We are seeing spikes in early voting and we are seeing voting rates with African-Americans, Latinos and young people going up," said Clinton. "And for the first time, the estimate is that young people could represent 25% of the vote. Now, I would love to see that. Obviously, I hope people vote for me, but I would love to see that."
How Hillary Clinton found her stride on gender
She added: "This election is going to be close. They all are these days."
But there have been disturbing trends for some Clinton supporters in some recent polls.
A Quinnipiac University poll this month found Clinton was backed by 31% of voters between the ages of 18 and 34 while 26% favored Trump. But 44% of that group said they would vote for Libertarian Gary Johnson or Green Party leader Jill Stein.
A Bloomberg News/Selzer & Co. poll released on Monday found Clinton's clear, 10-point advantage among younger voters cut to a statistically insignificant four points when Johnson and Stein are included in the race.
Other polls have also shown Clinton needing to improve her standing among millennials. A CNN/ORC poll earlier this month found Clinton leading Trump by 54% to 29% among voters under the age of 45. But she's running behind Obama, who took 60% of the same group in 2012.
Powerful surrogates
The Clinton campaign has been deploying its most powerful surrogates, including Obama and First Lady Michelle Obama, to boost turnout among young voters, women and minorities. Vermont Sen. Bernie Sanders is also expected to head back out to the college campuses where he built his insurgent bid for the Democratic nomination to try to drive up support for his former foe.
He will appear with Clinton Wednesday in Durham, New Hampshire, an effort aimed directly at millenials by promoting college affordability. CNN's Manu Raju reported Tuesday that Sanders is also expected to campaign for Clinton in states like Michigan with possible trips to Nevada, Pennsylvania, Colorado and Wisconsin.
Sanders, Clinton plot new push amid slipping support with millennials
But Clinton knows that her own role is the most crucial.
That's why right from the start of her debate clash with Trump, she tried to show empathy with the concerns of millennials — considered by various experts to be those born between the early 1980s and 2001.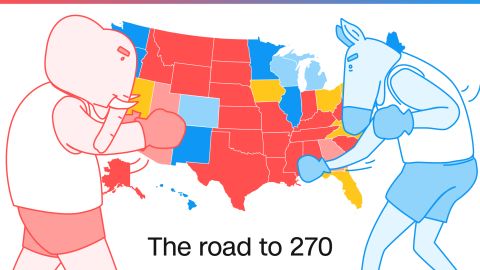 "I want us to do more to support people who are struggling to balance family and work," Clinton said. "I've heard from so many of you about the difficult choices you face and the stresses that you're under. So let's have paid family leave, earned sick days. Let's be sure we have affordable child care and debt-free college."
Clinton slammed Trump for what she said was his belief that climate change – an issue important to millennial voters who may be taking a look at Stein – was a hoax invented by the Chinese. She sought to ease a vulnerability among African-American voters angered by former President Bill Clinton's criminal justice reforms in the 1990s, vowing to eradicate "systemic racism" in the penal system.
She even turned her attacks on Trump's refusal to release his tax returns into a millennial-friendly argument, saying that if he had paid almost no income tax "that means zero (money) for troops, zero for vets, zero for schools or health."
Trump as Clinton's ally?
Clinton's best ally in her bid to firm up the Democratic base support and get them to the polls might be Trump himself.
His sometimes overbearing, angry manner at the debate, in which he repeatedly interrupted Clinton, probably did little to have improved his poor standing among college educated women. Such voters are crucial to Clinton's hopes of keeping states like Virginia and Pennsylvania in the Democratic column in November.
Clinton also accused her rival of calling women "pigs, slobs and dogs," and of bemoaning what an inconvenience pregnancy could cause to employers.
She also brought up the case of Venezuelan born Alicia Machado, a former Miss Universe who now holds a US passport who says Trump dismissed her as "Miss Piggy" because of her body shape and "Miss Housekeeping" owing to her Latina ethnicity.
6 takeaways from the first presidential debate
Trump appeared to dig that hole deeper in an interview on "Fox and Friends" on Tuesday.
"She was the worst we ever had. She was a winner, and she gained a massive amount of weight, and we had a real problem," Trump said.
The Clinton campaign wasted no time in getting Machado up on a conference call with reporters. She stuck closely to her political script as she praised Clinton as a "strong girl" and referred to herself as a "working woman" and a mother.
Trump's decision to keep the controversy going on Tuesday staggered some observers.
"To come out and double down on it the morning after the debate is unbelievable," Kristen Soltis Anderson, a Republican pollster who is also an expert on millennial voters, told CNN's Anderson Cooper on Tuesday. "With female voters, which has been a tough spot with Trump all along, this is going to do absolutely nothing but hurt him."
CORRECTION: An earlier version of this story incorrectly reported the results of the Quinnipiac University poll.
Correction: an earlier version of this story misstated Trump's support among voters polled by Quinnipiac University aged 18-34 who favored Trump.