Story highlights
Boris Sanchez: Fernandez wasn't just fun to watch on the mound; he lifted up a franchise
It's a shame Fernandez will never fulfill the promise of his talent and dedication, he says
Editor's Note: Boris Sanchez, CNN's Miami correspondent, was born in Cuba but moved to Miami when he was 3. Like many in the Florida city's Cuban community, he grew up idolizing Cuban baseball stars and the Miami Marlins.
(CNN) —
His story is almost over.
The jaw-dropping highlights of his incredible career, on loop. The outpouring of grief from his fans and teammates.
The somber commemorative game, with a surreal storybook moment, already in the books. His final public farewell, starting with a memorial at Marlins Park, is on Wednesday.
But the shock has not worn off, and the loss of Jose Fernandez is too sudden to accept.
It's hard to believe the 24-year-old Miami Marlins superstar pitcher is dead, killed in a tragic boating accident early Sunday.
The former Rookie of the Year not only leaves behind a young family, with his girlfriend four months' pregnant, but also a legacy that the city of Miami will struggle to replace.
One of our heroes, a symbol of what this city and this country means to so many, is gone.
From the bodegas of Calle Ocho and the warehouses of Hialeah to the ballpark in Little Havana and the Little League fields of Westchester, Miami is distraught and in disbelief.
The city is distraught because the death of Jose Fernandez transcends sports. This is about more than baseball. This is about family. This is about cultural identity.
Baseball is more than a pastime for Cubans. It is a tradition that began on the island more than 20 years before the first official World Series was played and continues to live on today.
La pelota is a ritual that has historically bridged massive gaps in culture, race and politics for our people.
For one, Fidel Castro's love of baseball is arguably unrivaled among political leaders. He once aspired to play in the Major Leagues and often used the sport to advance Cuban foreign policy around the world.
It is no surprise then that my own personal experience learning the island's complicated political history began over countless hours of tossing a baseball with my grandfather Jose Sanchez.
Like Castro, he was a revolutionary whose earliest memories included endless innings played on the streets of Havana; my adolescent grandfather, using a broom for a bat, swung at bottle caps late into the night.
That passion stayed with him, even after the Cuban Revolution, when anti-communist activism landed him a 20-year sentence in prison.
He was finally released, but his obsession with the game remained long after being granted political asylum by the United States and landing in Miami with my family on the day I turned 3.
A man of few words, abuelo rarely talked about fighting in the revolution while I was growing up. He never spoke about the horrors of his time behind bars and hardly ever mentioned the pain of leaving the country he battled to liberate from Fulgencio Batista's tyranny.
But he never had enough to say about my poor throwing motion – or about the Marlins.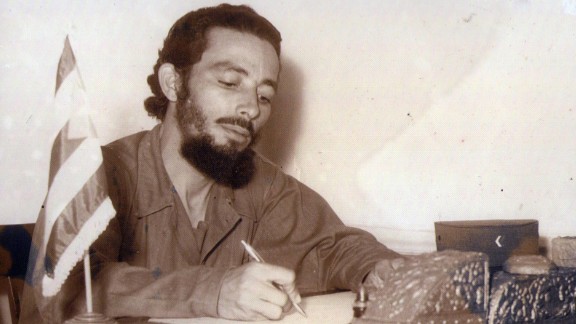 Boris Sanchez/CNN
Being hard of hearing, he watched every game on TV with the volume at its highest. If it weren't ear-piercing enough, he had the radio on full blast, too, for the Spanish translation.
You could stand outside, in my backyard, and you'd know Jose Fernandez was making batter after batter whiff, because, above that bilingual commotion, you'd hear abuelo cheer and laugh.
When words were scarce, baseball became our mode of communication. Over the years, with the seed that baseball helped to plant, he opened up and I got to learn his story.
It's a story that many Cuban Americans – and so many others fleeing oppression and poverty – know by heart.
It's the story of Jose Fernandez, too.
That's why his untimely death has dimmed the light of this community.
His story symbolized the people of Miami better than most athletes could ever represent the cities they play in. Jose was one of us.
He struggled, just as many in Miami have, with misery and hardship in their homeland.
Just like my parents, he became intoxicated by the dream of America.
Like thousands of refugees and immigrants in South Florida, he risked everything and left loved ones behind for a shot at freedom.
"When you're there, it's like you're in prison," Fernandez told ESPN in 2013, about his upbringing in Cuba. "I had to leave."
He set out to conquer that unforgiving 90-mile stretch of sea between Key West and Havana. Three times he tried and three times he failed.
He didn't fear being sent to prison, getting arrested for several months when he was 14 and serving time alongside murderers – a typical consequence for Cubans who flee and are captured at sea.
When he was released, by the time he turned 15, he once more cast his hopes and dreams into the ocean. His mother almost didn't make it. Getting through a rough patch of sea, he had to dive into the water to save her life.
Ultimately, all that mattered to him was making sure his feet were dry, so he wouldn't be sent back to Cuba again.
Each time he had failed, but each time, he got back on the boat and tried again.
In Fernandez's eyes, the greater risk was putting a limit on how far his talent could take him.
When he finally got to the United States, Fernandez did what my parents and millions of other recent arrivals have done every day since they came: restlessly work to make their dreams a reality.
Still just 15, Fernandez reportedly was already spending almost every day working with a pitching coach. He chopped down trees and put extra hours in the weight room. He sacrificed weekends and holidays to elevate his pitching speed to a Major League level and beyond.
Just five years after getting out of a Cuban prison, the rookie wasn't just ready for the Majors – he was an All-Star.
Twenty years young, pitching among the very best in baseball, he played the game with a childlike spirit.
Fernandez wasn't just fun to watch on the mound. His animated celebrations in the dugout lit up the ballpark every time fellow Marlin Giancarlo Stanton pulverized a baseball. He lifted up a franchise and a fan base often at odds.
He embodied our struggles, our triumphs and our loud personalities, too.
My grandfather talked about Jose Fernandez as if we were related. Abuelo also never hesitated to remind me that No. 16 was born in Santa Clara, in the middle of the island.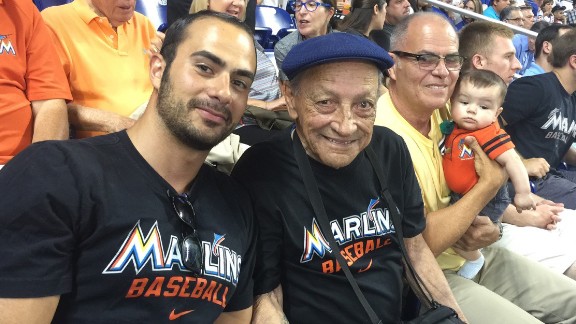 Boris Sanchez/CNN
When my 85-year-old abuelo passed away in January, I lamented that he didn't live to see the Marlins win another World Series, with Fernandez leading the way. Neither will I, tragically.
It was almost 20 years ago that another Cuban exile, Livan Hernandez, seemingly came out of nowhere to win the Marlins a championship and claim World Series MVP, famously yelling out some of the only words he knew in English: "I love you, Miami!" (I was 11, soaked in tears of joy, and yelling it right back at him.)
It is a shame that Fernandez will never fulfill the promise of his talent and dedication. We'll never get to share that triumphant moment between a hero and the spirit of the community for which he played.
The Miami Marlins' ace was the personification of everything that is possible when you get past "the Golden Door" and dedicate yourself relentlessly to your dream.
Fernandez's story is our story. And though he is gone, it is one we must never stop telling.