Story highlights
Only 8,100 saw Monaco's Champions League game Tuesday
Monaco played Bayer Leverkusen
Average crowd size was 7,836 in 2015-16
(CNN) —
A Champions League night; the world's most prestigious club competition; a last-second equalizer to extend the home side's unbeaten start in their group – but all played out in front of a half-empty stadium.
For a fixture that many of Europe's top tier clubs would expect to sell out, Monaco attracted just 8,100 fans for its 1-1 draw against German side Bayer Leverkusen.
With a capacity of just over 18,000, Monaco's Stade Louis II stadium is one of the smallest in Europe's top five leagues, yet the club often struggles to draw five-figure attendances.
But it's certainly not for a lack of enthusiasm from the diehard fans that do go to watch, as is evident from the roars that erupt and echo around the enclosed basin every time a decision goes against the team, or a shot whistles past the post.
Read: Real Madrid held to draw in Champions League.
"Monaco is just too expensive for Monaco fans," laments Yohan, who traveled into the city to support his team for the game against Leverkusen.
According to numbeo.com, the cost of living in Monaco is 87% higher than the United Kingdom, while rent is 746% higher than the UK – with a one-bedroom apartment in the center of the city costing 5,500 euros ($6,166) per month.
"They don't live in the city, they live in other places around the country," added Yohan. "It's too expensive to live here, so not all the fans can come for the matches to fill the stadium."
Luxury location
It seems fitting, then, that one of the groups of people arguably culpable for driving prices up, and inadvertently keeping football fans away, is in town this week: superyacht owners attending the Monaco Yacht Show.
The mini country on France's sun-kissed Mediterranean coast is home to about 38,000 people, and one in three are millionaires, according to WealthInsight in May 2015. It has the highest per capita GDP in the world.
Monaco's big draw is tax. The principality scrapped income taxes back in 1869, and other tax rates for companies and individuals are exceptionally low.
The prospect of keeping hold of most of their wealth has attracted people from over 100 nations, including Formula One driver Lewis Hamilton and tennis star Novak Djokovic.
Photo highlights from Monaco yacht show
That tax status is also arguably one of the lures for players who opt to join Monaco.
Promotion back to Ligue 1, the top tier of French football, in 2013 was supposed to signal the start of an exciting and successful new era for the club.
However, much like the Cote d'Azur coastline, Monaco's fortunes in recent years have been up and down.
As if trying to compete with its resident yacht owners, the club – bankrolled by Russian Dimitri Rybolovlev's billions – began to splash the cash.
The formidable talents of Joao Moutinho, James Rodriguez and club-record signing Radamel Falcao – widely considered the world's best striker at the time – were acquired, but all the club had to show for it was a Ligue 1 runner-up spot and a hefty Financial Fair Play fine.
Recently, Monaco has adopted a more cautious approach. Rodriguez was sold to Real Madrid and Falcao departed for unsuccessful loan spells at Manchester United and Chelsea, though the Colombian is now back in the principality.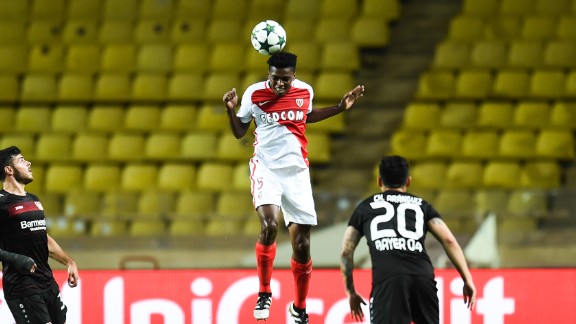 Alexandre Dimou/Icon Sport/Icon Sport via Getty Images
And this season Monaco is very much on the up. The club is second in Ligue 1 – a point behind rival Nice – and has a good chance of qualifying for the knockout stages of the Champions League.
"There are a lot of foreign people; Italians, Americans, English," Davide, draped in a Monaco scarf, tells CNN, reflecting on why the club struggles to fill the Stade Louis II.
"And they don't really care about the football team, so it's really only French and Monegasque in the stadium. But the fans will still come to the big games."
Davide, a Monaco resident, is referring to the club's August victory over reigning champion Paris Saint-Germain.
Read: Allardyce loses England job
While the average home attendance this season has been around 9,700, more than 15,000 spectators showed up to witness an impressive 3-1 win over PSG.
A real stalwart supporter, Triss attends not only the big games, but every home game. Wearing proudly the No. 8 of Moutinho, himself a stalwart since his move to the city in 2013, she says with a hint of resignation: "Monaco has very few real fans."
Agence Nice Presse/Icon Sport/Icon Sport via Getty Images
Paul – another fan who traveled in for the match – points to Monaco's size as an immediate stumbling block for higher attendances.
"It is a small city," he tells CNN, standing in front of the impressive main facade of the Stade Louis II. "Only around 38,000 people live here, so there are always few people at the game. But around France we have a lot of fans."
Neighboring Nice – "hated" rivals, says Paul – provides the nearest base of residence for many Monaco fans, although a drive in the Cote d'Azur traffic can easily push the journey time well past an hour.
"A lot of supporters prefer to support Nice than Monaco," Davide continues. "Although we have a lot of fans in Paris, Marseille, Lyon and around Europe too, but it's too far to come for every game so it's just the big matches."
It's a testament to those fans' dedication, as a round trip from Lyon will take the best part of 10 hours, while a return journey from Marseille is around half that time.
One of the most surprising packages in Europe so far, with only one Ligue 1 defeat to blemish an otherwise exemplary start to the season, Monaco certainly isn't being hindered by its vacant stands.
And those diehard few who do go each week, Triss included, may well be rewarded with a season to remember.