Story highlights
Amitabh Bachchan is one of India's best-known actors
His new film 'Pink' addresses the issue of women's rights in his home nation
(CNN) —
Admitting you're not familiar with the name Amitabh Bachchan would inspire gasps of incredulity in India.
A living legend in Hindi-language cinema, Bachchan has made over 180 films in a career spanning five decades. Hailed by many as India's greatest living actor, he is revered – some would even say worshipped – in his home nation.
In 2015, he was listed by Forbes as being the 7th most highly paid actor in the world and the 73-year-old is still going strong. He has 22.5M followers on Twitter, 24.4M on Facebook and is on the verge of releasing his latest soon-to-be smash, 'Pink.'
India's 'angry young man'
Born on October 11th, 1942, Bachchan's father was renowned Hindi poet, Harivansh Rai Bachchan, and his mother was Sikh socialite, Teji Bachchan.
After his on-screen debut in 1969, Amitabh's meteoric rise to fame began in 1973, when he got his first big break in Prakash Mehra's 'Zanjeer.' His portrayal of a rebel police inspector avenging the death of his parents catapulted him to fame, and set the actor on an anti-establishment path that was well-suited to the time.
Between 1975 and 1977, India was in the grip of a controversial State of Emergency, imposed by then Prime Minister Indira Gandhi. The brutal crackdown was marked by media censorship, civil rights restrictions and a mass sterilization campaign that targeted poor men.
Bachchan's rebellious roles in films like 'Zanjeer' and 1975's 'Deewar' encapsulated the frustrations of the time. These charismatic characters flaunted law and order, and railed aggressively against corrupt police and politicians. He was dubbed India's 'angry young man' and quickly started to inspire a mass following.
Also in 1975, Bachchan featured in Ramesh Sippy's highly acclaimed 'Sholay.' His portrayal of anti-hero, Jai, propelled him into a new stratosphere of stardom and solidified his position as a working class hero. A classic Bollywood battle of good versus evil – where good naturally prevails – the movie is regularly cited as being the best Hindi film ever made.
A string of hits followed, cementing his success on the silver screen. His roles, however, changed with the times. India's own 'rebel without a cause' became an all-singing, all-dancing, comedic, romantic leading man and one of the best paid actors in Bollywood.
Highs and lows
However, in the late eighties his film career stalled.
He made an unsuccessful attempt to enter the world of politics that resulted in him stepping down as a Member of Parliament midway through his term. "I know I should have never got into politics," he said in an interview with Stardust Magazine later. "And I've learned my lesson. No more politics."
In the nineties, things didn't improve. An ill-advised venture into the production business led to bankruptcy and a series of flops marred his otherwise glittering film career.
It was, by his own admission, his "lowest ebb, professionally, commercially and personally."
But in 2000, things turned around. 'Who Wants to be a Millionaire' approached Bachchan with the proposal that he host the Indian edition of the popular game show.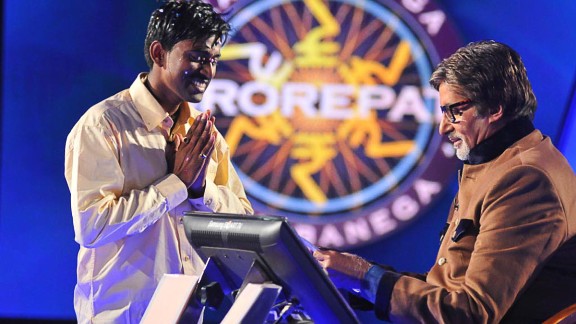 The televised quiz became massive in India and propelled Bachchan back into the limelight. He told local media it played a large part in an overall turnaround.
"It came at a time when it was most needed, like a booster shot," he told India Today. "Both professionally and financially, it acted as a catalyst."
Big B's second coming was underway.
Movie-making royalty
Today, Bachchan is head of a Bollywood dynasty that includes his son, Bollywood star Abhisek Bachchan, and his daughter-in-law, renowned Bollywood beauty and former Miss World, Aishwarya Rai.
He is still making films, and in 2014 made his Hollywood debut in The Great Gatsby.
But he told CNN he still gets nervous. "I like to feel the butterflies in the stomach, I like to go home and have a restless night and wonder how I'm going to be able to accomplish this feat, get jittery," he said once in an interview.
"I'd like to believe that tomorrow is another challenge for me. I'm sure there is lots more for me to do, because there is lots and lots of stuff still to be explored."