Story highlights
Zingers can fade after the moment, but gaffes can linger
Viewers will be on alert for any stumbles that might seal the fate of Clinton or Trump
(CNN) —
Presidential debates are about ideas, tough questions – and gaffes.
The impact of one line zingers can fade after the moment, but gaffes can linger, altering a race and shifting the momentum.
Mistakes happen in almost every debate. And as Hillary Clinton and Donald Trump meet for their first clash Monday – 56 years to the date after the famous showdown between Richard Nixon and John F. Kennedy – viewers will be on alert for any stumbles that might seal the fate of either candidate.
Here are eight of the biggest blunders from nearly six decades of presidential debates:
Nixon vs. Kennedy, 1960
The first televised general election debate featured a candidate who understood the power of television and one who didn't. John F. Kennedy, tall, young and confident, looked into the camera and addressed 80 million viewers.
Richard Nixon, pale and recovering from the flu, shifted his eyes, looking unfocused as he addressed the questioners rather than the viewers. Nixon was also sweaty and unshaven. People who listened to the debate on the radio thought Nixon won. People who watched the debate thought Kennedy won. The next day's Chicago Daily News headline summed up the importance of the visuals: "Was Nixon Sabotaged by TV Makeup Artists?"
Donald Trump's 6 debate tactics
It went so badly for Nixon that for the next 16 years, general election candidates avoided televised debates.
Ford vs. Carter, 1976
So memorable was President Gerald Ford's gaffe that it made it into his obituary. Asked about the expansion of Russian power in Eastern Europe, Ford flatly denied it.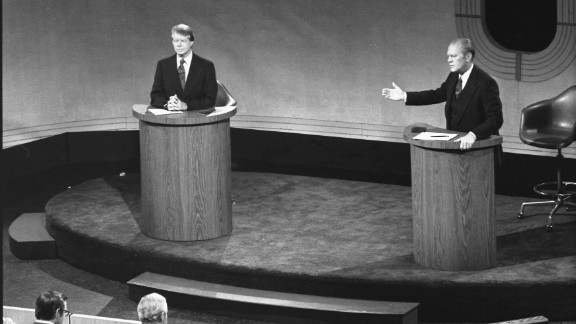 White House Photo/National Archives
"There is no Soviet domination of Eastern Europe, and there never will be under a Ford administration," he said.
Flummoxed, the moderator gave Ford a chance to modify his response. But Ford stuck by his response throughout the debate, insisting that Poland, Yugoslavia, and Romania were all "independent and autonomous."
Sometimes thought of as "the accidental president," Ford's bumbling response only highlighted the sense among some that he wasn't quite right for the job.
Dukakis vs. Bush, 1988
The question wasn't hard.
"Governor," CNN's Bernard Shaw asked, "if Kitty Dukakis were raped and murdered, would you favor an irrevoc