Story highlights
Over 50 people trapped beneath rubble following Aleppo airstrikes
The city's main water station destroyed during intense airstrikes
In New York, smartly-dressed world leaders launch a war of words over a short-lived ceasefire in Syria.
Half a world away, bombs rain down on the city of Aleppo, and on an aid convoy carrying food and medical supplies for tens of thousands of desperate people.
As the US and Russia – brokers of Syria's disintegrating ceasefire – clash at the United Nations General Assembly this week, war-ravaged civilians continued to pay the price.
With airstrikes resuming, and hopes of a coordinated effort to defeat ISIS fading fast, here's what been happening in Syria during the UN summit.
The bombs continued to fall…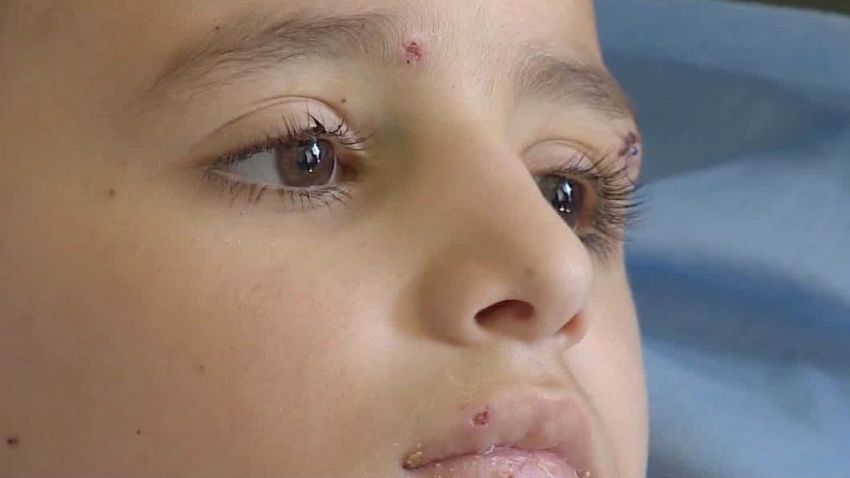 What the ceasefire looks like in Aleppo
The fragile truce that went into effect on September 12 fell apart less than a week later after a US-led coalition airstrike on a Syrian position killed dozens of soldiers.
The US military said Saturday's strike was targeting ISIS militants, and if it hit Syrian troops it was an accident.
But a diplomatic row between the US and Russia erupted, with Russian Ambassador to the UN Vitaly Churkin calling the strike "an extraordinary display of American heavy-handedness" – and US Ambassador Samantha Power describing Russia's reaction as "a stunt replete with moralism and grandstanding."
…And the death toll continued to rise
There was more political sniping – and deaths – to come. Aleppo and its surrounding areas were pummeled by regime airstrikes from Wednesday through Friday, activists with the opposition-aligned Aleppo Media Center (AMC) told CNN.
They say allied Russian forces also participated in the strikes, though Moscow has not confirmed its involvement.
At least 70 people were killed in the attacks, according to the AMC. By Friday morning another 50 people – including many children – were trapped beneath the rubble, but rescue crews were unable to reach them due to ongoing strikes.
Indeed, the resumption of full-scale airstrikes on rebel-held eastern Aleppo has been constant, intense, and much worse than prior to the ceasefire, the activist added.
Not even water was safe
Basic services were not spared in Thursday's airstrikes. Aleppo's main water station, which provides clean water to both regime and opposition-controlled neighborhoods, was also hit.
An ambulance and a fire truck were destroyed in the bombardment. The fire truck is one of only three trucks operating in eastern Aleppo, according to the AMC.
Three of the four centers used by volunteer search and research group Syria Civil Defense were also targeted. The group is mourning the loss of one of its workers, Khalid Al Naimi, who was killed in the strikes – he is the third brother in his family to die while serving.
Aid was lost…
U.S. blames Russia for bombing aid convoy
One of the main objectives of the ceasefire was to allow aid to enter besieged areas. But on Monday an airstrike destroyed a Syrian Arab Red Crescent (SARC) convoy set to deliver food and medical supplies to some 78,000 people in eastern Aleppo. Around 250,000 people in the city are facing severe shortages as a result of a government siege.
"Just when we think it cannot get any worse, the power of depravity sinks lower," said UN Secretary General Ban Ki-moon of the strike, which destroyed 18 of the convoy's 31 trucks.
Twenty people were killed in the attack, including the Red Crescent's regional director Omar Barakat.
No party has claimed responsibility for the strike. However, the US has blamed Russia, who in turn has denied carrying out the strike.
…And food is set to expire
By Friday, UN envoys were still struggling to get food trucks into the besieged city.
"Forty trucks are sitting at the Turkish-Syrian border, the food will be expiring on Monday, the drivers are sleeping at the border, and they have done so now for a week," said Jan Egekland, Special Adviser to the UN Envoy for Syria.
"So please (Syrian) President Assad, do your bit to enable us to get to eastern Aleppo and the other besieged areas. We also have to get assurances on the east Aleppo case from the armed opposition groups to be able to enter."
Still the nightmare continues
At a hospital in Aleppo, Ahmed Jabr and his seven-year-old son Mahmoud lay side by side – both wounded by rebel shelling that killed three of Mahmoud's brothers.
Any faith father Ahmed had in the cessation of hostilities has been crushed. "Even after the ceasefire, I was here in the hospital and I saw the wounded being brought here," he told CNN.
The attacks happened last Friday – the same day the ceasefire was announced.
Jomana Karadsheh, Kareem Khadder, Roba Alhenawi, Fred Pleitgen and Barbara Starr contributed to this report