Story highlights
Bloodied journal found after New Jersey shootout
References ISIS, al Qaeda leaders
(CNN) —
The blood-soaked journal of Ahmad Khan Rahami, the man suspected in the weekend bombings in New York and New Jersey, signals a "new era of terror," the chairman of the Homeland Security Committee said Wednesday.
Holding up photocopies of the notebook at a House Homeland Security hearing, Rep. Michael McCaul, R-Texas, said the writings contained illustrate "precisely the evolving threat we are facing."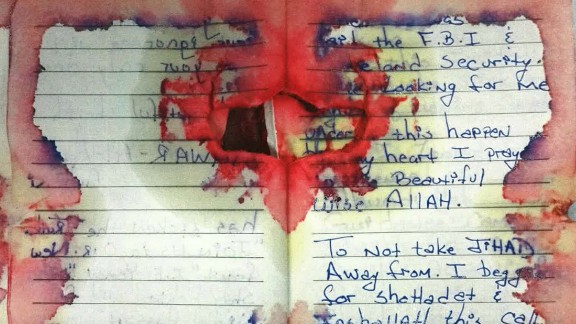 Courtesy photo
The journal was discovered after Rahami's shootout with police in Linden, New Jersey, that ended in his capture. It includes mentions of senior ISIS figure Abu Mohammad al-Adnani, "Brother Osama Bin Laden," the Boston Marathon bombers, and US-born cleric Anwar al-Awlaki.
"The sounds of bombs will be heard in the streets. Gun shots to your police," one passage reads, with another referencing instructions from terrorist leaders to undertake attacks against "nonbelievers" in their "backyard."
ISIS, al Qaeda leaders
Al-Adnani was the most visible figure in the ISIS leadership, acting as a top leader and the group's spokesman until he was killed last month in a US airstrike in Syria.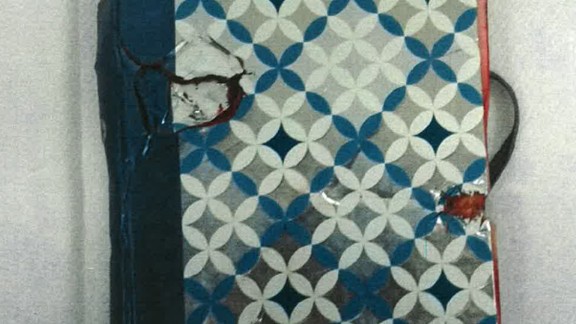 Courtesy photo
The inclusion in the journal of Adnani, who had made calls for attacks in countries in the West, was not referenced in the complaint made against Rahami filed in federal court Tuesday, but McCaul mentioned it in the hearing Wednesday.
Awlaki acted as a spokesman for al Qaeda in the Arabian Peninsula before being targeted and killed by a US airstrike in 2011.
Both Awlaki and Adnani had called for would-be terrorists to carry out attacks in their home countries.
The journal also recalled looking for guidance on attacking non-believers where they live, according to the affidavit.
"I looked for guidance and… Guidance came Sheikh Anwar Said it clearly attack the Kuffar [non-believers] in their backyard," it quoted the journal as reading.