Story highlights
Billionaires like Sheldon Adelson and Mike Bloomberg continue to give big
Rising ad costs may mean some of that cash is being misspent
The nation's billionaires – energized by a presidential race heading down to the wire and led to believe that their money can tip the balance – are digging deep.
Sheldon Adelson has now pledged $45 million to Republicans, with $20 million to the Senate Leadership Fund announced this week. Facebook co-founder Dustin Moskovitz this month promised $20 million to Democrats. And Michael Bloomberg is likely to dedicate $15 million to his pro-gun control group that has backed both parties, CNN has learned.
The investments come as the value of hefty fundraising and television advertising has been thrown into question this year thanks to Donald Trump's largely free-media driven campaign. Meanwhile, the failure of big-money candidates like Jeb Bush and the ability of Bernie Sanders to raise tens of millions of dollars from small donors underscored questions about whether big money packs the same punch this election cycle as it once did.
But as Election Day nears, many of the top 1 percent decided they still think their checks matter.
"The fundraisers have been calling for a while. Now we're all kind of settled back in, the summer's over, and you look up and, man, this election's right on top of ya," said Steve Mostyn, a Democratic trial lawyer who gave $1 million to Hillary Clinton's super PAC and is prepared to give another $1 million to it before the election wraps.
Mostyn, like other donors, said the increasing competitiveness of the presidential and Senate races made him feel he needed to join in. In a non-competitive race, an extra million might just be gravy.
So Tom Steyer, the billionaire environmental activist, committed another $15 million to his Democratic super PAC. The Ricketts family of the Midwest – which financed substantial amounts of the barrage against Donald Trump during the Republican primary – is now organizing millions to support him. And a batch of out-of-nowhere megadonors – whether it's pro-Israel philanthropist Cherna Moskowitz on the right or Hollywood filmmaker Thomas Tull on the left — are leaving their mark.
Too much, too late? And TV, or not TV?
Yet the biggest givers may have waited too long, depending on how they want to spend their money. With each passing week, the millions have smaller utility as advertising rates spike and early votes are cast.
Steyer is an exception, routing his millions to his own personal super PAC, Next Gen Climate Action, along with a super PAC co-run with a labor unions, For our Future. Both of the groups are funneling their money into a field program – not paid media.
"We believe in the traditional American democratic process where neighbors talk to neighbors about the most important issues affecting their lives," Steyer said in a statement to CNN. "That's something you can't squeeze into a 15 second ad."
The other rising Democratic donor: Moskovitz, who sent ripples through the donor world when he pledged $20 million to a variety of liberal and Democratic Party groups, but didn't give to Clinton TV ad powerhouse Priorities USA.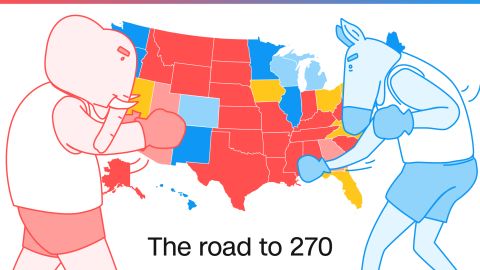 Moskovitz told CNN that he had "nothing more to announce" about any potential gift to Priorities. While he is "primarily focused on the top" of the ticket, he described Priorities as "distinguished by focusing on TV more than anything else."
Bloomberg, the former Republican-turned-independent New York City mayor who has endorsed Clinton, does not plan to give to Priorities USA either, according to Howard Wolfson, a Bloomberg political adviser.
But he will likely end up spending $15 million for his Independence USA, Wolfson said. The group has already spent in Senate races for Republican incumbent Pat Toomey in Pennsylvania and Democratic challenger Maggie Hassan in New Hampshire, and is assessing whether to air advertisements in other states, Wolfson said.
For the GOP, the pro-Trump, Ricketts-led effort, is a bet that TV does indeed work.
The Ricketts are donating $1 million to their group, Future 45, and hope to raise a total of $25 million in this campaign's closing weeks. They plan to run ads in six states with competitive Senate races: Florida, Nevada, Ohio, New Hampshire, Pennsylvania and Iowa, according to the head of the PAC, Brian Baker.
It's unclear how many of the traditional donors that have been allied with the Ricketts family are following them into the fray. Future 45 was dormant for months after Trump won the nomination.
Several major donors who have given to Ricketts-led groups in the past did not respond to requests for comment Wednesday about whether they would fund Future 45. Some, like Home Deport founder Bernie Marcus and former US Senate candidate Linda McMahon, are publicly backing Trump and looking for ways to give. Others, like California investor Bill Obendorf and Chicago hedge funder Ken Griffin, are not. Offered a chance to say whether Griffin planned to support the group, a Griffin spokesman declined to comment.
John Jordan, a California vinter and large Republican donor who has worked closely with the Ricketts family, said he regarded their political operation as savvy and effective. But he said that the late infusion of cash would have little impact.
"I feel bad for the people who wrote the checks," said Jordan. "You can only spend so much effectively at the last minute."
Adelson's impact
The decision by Adelson to partner with the Ricketts operation is a blow to the Trump super PACs that have been trying to land him as a landmark donor. One group, Rebuilding America Now, has secured million-dollar checks from Marcus thanks in part due to the fundraising skills of Florida Gov. Rick Scott, who leads the group.
But many other well-heeled Trump supporters are still on the sidelines. Foster Friess, the Wyoming social conservative, told CNN earlier this month that while Scott's "leadership is reassuring," he is not investing his dollars in the super PAC.
A second group run by a billionaire family close to Trump, Bob and Rebekah Mercer, appears to be in favor, and they won a new $1 million last month from Moskowitz, a California philanthropist. She did not respond to a request for comment Wednesday about her donation plans.
The Adelson's gift to the pro-Trump effort – likely to be around $5 million – is substantially smaller than some had hoped, and the decision to relinquish control over their dollars to a separate donor family direct the effort is surprising.
Yet some Democrats appear willing to go dollar-for-dollar with their Republican rivals. Mostyn, the Democratic lawyer who is hosting Tim Kaine for a fundraiser later this week in Houston, said he found the donation sizes of Adelson and Ricketts to be underwhelming, but that Trump's recent strength has him more eager to return fundraising calls.
"On my list of things to do today," Mostyn said, "getting back to them has gone way up."