Cross Platform Link: Read this story in Spanish at CNNEspanol.com
Story highlights
Venezuela's opposition releases photos of babies in boxes at a hospital
Top official says authorities are investigating
Photos released by Venezuela's opposition this week show a dramatically different scene than you'd expect to see in a hospital nursery.
The images show newborn babies in cardboard boxes, lined up on a counter.
A hospital employee took the photos, according to the opposition group that released them.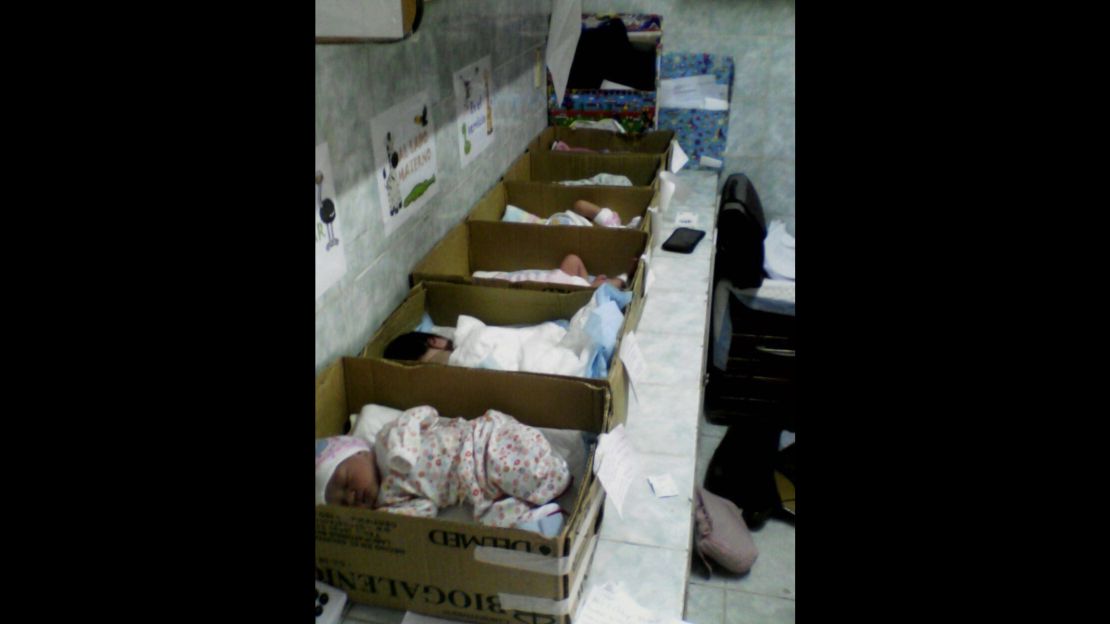 The images purportedly were taken at the government-run Domingo Guzmán Lander Hospital in the coastal city of Barcelona, about 315 kilometers (195 miles) east of Caracas. CNN has not been able to independently verify the authenticity of the photos and it is unclear when they were taken.
Mesa de la Unidad Democratica, the coalition of opposition organizations that released the images, says the scene is another sign of a crisis hitting the country's health care system.
Authorities are investigating, according to the government official who runs the institute that oversees the Barcelona hospital and others across the country.
"We in no way justify the actions taken," Venezuelan Social Security Institute President Carlos Rotondaro said on Twitter Tuesday.
But he also defended the health care system.
"Our hospitals take care of hundreds of patients, despite what some media are hiding. We recognize the failures and continue," he wrote.
The government hospital system later tweeted what officials said were current photos and a video showing plastic hospital bassinets in the nursery.
Since January, officials said, the hospital has delivered more than 4,000 babies.
Venezuela is battling an economic crisis, and many Venezuelans are fed up with widespread shortages of basic goods and medical supplies, factory shutdowns and blackouts. Protests over the government have been raging for months, culminating in a push to recall President Nicolas Maduro.
In May, the opposition-controlled National Assembly declared that Venezuela was suffering a national humanitarian health crisis. The next month, a group of doctors speaking in the National Assembly decried shortages of medicines and supplies.
Venezuela's health care crisis
"Getting sick in Venezuela is synonymous with death," Dr. Cristian Pino told lawmakers at the time.
According to statistics released by the Venezuelan Pharmaceutical Federation in June, the country is facing a shortage of more than 80% of the medicines doctors need. And more than 13,000 doctors – about 20% of the country's medical workforce, have left the country in recent years due to the collapse of the health sector.
The government denies there is a health care crisis and says Maduro's administration has opened more than 2,000 urgent care facilities throughout the country. The President also accuses the opposition of plotting to privatize the national health care system.
CNN's Julia Jones, Michael Roa, Euan McKirdy, Paula Newton and Flora Charner contributed to this report.