Story highlights
"This is a new era, and everyone just has to be alert," U.S. Rep. Charlie Rangel says
Bomb explodes in New York, injuring 29, hours after pipe bomb explodes along N.J. race course
Man injures nine in stabbings in Minnesota mall; ISIS claims he was its "soldier"
Three attacks in 12 hours – explosions on New York and New Jersey streets and a stabbing spree in a Minnesota mall – combined for tumultuous weekend, afflicting injury and moments of alarm and leaving investigators scrambling for answers.
As Monday's sunrise approached, New York City ramped up security not only because of the bombing that injured 29 people in Manhattan and the discovery of a mysterious device blocks away, but also because world leaders are gathering at the United Nations for debate at the General Assembly.
Questions abounded about Saturday's incidents, including: What, exactly, were the motives?
There were hints in the Minnesota attack, with ISIS claiming that a man who injured nine people in stabbings in St. Cloud before an off-duty police officer killed him was a "soldier of the Islamic State," though there was no immediate evidence he'd had contact with the terror group.
A recap of the three incidents, all of which authorities said were being investigated as possible terror acts:
• Around 9:30 a.m. in Seaside Park, New Jersey, one of three pipe-bomb-type devices that were wired together detonated in a garbage can, tearing apart the container but injuring no one; the other two didn't explode, federal law enforcement officials said.
Officials said the blast probably was timed to disrupt a Marine Corps charity run, but no one was near the blast because registration problems delayed the race. Officials said the device had a cell phone as a timer; no one has claimed responsibility.
• Around 8:30 p.m. in Manhattan's Chelsea neighborhood, an explosion rocked 23rd Street and 6th Avenue, injuring 29 people and sending panicked people scrambling for cover. A law enforcement source said it came from a device planted in or near a dumpster.
Investigators found an intact pressure cooker blocks away. New York Gov. Andrew Cuomo said the pressure cooker and the exploded device in Chelsea were similar, and other officials said both devices had cell phones as apparent timers. No one has claimed responsibility. Investigators found similarities between the explosives used in both states, according to multiple law enforcement officials, but authorities said they have not concluded the incidents are linked.
• About 9 p.m. ET (8 p.m. CT) in St. Cloud, Minnesota, a man wearing a security uniform entered Crossroads mall, made a reference to Allah and stabbed nine people before an off-duty police officer shot him dead, police said. He asked at least one person whether he or she was a Muslim before he attacked, witnesses said.
Police did not immediately release the attacker's name, and CNN hasn't independently verified ISIS' claim that he was linked to the group. St. Cloud's police chief said investigators were "trying to get to the bottom of his motivations." No official has suggested ties between the mall attack and the explosions in New Jersey and New York.
NYC police presence 'bigger than ever'
New Yorkers already were going to see a big police presence in the city because of the 71st session of the UN General Assembly, about a 2-mile drive from the Chelsea blast site.
But Saturday's explosion means the police presence will be even more intense, Mayor Bill de Blasio said Sunday.
"You should know you will see a very substantial NYPD presence this week – bigger than ever," he said
And Cuomo said 1,000 additional New York State Police officers and National Guard troops will be deployed to patrol bus terminals, airports and subway stations.
'This is a new era'
Saturday's incidents follow a few other mass attacks that happened on US soil in the past year, including the deadly December shootings in San Bernardino, California, and the deadly June shootings at a gay nightclub in Orlando, Florida. In both of those incidents, the attackers claimed an affinity for ISIS.
Threat of Islamist attacks alone has kept federal investigators busy – the FBI has said that it is mounting 900 investigations of suspected Islamist militants in all 50 states. FBI Director James Comey said in July that ISIS terrorists may be dispersed in the West as the terror group loses territory in Iraq and Syria.
But Comey isn't worried just about Islamist terror threats.
"Our focus now is on a much more disparate threat that's hard to see – unpredictable, motivated, and driven by people who are just disturbed," he said in an interview posted Friday on the FBI's website.
New York isn't the only metropolis to take notice of Saturday's attacks. On the other coast, Los Angeles' police were gearing up for two high-profile events Sunday: the Emmy Awards and the Los Angeles Rams' first home game since their return from two decades in St. Louis.
"As you wake up this morning to the troubling events in New York and New Jersey, please rest assured we have been monitoring the situation throughout the night," Los Angeles Police Chief Charlie Beck said in a statement released on Twitter. He said police had taken steps to ensure the Emmys and the football game would be safe, and asked people to be vigilant. Both events took place without incident.
US Rep. Charlie Rangel, a Democrat who represents Manhattan, told CNN that Saturday's attacks – and a level of vigilance needed to combat them – represent "a new norm."
"This is a new era, and everyone just has to be alert," he said Sunday.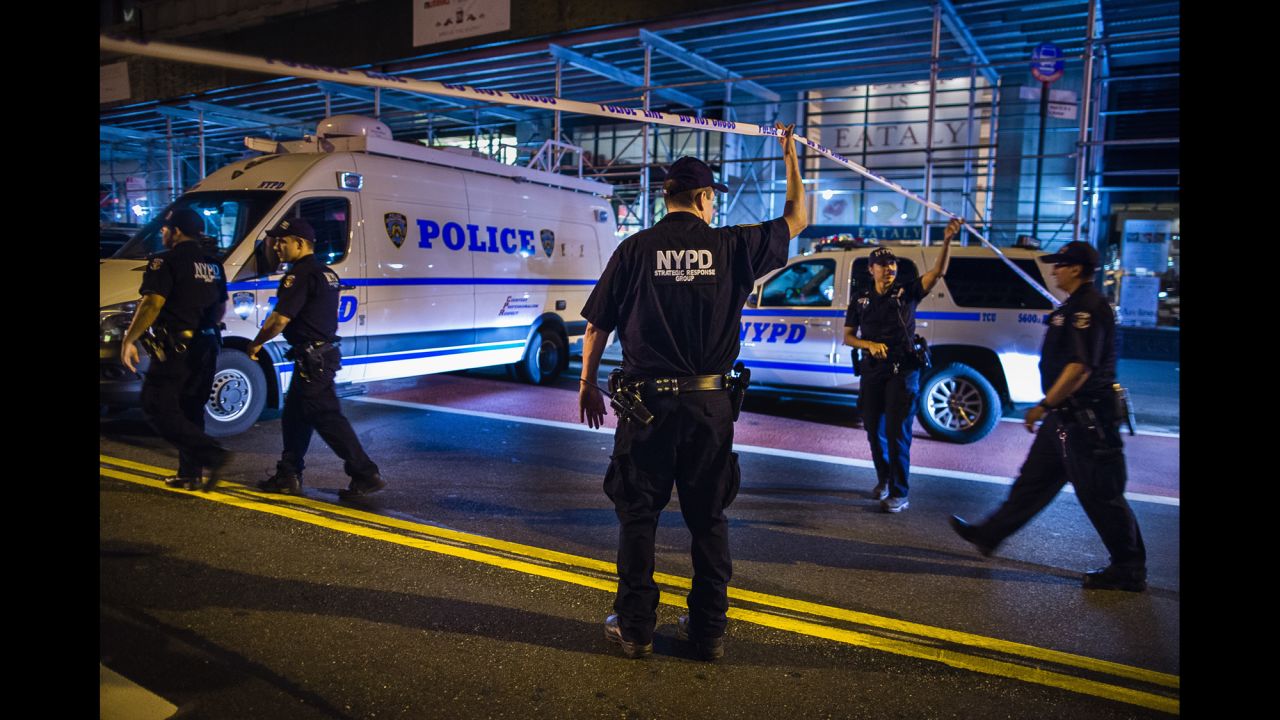 Explosion in Manhattan
The off-duty police officer who killed the Minnesota attacker reflects that kind of alertness, CNN law enforcement analyst Art Roderick said
"No law enforcement officer believes they're ever off duty anymore," Roderick told CNN's Fredricka Whitfield. "I think everybody now just about carries a firearm when they're off duty from their regular law enforcement job."
In Elizabeth, New Jersey, federal and local authorities were called into action Sunday night to investigate the contents of a backpack found in a garbage can near a train trestle, according to Mayor Chris Bollwage. As a precaution, local rail and bus service was suspended.
After two men spotted the suspicious package, which had wires and a pipe but no apparent timing devices, they reported it to authorities. The FBI's bomb squad then deployed a robot to examine the devices. The suspicious package exploded after the bomb robot cut a wire in an effort to disarm the device.
Authorities do not know if the Elizabeth explosion has ties to the Chelsea bombing.
'The entire neighborhood is real scared'
Many in Chelsea were rattled by Saturday's bombing. Danilo Gabrielli, 50, was watching TV at his 23rd Street apartment about a block away from the explosion site when he heard the blast. He rushed to see what had happened and found a chaotic scene.
"We smelled something, like an intense sulfur smell, and saw smoke coming out of this building. I saw pieces of metal – not large, but not small either. A few friends of mine saw glass there."
Gabrielli said "the entire neighborhood is real scared."
"It's a real quiet neighborhood – not like the center of the city or the Wall Street area. It's tiny bars, where you go to grab a drink, grab a bite to eat, watch a film. We were worried."
'It's not stalling everybody that lives here'
Ryker Allen, 19, noticed the increased security presence in Manhattan. He woke up Sunday at his home in the Flatiron District, not far from the explosion, and saw "easily 100 police officers" meeting in front of his building.
He said the attack was unnerving, but people still were going about their business.
"I feel like it's something that's kind of hovering over, but it's not stalling everybody that lives here. It's not stopping anybody from getting their tasks done," he said.
Allen wasn't alone in taking it in stride.
"For those trying to capitalize on the explosion: People aren't freaking out in Chelsea. People aren't in fear in the City," Ali H. Soufan's Twitter account read Saturday night.
CNN's Rich Phillips, Jessica Moskowitz, Catherine E. Shoichet, Mallory Simon, Tim Hume, Evan Perez, Shimon Prokupecz, Emanuella Grinberg, John Newsome, Chandrika Narayan, Keith Allen and Max Blau, and CNN national security analyst Peter Bergen contributed to this report.