Story highlights
Ahmad Khan Rahami charged with attempted murder of officers
A bar owner recognizes suspect Ahmad Khan Rahami after watching CNN
(CNN) —
The man suspected in Saturday's bombings in New York and New Jersey was captured on Monday after a frantic manhunt and shootout.
Ahmad Khan Rahami, 28, was charged with five counts of attempted murder of a law enforcement officer after a shootout Monday with police in Linden, New Jersey, Union County Prosecutor Grace H. Park said. He is also charged with second-degree unlawful possession of a weapon and second-degree possession of a weapon for an unlawful purpose.
Authorities said Rahami is "directly linked" to bombings Saturday in New York City and Seaside Park, New Jersey, and is believed to be connected to pipe bombs found Sunday night in Elizabeth, New Jersey, sources said.
"We have every reason to believe this was an act of terror," New York Mayor Bill de Blasio said Monday.
But many questions remain, chief among them, why did he do it? And, is anyone else responsible?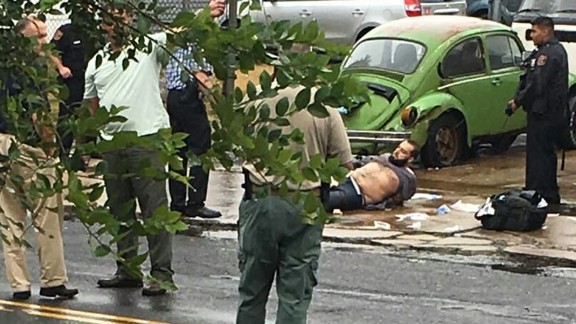 from twitter
The arrest
Rahami was captured after the owner of a bar in Linden, New Jersey, found him sleeping in the doorway of his bar Monday morning. Harinder Bains, owner of Merdie's Tavern, said he was watching CNN on his laptop from another business across the street. At first, he thought he was some "drunk guy" resting in the vestibule. Then, he recognized Rahami and called police.
"I'm just a regular citizen doing what every citizen should do. Cops are the real heroes, law enforcement are the real heroes," Bains told CNN's Anderson Cooper.
When officers responded, Rahami pulled out a handgun and opened fire, striking an officer in the chest. A foot chase ensued, during which Rahami shot at a police car, causing a bullet to graze another office in the face.
The chase ended when Rahami was shot multiple times. He was taken to a hospital for surgery. Officers Angel Padilla and Peter Hammer were taken to the hospital for treatment of non-life threatening injuries.
Linden Police
Rahami was not initially cooperative with