Story highlights
FBI interviewed Rahami's father in 2014 after a tip that the father had called his son a terrorist
Rahami's wife left the country before the attacks; she's cooperating with investigators
In just a few days, Ahmad Khan Rahami went from virtually unknown to a suspected serial bomber.
Police captured Rahami after a shootout Monday in New Jersey, ending the hunt for the man wanted for a New Jersey explosion and a bombing in New York that left 29 people injured.
Sources say they believe Rahami is linked to an explosives-laden backpack found in Elizabeth, New Jersey – a city where Rahami had lived.
While authorities believe they have their main suspect, they're still trying to figure out a motive – and whether Rahami had help.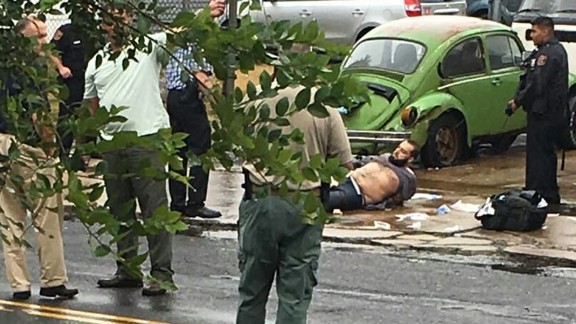 from twitter
Here's what we know about the suspect:
His background and education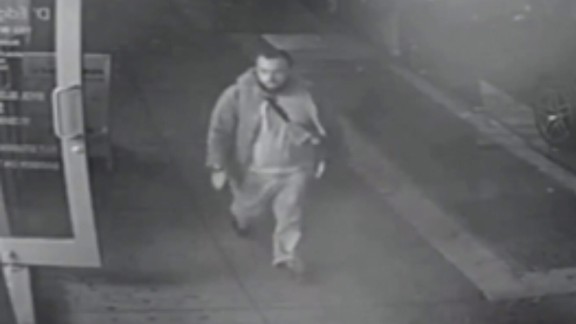 from new jersey state police
– Rahami was born in Afghanistan in 1988 and first came to the United States in 1995, several years after his father arrived seeking asylum, a law enforcement official said.
– He became a naturalized citizen in 2011.
– Rahami majored in criminal justice at Middlesex County College in Edison, New Jersey, school spokesman Tom Peterson said. Rahami attended from 2010-2012 but did not graduate.
His wife
– Rahami married a Pakistani woman in 2011 while he was visiting the country.
– In 2014, while he was in Islamabad, Rahami contacted U.S. Rep. Albio Sires' office, saying he was concerned about his wife's passport and visa. It turned out her Pakistani passport had expired. Once it was renewed, Asia Bibi Rahami discovered she was pregnant. She was told she would need a visa for the baby as well. It is unclear what happened to the child.
– Rahami's wife eventually made it to the US – and she left before Saturday's attacks, a law enforcement official said.
– The wife is cooperating with investigators and has spoken with US officials in the United Arab Emirates, a US official said.
His family
– The FBI interviewed Rahami's father in 2014 after a violent domestic dispute. That interview stemmed from a tip alleging that Rahami's father was calling his son a terrorist, according to two US officials.
Ultimately, federal investigators believed it was a domestic dispute, federal officials told CNN. At the time of that interview, Rahami was in jail following a family dispute in which he stabbed one of his relatives.
The FBI never interviewed Ahmad Rahami, according to officials. He was never placed in an FBI database of potential terrorists, officials said.
– Rahami's family lives in an apartment above First American Fried Chicken in Elizabeth, New Jersey, Mayor Chris Bollwage said. The family has a history of clashes with the community over the restaurant, which used to be open 24 hours a day,
– The Rahami family alleged discrimination and harassment in a lawsuit against the city and its police department in 2011, arguing that officials conspired against them with citations for allegedly violating a city ordinance on hours of operation.
– The suit alleged that police officers and city officials had said "the restaurant presented a danger to the community." It also accused a neighboring business owner of saying, "Muslims make too much trouble in this country" and "Muslims don't belong here." The defendants, including police officers and city officials, denied the allegations.
– Bollwage said a 2012 ruling on the case favored the city, adding that the family's restaurant was "disruptive in the city for many, many years."
– In a Facebook post Monday, a family member asked for privacy.
"I would like people to respect my family's privacy and let us have our peace after this tragic time," wrote Zobyedh Rahami, who's believed to be Rahami's sister.
His alleged connection to the bombings