Story highlights
Two people with ties to Gov. Chris Christie face jail if convicted in Bridgegate trial.
Christie: I have "no problem" testifying if I'm subpoenaed.
Long before New Jersey Gov. Chris Christie ran for president, and later transformed into one of Republican nominee Donald Trump's main supporters on the 2016 campaign trail, he was mired in a political scandal that left its mark on his career: Bridgegate.
It's been a few years since the brouhaha over the George Washington Bridge's lane closures rocked the Christie administration. Now, after three years of federal investigations, a couple of indictments and jury selection, the trial of a former aide of New Jersey's governor and one of his longtime political allies will begin this morning in federal court.
Though Christie himself has not faced any charges related to this incident – he's denied all involvement from the onset – he's expected to remain a key figure in the trial, unable to fully escape scrutiny from a controversy that's overshadowed his second and final term as governor.
On Monday, prosecutors said Christie knew of the road closures while they were happening. The allegations came during opening arguments in the case involving Bill Baroni, deputy executive director of the Port Authority, and Bridget Kelly, Christie's former deputy chief of staff.
In case you forget how Bridgegate all went down – and what's at stake in the coming weeks – here's an explanation of how we got to this point.
So, what's Bridgegate again?
911 audio from bridge scandal released
In November 2013, Christie won re-election to his second and final gubernatorial term (he's term limited), cruising to a decisive victory fueled in part by his strong showing of leadership in the wake of Hurricane Sandy. Despite his popularity at the time, not everyone endorsed the Republican, who needed bipartisan backing in a blue state. Mark Sokolich, the Democratic mayor of Fort Lee, was among the politicians who didn't support the incumbent governor.
The following September, on the first day of the school year, Port Authority officials abruptly shut down some of the traffic lanes on the New Jersey side of the George Washington Bridge, drawing the ire of motorists.
Initially, Christie's administration characterized the closures as a part of a traffic study. Later on, though, Port Authority officials testified that no such study ever happened.
One month before the lane closure, with Christie's re-election campaign in full swing, and Kelly texted David Wildstein, a former Port Authority official and a political ally of Christie: "Time for some traffic problems in Fort Lee."
"Got it," Wildstein replied.
The messages, contrary to the Christie administration's spin that chalked it up to ineffective bureaucracy, offered evidence that the closures were an act of political vengeance, according to federal prosecutors.
"They agreed to and did use public resources to carry out a vendetta and exact retribution," US Attorney for New Jersey Paul Fishman said in May 2015.
Who was charged in Bridgegate?
Who's who in the Christie controversies
Bill Baroni, deputy executive director of the Port Authority and Kelly were indicted on numerous conspiracy and fraud charges in May 2015. Wildstein avoided trial by pleading guilty to one charge of conspiracy to commit fraud on federally funded property and one civil rights violation.
The Bridgegate charges stem from a series of damning emails and texts made public in January 2014.
In response to the charges, Kelly chalked up her correspondence with Wildstein to "sarcasm and humor." Then, she lambasted Wildstein for lying about her involvement in order to get himself a plea deal.
What about Christie?
Those facing charges had clear and direct ties to Christie. However, the governor has not faced charges and he has maintained he had no knowledge of the lane closures, denying any wrongdoing.
Shortly after the texts surfaced, Christie fired Kelly, noting that he felt "embarrassed and humiliated" by the "abject stupidity" of her actions.
Two months after those emails went public, lawyers retained by Christie's office released a Bridgegate report that exonerated Christie.
"It's a search for the truth and we believe we have gotten to the truth," former federal prosecutor Randy Mastro, whose law firm produced the Bridgegate report, told NJ.com in 2014 upon its release. "What we found was Gov. Christie had no involvement in the decision to close these lanes, and no prior knowledge of it."
Will the governor testify at the Bridgegate trial?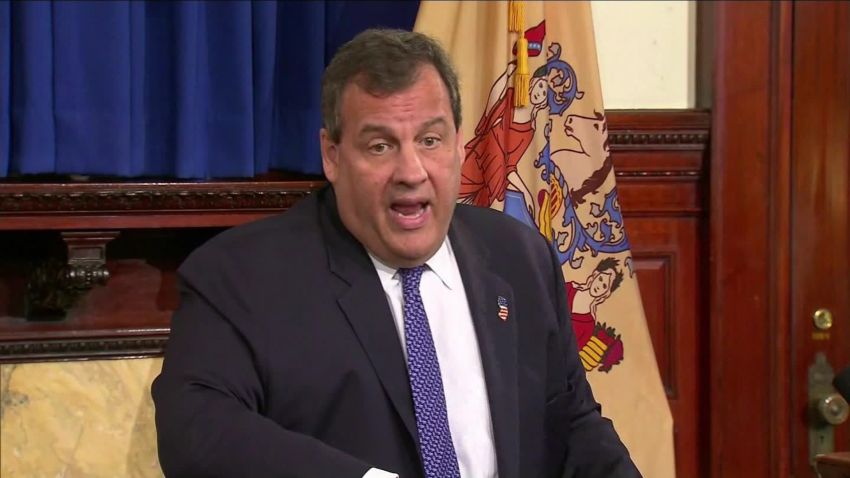 Christie: No problem testifying at bridge closure trial
It remains to be seen whether Christie will be subpoenaed. In an interview with CNN's Jake Tapper Sunday, the governor said he would have "no problem" testifying if called upon. However, he didn't think he would be called he has "no knowledge of this incident at all."
"Of course, I will," Christie told CNN. "I've been more open about this than anybody in public life. I've been investigated by three public entities, two of them led by partisan Democrats who have all found that I had no knowledge of this incident and no involvement."
it's unclear what the developments from Monday's court date, and prosecutors saying that Christie was aware of Bridgecate, means for the possibility that the governor will testify.
Even if Christie doesn't take the witness stand, the governor will likely remain front and center in the federal trial. Last month, a former Christie staffer, who worked underneath Kelly, claimed that he "flat out lied" about his staff's involvement in Bridgegate during a December 2013 news conference.
What's at stake for the defendants?
If a jury finds Baroni and Kelly guilty, they each could face prison time for their involvement in Bridgegate.
Fishman, the federal prosecutor in the case, told The New York Times at the time of the indictment that Baroni and Kelly each face a maximum sentence of 86 years. It was more likely that Baroni and Kelly would receive up to three years behind bars if convicted, Fishman added.
Of course, they could also leave the court as free people, should a jury clear them of all charges.
As for Christie, who Trump has said would head his transition team, the Bridgegate trial has the potential to drag him through the mud — if not in a court facing a trial before his peers, then in the court of public opinion.