Story highlights
Rights group says satellite images show dozens of makeshift graves in camp
Jordan designated the area a no-go zone after a suicide bombing on the border in June
(CNN) —
A clampdown on Syrian refugees entering Jordan has left 75,000 people stranded in the desert in a no man's land between the countries, cut off from aid for months, Amnesty International says.
The rights group released satellite images Thursday that show the extent of a makeshift refugee camp in al-Rukban, an area of desert known as the berm, along Jordan's northeast border with Syria. It's also near both countries' borders with Iraq.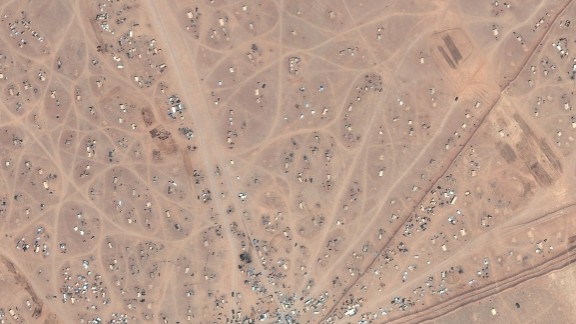 Tribal Council of Palmyra and Ba/Amnesty International
The camp grew from 368 shelters a year ago to 8,295 this month, Amnesty said.
The group also released video footage, obtained by a tribal council whose activists operate in the area, that it said showed dozens of makeshift graves of refugees who had perished amid the desperate conditions.
Amnesty said the graves in the footage were visible in satellite images, verifying the claims of their existence. CNN could not independently verify the assertions.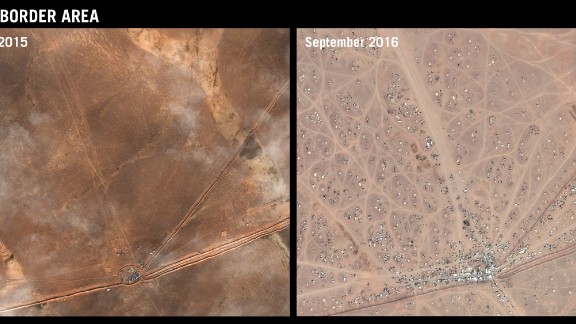 Tribal Council of Palmyra and Badia/Amnesty International
"The situation at the berm offers a grim snapshot of the consequences of the world's abject failure to share responsibility for the global refugee crisis," Tirana Hassan, Amnesty International's crisis response director, said in a statement.
"It's a desperate picture for people trapped at the berm, food is running out and disease is rife. In some cases, people are suffering or even dying from preventable illnesses, simply because they are not allowed into Jordan and the authorities have blocked access for aid, medical treatment and a meaningful humanitarian response."
Jordan has said it is hosting more than 1 million Syrians, about 650,000 of whom are officially registered as refugees with the United Nations. Over the past year, the kingdom has restricted the entry of Syrians, citing security concerns.
Restrictions after attack
Humanitarian aid to the berm, which was already limited, virtually ceased altogether after a suicide car bombing killed at least six members of Jordan's security forces in June, Amnesty said.
Following the attack, Jordan designated border areas with Syria as "closed military zones" and sealed the al-Rukban border crossing. But Syrians continue to move to the area, fleeing bloodshed in their homeland's grinding five-year civil war.
Jordan said it is keeping the refugees there for security reasons.
"We are in continuous discussion with international aid agencies regarding this issue, and we continue to emphasize Jordan's legitimate security concerns, and the best way that aid can be delivered," said Mohammed al-Momani, Jordan's government spokesman.
"We also emphasize that this is an international problem not Jordan's problem, and there are several options through which aid can be delivered without jeopardizing security concerns. This is becoming a Daesh enclave on our borders and the security of Jordanian people supersedes any other concern."
The spokesman referred to ISIS as Daesh, another word for the terror group.
Since then, one delivery of food aid has been made to the camp's tens of thousands of residents, with aid agencies, banned from entering the no's man land, required to drop supplies into the camp using cranes, Amnesty said.
Amnesty said that refugees had reported miserable conditions in the camp, which intensified in the wake of the June attack. Poor hygiene and sanitation and limited supplies of clean water had led to a hepatitis outbreak, it said.
"We agreed with international organizations on a one-time shipment of aid that can last for a whole month," Jordan's government spokesman said.
"Jordan is the third poorest country of water in the world, yet we allow the flow of water continuously through tanks through international organizations. We also allow the treatment of patients."
Amnesty said the lack of access to the camp made it difficult to verify the numbers of deaths.
Jordan is one of the most active Arab members of the anti-ISIS coalition carrying out airstrikes on the terror group's targets in neighboring Syria and Iraq.
The kingdom has had a high military presence along its borders with both countries, particularly since ISIS declared its so-called caliphate over parts of Syria and Iraq.
Jordan and Syria's other neighbors have absorbed the bulk of the refugees from the civil war, with Turkey and Lebanon taking in the most.
CNN's Vasco Cotovio contributed to this report.