Story highlights
Image of college football player Travis Rudolph having lunch with Bo Paske, who has autism, went viral
David M. Perry: Always ask why kindness had to be random. Next time, let's plan
Editor's Note: David M. Perry is an associate professor of history at Dominican University in Illinois. He writes regularly at his blog: How Did We Get Into This Mess? Follow him on Twitter. The opinions expressed in this commentary are his.
Don't diagnose Trump. Beat him a better way: Don't vote for him.
The image went viral on social media, sparking countless media outlets (including CNN) to cover the feel-good story about Rudolph's "random act of kindness." TV interviews followed. Rudolph has since invited Bo and his family to Monday's game and gave Bo a jersey. Hopefully their relationship will continue.
Rudolph seems like a good guy. As the father of a child with a disability, I'm empathetic to the mom's feeling of joy. The media, however, in gushing about the athlete's good deed, has failed Bo Paske and disabled children and adults who experience pervasive social isolation.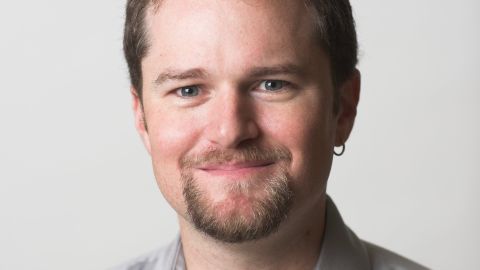 These kinds of stories, called "inspiration porn" by disability activists, glorify abled people being nice to disabled people, treating them as objects that demonstrate the virtue of others, and rarely asking what's really going on. In fact, no one should depend on random strangers for basic human needs.
Take Travis and Bo. Recent studies claim that autistic children and adults frequently experience social isolation. Although the stereotype is that autistic people don't care about other people and their emotions, all you have to do is talk to and read the work of autistic folks to find out that's simply not true.
Kit Mead, for example, wrote a post generally criticizing the practice of inspiration porn in the context of Bo and Travis, and spoke to me about isolation in school. Mead described a "miserable high school self-hiding under a Japanese spiked frond maple tree with everyone considering them so much a freak that they won't go near 14-year-old Kit or my middle school self-eating the same thing every day for lunch and sitting away from everyone because they a) don't want me to sit with them and b) if they invite me to sit with them it's to make fun of me."
It's not just autistic people. William Peace, who blogs at Bad Cripple, wondered why none of the widespread news coverage of Bo and Travis having lunch asked why this boy was sitting alone.
"Middle school can be a cruel place. I vividly recall being bullied in middle school. I was an easy target. Any kid with a disability was and remains an easy target for bullies," Peace wrote. "For years I wore a Milwaukee Brace. One steel bar was in the front and two steel bars formed the back. Kids in middle school thought it was hilarious to trip me as I neared a ramp where I would land on my back and slide down the ramp. I still feel the humiliation. I also recall teachers thought this was funny as well. There were no offers of help. I was on my own."
Prior to Travis joining him for lunch, Bo seems to have been on his own as well. In her Facebook post, Bo's mother wrote that he gets stared at when he flaps his hands, doesn't get invited to birthday parties anymore, and usually eats lunch alone. "It's one of my daily questions for him," she wrote, "Was there a time today you felt sad? Who did you eat lunch with today? Sometimes the answer is a classmate, but most days it's nobody."
But it doesn't have to be this way for the hundreds of thousands of American children with autism or other disabilities who experience isolation.
I was thrilled to discover, for example, that my local zoo camp trains every counselor in inclusion. When my son found it difficult to negotiate the social and spatial complexities of sitting down at lunch with other kids, but clearly enjoyed the social contact, the counselor came up with a simple solution. My son would sit first, then the others would join him, with the group committed to building a fully integrated community.
Get our free weekly newsletter
Sign up for CNN Opinion's newsletter.
Sandra Stein just wrote a piece for the New York Times about a school that makes universal inclusion the baseline of every activity. Everyone benefits, but such institutions are far too rare.
Today, children with disabilities have been allowed into mainstream schools, and that's good. But it's far from enough. We can't wait for an NCAA football player to provide healthy social interaction for each child in America. The schools – and the media reporting on the schools – need to step up.
Don't get caught up celebrating random acts of kindness; instead, always ask why the kindness had to be random. Next time, let's plan.