Story highlights
Clinton and Trump attacked each other's security credentials at campaign events Tuesday
Trump unveiled endorsements from military brass, while Clinton launched a new ad
Hillary Clinton attacked Donald Trump as inexperienced. Trump called Clinton a failed foreign policy leader.
So began the homestretch to Election Day, as both candidates on Tuesday put national security squarely at the center of the 2016 campaign in the belief that it gives them the advantage.
Trump began by unveiling a list of 88 retired military leaders endorsing his candidacy, including four four-star generals and 14 three-star flag officers.
Then, alongside retired Lt. Gen. Michael Flynn at an event in Virginia Beach – where fighter jets could be heard whooshing overhead – Trump said of Clinton that "virtually every decision she's made has been a loser."
Russian President Vladimir Putin "looks at Hillary Clinton and he smiles," Trump said. "Boy, would he like to see her … Because just look at her decisions. Look how bad her decisions have been."
In a split-screen moment, Clinton took the stage at the same time in Tampa to launch her own barrage of attacks.
Clinton dismisses calls for another congressional probe
"We are going to work with our allies, not insult them. We are going to stand up to our adversaries, not cozy up to them. We are going to have real plans, not claims and secret plans," said the former secretary of state.
Trump argued later Tuesday during a rally that Clinton's email use and her handling of classified information is "disqualifying."
"People who have nothing to hide don't smash phones with hammers. People who have nothing to hide don't bleach – nobody's even ever heard of it – their emails, or destroy evidence to keep it from being publicly archived as required under federal law," Trump said, pointing to Clinton aides' use of a software named BleachBit to expunge traces of deleted emails.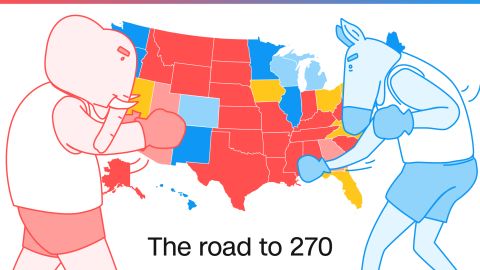 The security back-and-forth comes as the campaign enters its final two months and reminders of terror poised to return to the surface in advance of the 15th anniversary of the 9/11 attacks on Sunday.
A new CNN/ORC poll found that both candidates have advantages on national security. Those surveyed said they trust Trump more on terrorism (51% to Clinton's 45%), underscoring his ability to connect with the fears of Americans in an age of ISIS-inspired domestic attacks. But Clinton holds an edge on foreign policy (56% to Trump's 40%), enabling her to point to a wider range of national security credentials.
Dead heat
Overall, the poll showed the two candidates in a statistical dead heat, with Trump leading nationally among likely voters, 45% to Clinton's 43%.
Poll: Nine weeks out, a near even race
For Trump and Clinton, Tuesday's security focus came in two Southern swing states – Virginia and Florida – with large populations of veterans and military families.
Clinton aides, who asked for anonymity while talking about strategy, said the focus on national security is part of a confluence of important dates and forums with Trump.
Early voting, which includes mail-in ballots traditionally used by active-duty military, begins in many states this month. In some states, like Florida, active-duty military are asked to send in ballots starting in late September and early October.
Another factor is that Trump has given her material to work with, Clinton aides said. They described her as relishing going after Trump on this topic because she feels she knows it well and he doesn't. It also allows her to target Republican-leaning voters who have been turned off by Trump.
"His whole campaign has been one long insult to all those who have worn the uniform," Clinton said on Tuesday in Tampa, just miles from MacDill Air Force Base, where 15,000 people work.
Clinton's push also comes with another prize in mind: "Security moms," or female voters who are concerned about terrorism – particularly middle-class suburban women in must-win swing states like Pennsylvania.
A late-August Franklin and Marshall poll found Clinton ahead by 15 points in Southeastern Pennsylvania – largely Philadelphia's suburbs – even as the Republican incumbent senator leads his Democratic challenger by 9 points in the same region. That margin would be close to insurmountable for Trump on Election Day.
Clinton, press do awkward dance at 30,000 feet
"Any viable path for him would require mitigating that damage somewhat," said Hari Sevugan, a former Obama campaign spokesman who's now a strategist for the Democratic firm 270 Strategies.
Sevugan said timing is also at play, though the focus on national security isn't driven solely by the approaching September 11 anniversary.
"People are starting to tune in and focus in a more concentrated way on the election after Labor Day, and it makes sense from the Clinton perspective to really home in on where they have a relative strength," Sevugan said. "And from the Trump perspective, they need to shore this up."
But Bryce Reeves, a Republican candidate for lieutenant governor of Virginia in 2017 and a former Army Ranger, said national security is a concern across all demographic groups – and one that can give a big boost to Trump.
"It's a matter of time" before another terror attack, he said. "It's not a matter of it we get hit, it's a matter of when we get hit and how we respond to those threats. … That's why you're seeing a renewed interest by the candidates."
Clinton: Trump 'choked' when meeting with Mexican president
He said the release of Trump's military endorsements earlier Tuesday underscores the qualifications of the people he'd listen to as president.
"The sign of a great leader is to surround yourself with phenomenal people, and if you look at Trump's record today – who he put out supporting him – he's got numerous flag officers who led troops in the field during some of our most heightened recent conflicts," Reeves said.
National security focus
National security will be a focus all week. Clinton and Trump will participate in a joint forum Wednesday sponsored by the Iraq and Afghanistan Veterans of America and broadcast on NBC and MSNBC – their first joint appearance of the campaign.
Clinton is also bolstering her national security push with a new television ad called "Sacrifice," highlighting Trump's criticism of Arizona Sen. John McCain's war-hero status and his fight with the Muslim parents of an American soldier killed in combat.
And her super PAC, Priorities USA, is launching a $5 million ad buy in the swing states North Carolina, Ohio, Florida, Nevada, Iowa and New Hampshire on Friday with a spot titled "I Love War."
Featuring a mushroom cloud, it touts Trump's hawkish remarks about war and nuclear weapons.
Meanwhile, Clinton's running mate, Tim Kaine, delivered a security-focused speech Tuesday in Wilmington, North Carolina, accusing Trump of flip-flopping on how the United States should handle the war in Iraq.
"He says whatever he feels like at any given time because you can do that when you're a TV star. But you can't do that when you're president of the United States," Kaine said.
Trump and Clinton themselves also fought Tuesday over remarks Trump had made in an interview that aired on ABC's "Good Morning America."
"I just don't think she has a presidential look and you need a presidential look," Trump said of Clinton.
"I'm talking about general, by the way, she says things about me that are horrible," Trump said. "As an example the single greatest asset I have, according to those that know me, is my temperament."
Clinton's camp seized on the comments, using them to highlight Trump's previous fights with the Gold Star Khan family, his criticism of Fox News host Megyn Kelly and his questioning of President Barack Obama's birthplace.
"This isn't the first time Donald Trump has had a problem looking at someone different from himself and actually seeing them," said Clinton deputy communications director Christina Reynolds.
Clinton also continued to fight back criticism of her use of a private email server as secretary of state.
She shrugged off calls for additional congressional inquiries into her email usage as nothing more than pandering to right-wing conspiracy theorists, suggesting that the FBI "resolved" all the questions into her email use during their investigation.
Clinton, speaking with her traveling press corps aboard her new campaign plane on Tuesday, said she has "just accepted" the fact that Republicans will continue to call for investigations into her, whether they are warranted or not.
Clinton added, "I believe I have created so many jobs in the, sort of, conspiracy-theory machine factory. Because, honestly, they never quit. They keep coming back."
CNN's Dan Merica and Jeremy Diamond contributed to this report