Editor's Note: Are you affected by Tropical Storm Hermine? If it's safe for you to do so, WhatsApp us on +44 7435 939 154 to share your photos, experiences and video. Please tag #CNNiReport in your message.
Story highlights
NEW: Atlantic City concerts canceled due to forecast
Hermine moving through Carolinas, toward Atlantic
Much of the Carolinas was being drenched by rain Friday as Tropical Hermine slid up the East Coast after knocking down trees and leaving hundreds of thousands without power in Florida.
Forecasters with the National Weather Service said as many as 7 inches of rain could fall, and in isolated areas it could be more than that.
A flash flood watch was issued for northeast South Carolina and southeast North Carolina though Saturday morning.
The path of the storm, which smashed into Florida's Panhandle as a Category 1 hurricane Friday morning, is projected to move through the North Carolina coast Friday night and head into the Atlantic Ocean on Saturday.
The Labor Day weekend worry? Rough seas, dangerous surf and strong storm surge up the coast as far north as Connecticut.
The New York City Emergency Management office said no swimming will be allowed on beaches Sunday. Mayor Bill De Blasio said the city is considering closing the beaches to swimmers on Monday and Tuesday, too.
Long Island beaches remain closed, Gov. Andrew Cuomo said.
In New Jersey, Atlantic City officials announced two outdoor concerts were canceled.
Two deaths reported
When Hermine ripped into St. Marks in Florida's Big Bend region just before 2 a.m. Friday, it became the first hurricane to come ashore in the state since Wilma struck 11 years ago.
"There's nothing open in our county right now," sheriff's Maj. Trey Morrison said Friday in Wakulla County, where Hermine made landfall. He said he heard a report of a driver crashing early Friday into a fallen tree.
"If it's not an emergency, we don't need people out," he said.
One person died in Florida as Hermine approached. John Mayes, 56, was sleeping in a tent behind a gas station in Ocala, about 65 miles northwest of Orlando, when a tree fell onto him Thursday night, the Marion County Sheriff's Office said.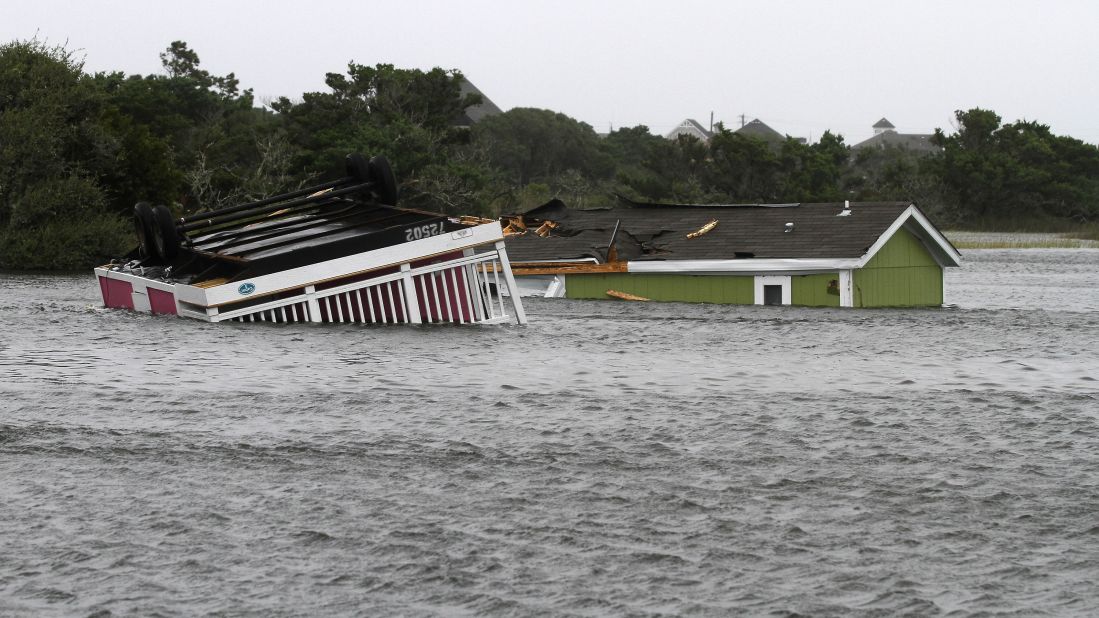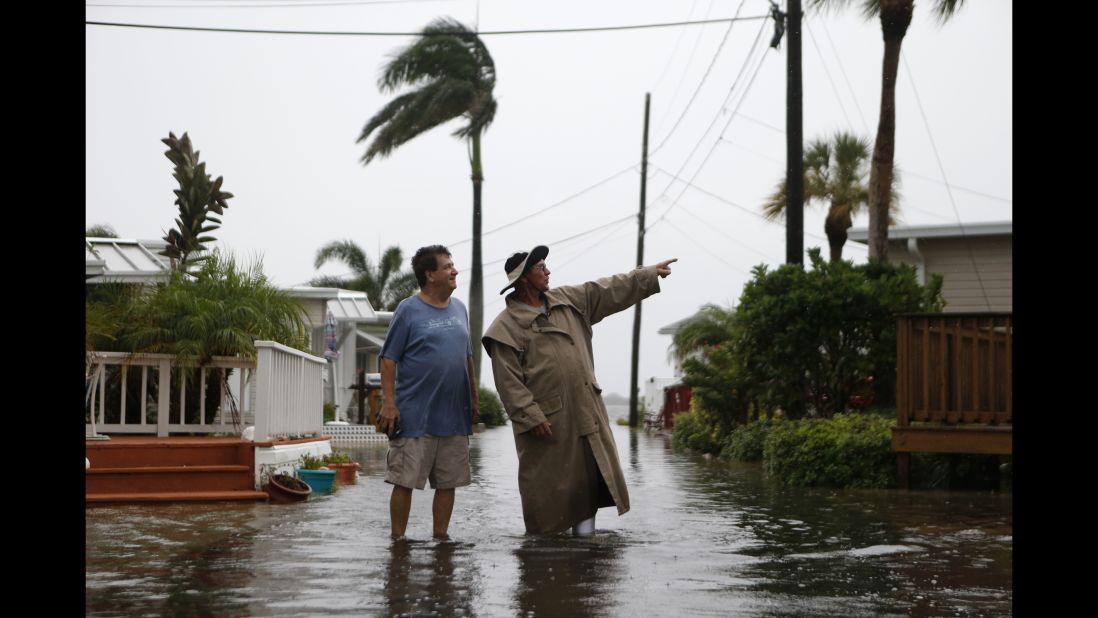 Hermine storms into Florida
A medical examiner's office has yet to determine whether the storm was the cause, Florida Gov. Rick Scott said.
About 70,000 homes and businesses were left without power in the Tallahassee area, where sustained winds of up to 80 mph toppled utility poles onto ground saturated by inches of rain.
Videos and pictures shared on social media showed damaged streets near the landfall point and downed trees throughout much of the state.
Hermine's outer bands also dropped more rain in the Tampa and St. Petersburg areas, which could ill afford it.
Floodwater lapped cars' hubcaps in parts of St. Petersburg, which received more than 9 inches of rain from Tuesday, before Hermine arrived, into Friday morning. More than 22,000 customers were without power in the area Friday morning, utility Duke Energy said. Power to many was restored by the afternoon, the utility said.
Flooding also was a problem in Pasco County, north of Tampa. At least 18 people were rescued from rising floodwater there, Scott said.
Downgraded but dangerous
Tropical storm watches and warnings were declared along the East Coast, from South Carolina to Connecticut.
"I don't want folks to take the weakening of the winds to mean the hazards have gone away," hurricane center Director Rick Knabb told CNN's "New Day" on Friday. "The most frequent cause of loss of life (from tropical cyclones in recent decades) is from inland flooding due to heavy rainfall."
It is also possible Hermine will gain strength once it reaches the warm water in the Atlantic but the characteristics of the storm will change from tropical to post-tropical.
The hurricane center defines post-tropical cyclones as "A former tropical cyclone. This generic term describes a cyclone that no longer possesses sufficient tropical characteristics to be considered a tropical cyclone. Post-tropical cyclones can continue carrying heavy rains and high winds."
So while it might not be called a hurricane, it could still be a very dangerous system.
Refrigerator 'carried 30 feet'
On Alligator Point, part of a Gulf barrier peninsula about 35 miles south of Tallahassee, Ray Maynard spent Friday surveying damage to his home's first-floor storage room.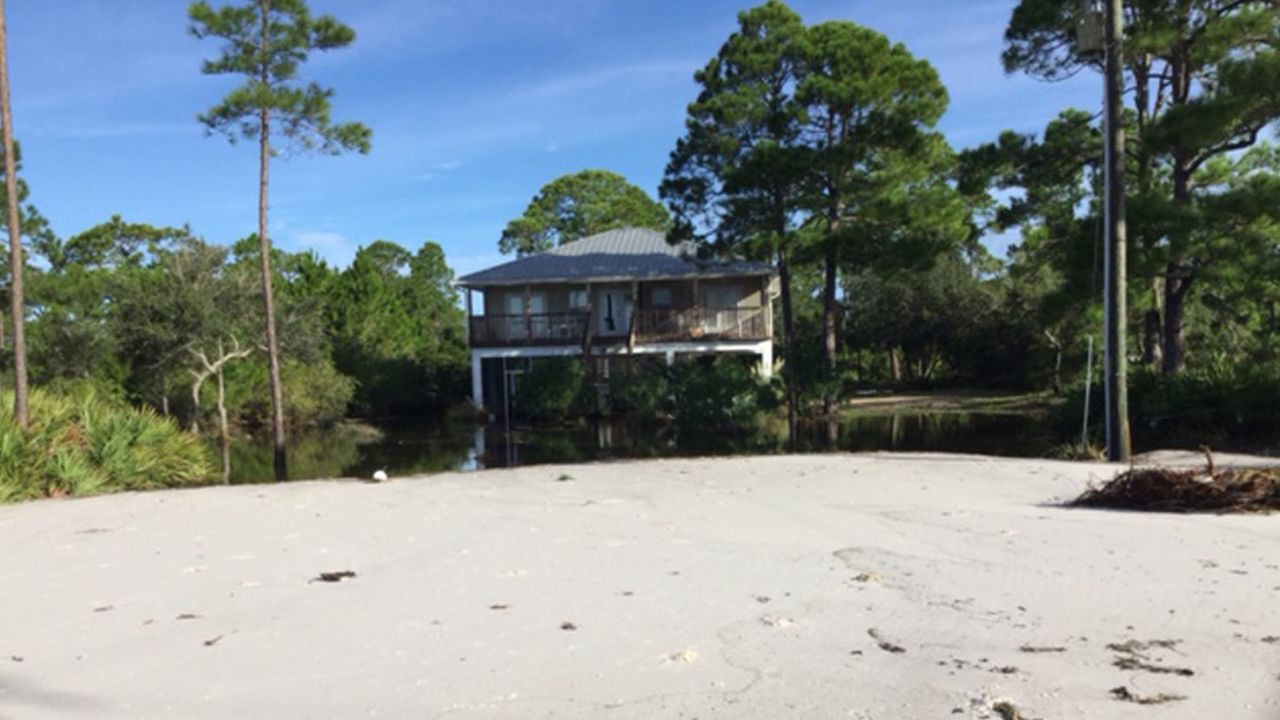 Three of the level's four walls broke away by design, allowing strong winds and storm surge to pass under the inhabited second floor. He wasn't home when the storm hit, but he estimates about 2 to 3 feet of water surged through, bulldozing the walls and scattering what had been inside – including a fridge and two barbecue grills.
"The refrigerator was carried 30 feet behind the house," said Maynard, a 58-year-old retiree who, with his wife, splits time between Alligator Point and a residence in Citrus County to the southeast.
"It's a major cleanup project. The whole (first-floor) slab is covered with mud now," he said. "Everything that was there, you either have to throw it away or wash it off and salvage it."
The road in front of his house – already deteriorated from previous storms – is now buried under sand and other debris from Hermine.
"Basically, I went from … (having a house) behind the road on a beach to being directly on the beach," Maynard said.
In Panama City, a popular Labor Day destination, organizers canceled one of the major tourist draws, the Gulf Coast Jam. Officials said the stage for the three-day country music event had to be taken down as the winds picked up.
The governor had declared a state of emergency in 51 of the state's 67 counties. Scott told residents not to drive into standing water and to avoid downed power lines, saying crews were working hard to ensure limited disruptions.
"We have a hurricane. You can rebuild a home. You can rebuild property. You cannot rebuild a life," he said.
In Georgia, Gov. Nathan Deal declared a state of emergency for 56 counties. And in North Carolina, Gov. Pat McCrory declared a state of emergency for 33 eastern counties.
Maryland Gov. Larry Hogan declared a state of emergency Friday for 12 counties along the Eastern Shore and Southern Maryland.
Virginia Gov. Terry McAuliffe warned Friday that people faced a strong possibility of "life-threatening" storm surges in Hampton Roads and other coastal areas over the weekend. The governor was briefed by hurricane center officials, who showed him a map with storm surge projections.
"It is a chilling map in that it shows storm surges going all the way up the Chesapeake Bay," McAuliffe said. "We have been told of a very strong likelihood of a life-threatening storm."
The National Weather Service issued a new online product to help people prepare for the storm. The storm surge watch/warning graphic highlights spots with the highest risk for "life-threatening inundation from storm surge," the service said.
The National Hurricane Center has issued a tropical storm watch for the Mid-Atlantic coast and New Jersey, extending to Sandy Hook, New Jersey.
CNN's Faith Robinson, Sheena Jones, John Murgatroyd, Steve Visser, Brian Todd, Joe Sutton, Brandon Miller, AnneClaire Stapleton, Eliott C. McLaughlin, Debra Goldschmidt, Ralph Ellis, Madison Park and Mayra Cuevas contributed to this report.