Story highlights
Rebuilding America Now aired $13 million in ads backing Donald Trump, but has dropped its big plans
Florida Gov. Rick Scott is a major backer, but the super PAC has otherwise struggled
The super PAC once envisioned to be the main advertising force behind Donald Trump is sputtering into the fall, beset by a pang of concern ever since Trump's campaign chief departed and as key donors spurn the group's appeals for last-minute checks.
In conference calls and private meetings, people close to the group Rebuilding America Now have begun expressing worry that they no longer have the campaign's blessing that they labored to earn from Paul Manafort.
And after once imagining an ambitious, aggressive fundraising campaign in which they match Hillary Clinton's super PAC operation with a $100 million-plus budget, group officials and donors – including Florida Gov. Rick Scott – are now selling a more restrained operation, one focused on merely three or four states and spending about half of the original target.
The super PAC this summer aired almost $13 million in television ads, more than any other Trump group, giving them some air cover until the Trump campaign was able to begin advertising two weeks ago. This week, however, it suddenly stopped the paid media campaign, despite prior statements that they would be on television until Election Day.
The ouster of Manafort – the longtime Washington lobbyist – as Trump's campaign chairman has caused alarm. Trump's new leadership, especially Breitbart Executive Chairman Steve Bannon, has strong ties to a rival super PAC run by aides to GOP megadonor Bob Mercer. And while Rebuilding America Now officials stress they have a path forward, some in the organization are now looking over their shoulder more than ever.
Rick Scott's unusual role
The one saving grace, according to interviews with a dozen people with ties to the group: Scott, the Florida governor who chairs the super PAC. He has made a significant contribution to the super PAC from his own personal fortune, CNN has learned from a super PAC aide.
"We were the one blessed by the current regime, and the regime left," said one super PAC official, who said that his concerns have been soothed by Scott's success. "It was fits and starts before that, and it's fits and starts now."
Scott's is an unusual role: the chief executive of the nation's third largest state – with a net worth estimated to be over $100 million – holding a side gig glad-handing the nation's wealthiest Republicans to help the party's presidential nominee.
"He knows how to win campaigns like this, and how to inspire the financial support to get them over the goal line. He's done it," said Alex Castellanos, who is crafting the super PAC's ads. "Scott is just a relentlessly efficient business guy."
A key part of Scott's pitch: he too, has given to the cause.
"I'm in. I need you in," Scott will say when on fundraising calls, according to one group official.
The size of Scott's personal contribution will not be disclosed until the super PAC's next financial report in October, but the gift is the subject of much buzz and speculation in Tallahassee. The figure is expected to be far less than the $85 million he spent on his own governor's race in 2010. It could also come from Scott's own PAC, Let's Get to Work.
"Stay tuned," super PAC spokeswoman and Scott adviser Melissa Sellers said when asked about a personal donation.
A former hospital executive and Republican donor in his own right, Scott is described by associates as a hyper-aggressive, early-rising "bulldog" with a national donor network that few in American politics rival. Close with Fortune 500 CEOs from his time in the private sector and fluent in the language of the mega-rich, Scott is at ease cold calling fellow millionaires, being rejected and pushing back aggressively.
Some friends, nervous about how history will judge Trump, have counseled Scott to not cast his lot with a Republican nominee who he cannot control – though the pair speaks by phone several times a week.
"I'm kind of glad there are hurricanes and Zika that take up a bunch of his time," said one person close with Scott who is encouraging him to scale back.
But according to donors and other individuals close to the group, Scott has so far largely failed to woo other top contributors. One major donor so far has stepped forward: Home Depot founder Bernie Marcus, who has given $3 million to the super PAC, according to two people with knowledge of his giving. California real estate tycoon Geoff Palmer gave the group $2 million earlier this summer, according to the group's first campaign finance filing.
Rival super PACs say they too expect to receive donations from Marcus, and the donor is said to be open to funding other groups beyond just Scott's.
Big GOP donors on the sidelines
Other expected contributors, though, have yet to commit.
Scott so far has failed to win over Sheldon Adelson, the Trump-supporting billionaire who continues to withhold massive checks from GOP finance officials despite Scott's personal pitches. An Adelson spokesman did not respond to requests for comment.
T. Boone Pickens, the energy magnate once thought to be a major part of any Trump super PAC operation, is still on the sidelines.
And earlier this year, the super PAC's founder, longtime Trump friend Tom Barrack, ended his involvement with the group, sending the group temporarily into a tailspin. The $32 million in pledged donations that he said were en route have yet to arrive.
Group allies stress that donors are on the cusp of making major donations to the super PAC but are not prepared yet to go public. Super PAC aides had a presence at the most recent meeting of top donors to the Republican Governors Association in Aspen, according to a person present at the function, though one top RGA donor said that Scott himself has made few pitches to the group. And Scott has long relationships with Florida's top Republican donors – including those allied with Jeb Bush, like developer Bill Edwards, or those who have otherwise said they will not back Trump, like Marco Rubio-allied billionaire Norman Braman. But Braman, Edwards and a few of Scott's major donors did not respond to requests for comment about any conversations with Scott's PAC.
Targeting Florida and Ohio
Weak fundraising means a smaller budget: While Rebuilding America Now has decided to go all-in on two states – Ohio and Florida – there are questions about what the other one to two target states will be: Pennsylvania and Virginia are considered leading contenders.
Group officials declined to say how much they had raised so far, though they maintain that major commitments – including one of $20 million – is still on the table. Marcus' $3 million gift is also said to not be the group's largest contribution so far, according to one person familiar with Marcus' giving.
And many donor targets from Rebuilding America Now's list have not made contributions, according to interviews.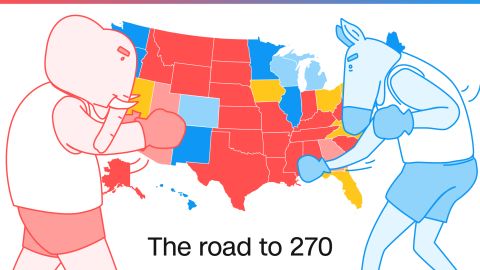 In Cleveland's Ritz Carlton hotel during the Republican National Convention, super PAC officials pitched their work to about 15 of the Republican Party's leading donors. Given many Republican donors' antipathy for Trump's politics, the room comprised the most likely people in the country to write checks then to finance their ad campaign.
There was hedge fund billionaire Steve Feinberg; supermarket magnate John Castimidis; veterans of Mitt Romney's star-studded operation like Tom Tellefsen of California and John Rakolta of Michigan; and a handful of donors with ties to new vice-presidential nominee Mike Pence, including Pence's longtime finance aide, Marty Obst. Others were there on behalf of GOP stalwarts like Woody Johnson, Harold Hamm and Joe Craft.w
Yet several of the donors and representatives that sat in the Ritz that day say they have had little to no follow-up with the PAC officials since they left the briefing. Donors privately told CNN that they were impressed by the organization and were willing to make introductions, but an immediate personal contribution wasn't in the offing.
A Hamm spokeswoman, Kristin Thomas, said he planned to donate merely to the RNC and campaign itself: "We're pretty direct in our giving."
Poor quality ads?
One donor who has been courted described the whole meeting as chaotic and "a bizarre experience."
"The main question is where the money is going," said the person, who recalled questions being raised about the super PAC's commission rates and deemed the television spots to be "very poor quality."
One highlight of the meeting was when Manafort, the campaign's polished campaign chief, called in and gave what had long eluded super PACs operating in the Republican nominee's shadow: the blessing of Trump Tower, which would make any of the pro-Trump groups a de facto authorized entity.
Manafort told the small group that he approved of Rebuilding America Now, which is led by a longtime Manafort lobbying associate, Laurance Gay, and that he wouldn't be offering the same nod to competing Trump super PACs. And Pence, too, gave the group legitimacy, issuing a statement of support that today prominently appears on its website.
Asked if Pence still stood by his statement that "supporting Rebuilding America Now is one of the best ways" to back Trump, a Pence spokesman would not embrace that group specifically.
"Governor Pence is not doing any events to assist these efforts," Pence aide Marc Lotter said. "He supports all groups seeking to elect Donald Trump and defeat Hillary Clinton."
Pence issued his support before Manafort left the Trump campaign, and the checks apparently left as well.