Story highlights
Hurricane Hermine is just a few hours from landfall
Bands of rain were already deluging parts of the Florida Gulf Coast
Apalachicola, Florida
CNN
—
After boarding up windows and filling sandbags, residents took shelter Thursday night as Hurricane Hermine bore down on the Sunshine State's Panhandle region.
Some counties issued mandatory evacuation notices for Gulf Coast communities on the water or in low-lying areas and at least one told people to stay inside after 9 p.m.
The governor warned people Hermine would be life-threatening and forecasters said the surge of ocean water could be as high as 9 feet above normal levels.
Hermine, with its maximum sustained winds reaching 80 mph, was lashing Apalachicola, Tallahassee, St. Petersburg and other cities a few hours before its expected landfall.
"The center of Hermine should make landfall along the coast of Apalachee Bay during the next few hours, then move across the eastern Florida Panhandle into southeastern Georgia early Friday," the National Hurricane Center said late Thursday night.
"The center should then move near or over eastern South Carolina on Friday night and near or over eastern North Carolina on Saturday.
The storm became a Category 1 hurricane Thursday afternoon, and is expected to lash the area with heavy rains.
"These rains may cause life-threatening floods and flash floods. Heavy rain could reach the coastal Mid-Atlantic states from Virginia to New Jersey beginning early Saturday," the National Hurricane Center said.
When Hermine makes landfall, it would be the first hurricane to do so in the state since Wilma in 2005.
"This is life-threatening," Gov. Rick Scott told reporters in Tallahassee, the capital. "The storm surge, by itself, is life-threatening."
Rain has been pounding the Gulf Coast ahead of the storm since Wednesday, and forecasters say much more is in store.
Hermine could bring up to 10 inches of additional rainfall to some places, including Tallahassee – with up to 15 inches possible in some areas – before dumping heavy rain in parts of Georgia and the eastern Carolinas, forecasters said.
Forecasters said storm surge will be dangerous from Indian Pass to Longboat Key. Some areas could see surge as high as 9 feet.
Live coastal video: Florida braces for Hermine
They warned residents to be aware of the potential for flooding.
There was a tornado watch in effect for 26 Florida counties and 37 Georgia counties until 8 a.m. ET on Friday.
On Thursday night, the storm's maximum sustained winds hit 80 mph. Forecasters warned that the storm is asymmetric, with much of the dangerous winds and rain to the east and southeast of the center.
The National Weather Service has issued a new online product to help people prepare for the storm. The storm surge watch/warning graphic highlights spots with the highest risk for "life-threatening inundation from storm surge," the service said.
Surge 'is what got me worried right now'
In Apalachicola, on the Panhandle coast, contractors Lake Smith and Joshua Wolfhagen boarded up windows at the Consulate, a four-suite hotel in a two-story brick building about 60 feet from the waterfront.
"Storm (surge) is what got me worried right now," Smith said. "Mostly worried about washing out the roads and a few of the homes in low-lying areas."
Wolfhagen said he feared Hermine would make for a significant disaster in Apalachicola and Franklin County – which he said could ultimately hurt his work.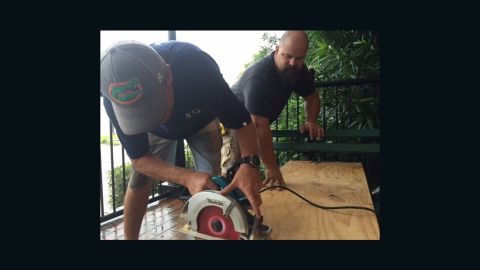 "People … don't want to build a house where storms hit. We got a bunch of work after the storm (from 2005) but we slowed way down," he said.
Eddie Bass, who owns a home in Alligator Point, said he wasn't boarding up his home because he was much more worried about the storm surge.
Bass, who left Tallahassee after packing up, said: "It's not much you can do. You just got to bring everything you can. Lock down the house and pray."
A hurricane warning was in effect for the area between the Suwannee River westward to Mexico Beach.
Scott declared a state of emergency for 51 of the state's 67 counties. He ordered all state offices in those 51 counties to close by noon Thursday.
In Panama City, a popular Labor Day destination, organizers canceled one of the major tourist draws, the Gulf Coast Jam. Officials said the stage and tent village for the three-day country music event need to be taken down as the winds pick up.
Emergency management officials in Taylor County, along the Gulf Coast of Florida, said Thursday night that a curfew is in place beginning at 9 p.m. ET and mandatory evacuations have been ordered for coastal communities.
The agency said there is some flooding, but nothing major at this time.
Officials in nearby Wakulla County said there are also mandatory evacuations for low-lying areas there.
Franklin County, just southeast of Panama City, issued a mandatory evacuation order for the coastal towns of St. George Island, Dog Island, Bald Point and Alligator Point, the county's emergency management office said.
In St. Petersburg, well to the south, Joanna Crandell said the water in the canal next to her home was a foot over the sea wall. But high tide won't come until the middle of the night.
"I am sorry to say we have made no preparations for the hurricane, other then appropriate beverages, as we are only getting the outer bands," said Crandell, who has lived in the area for 14 years.
Residents have been sharing images of high water running through neighborhoods. In one, a man paddleboards down a street. A photo from Holmes Beach showed a woman floating on an air mattress in her driveway.
Zika concerns
The storm may leave behind large areas of standing water, but one expert said it shouldn't increase fears over the Zika virus.
"We associate severe rain events like tropical events and hurricanes with increases in nuisance mosquitoes, not with disease-spreading (mosquitoes)," Ben Beard, chief of the Bacterial Diseases Branch of CDC's Division of Vector-Borne Diseases, told CNN.
The type of mosquito that could potentially carry Zika is affected by heavy rain and flooding, which also washes away larvae from small breeding sites such as bird baths and flower pots.
Nuisance mosquitoes will breed in water that remains standing after the storm passes.
Other states declare emergencies
Farther north, Georgia Gov. Nathan Deal declared a state of emergency for 56 counties in his state, parts of which are expected to get up to 10 inches of rain over the weekend.
"We are working to ensure counties in south, central and coastal Georgia have access to the state resources necessary to prepare when … Hermine enters Georgia," Deal said Thursday.
North Carolina Gov. Pat McCrory issued a state of emergency for 33 eastern counties.
The hurricane center has extended a tropical storm warning to include the Outer Banks of North Carolina.
The projected track for Hermine brings the center of the storm over the coast of North Carolina on Saturday morning, then into the Atlantic Ocean that afternoon.
CNN's Faith Robinson reported from Apalachicola and CNN's Steve Almasy and Jason Hanna reported and wrote from Atlanta. CNN's Joe Sutton, Brandon Miller, Eliott C. McLaughlin , Ralph Ellis, Madison Park and Mayra Cuevas contributed to this report.