Story highlights
Word of Donald Trump's trip to Mexico sparks criticism online
Some respond with Twitter jokes, while others offer harsh words
(CNN) —
As word of Donald Trump's surprise trip south of the border spread, many Mexicans took to social media with a common refrain: "Is this a joke?"
But it wasn't long before they started coming up with jokes themselves about the controversial visit. Many also poked fun at Mexican President Enrique Peña Nieto, who has agreed to meet with Trump and whose popularity has been tanking.
"An advanced look of what we'll see tomorrow," one person tweeted Tuesday night, posting an image of the lead characters from the 1990s cartoon "Beavis and Butt-head."
Mexican actress Ana Brenda tweeted an idea, encouraging Peña Nieto to block Trump at the border.
"You will be a national hero," she wrote.
Mexico City's Museum of Memory and Tolerance, which includes exhibits on the Holocaust and the US Civil Rights Movement, offered Trump free admission.
"We invite you to visit us to remember history and not repeat it," the museum said on Twitter.
It's no surprise that Trump, who launched his presidential bid with a speech referring to Mexicans who illegally cross the US border as murderers and rapists, isn't popular in Mexico.
Here's a look at ways some in the neighboring country have responded to the US presidential candidate and his proposals:
Pounding piñatas
Trump has already been in Mexico for months – as a piñata.
Just a few days after the billionaire businessman announced his campaign, an artist in Reynosa, Mexico, started making piñatas of a man in a suit with wispy orange hair. It wasn't long before similar models were for sale across the country.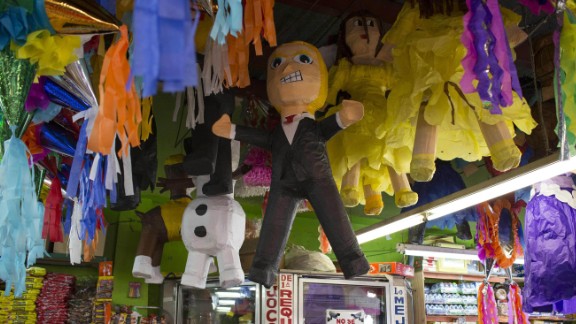 JOSE RIVERA/AFP/Getty Images
The idea quickly caught on in the United States as well, with stores in Texas and California selling out of the popular items.
And tweets mocking Trump's Mexico visit Wednesday picked up on the trend, imagining what the presidential hopeful might say when he sees the piñatas.
Making a mask factory great again
Owners of a Halloween mask factory in Jiutepec, Mexico, told CNN's Rafael Romo earlier this year that they were busier than ever, thanks to Trump.
Trump's fame in the United States – and infamy in Mexico – drove demand for an unflattering Trump mask, which picked up last fall when it became clear that the Republican presidential candidate was a serious contender.
"We weren't making this mask with hair at first," co-owner Ricardo Esponda told CNN, "but some of our customers asked for it. It's got to have hair."
Families fear impact
But for some Mexicans, Trump's proposals are no laughing matter.
Several families told CNN's Rosa Flores last month they were terrified by Trump's proposal to cut off money transfers from the US to Mexico.
"It's not right," Martha Mendoza said as she cooked tortillas at her home in the town of Francisco Villa.
Town leader Jaime Leon said he was worried about the future of his small village.
"Francisco Villa, without money transfers (from the US), will drown," he said. "It will downward spiral."
Ex-Presidents slam wall proposal
While Peña Nieto seems to have extended an olive branch, several former Mexican leaders have made it clear they'll never see eye to eye with Trump.
Former President Vicente Fox didn't mince words when a reporter asked earlier this year about Trump's proposal to make Mexico pay for a wall at the border.
"I'm not going to pay for that f***ing wall. He should pay for it," Fox told Fusion's Jorge Ramos in a interview.
Since then, Fox, who led Mexico from 2000-2006, has continued to slam the Republican candidate.
"Trump is using Mexico, is using President Peña to push his sinking poll numbers," Fox told CNN ahead of Trump's trip.
And former first lady Margarita Zavala joined the fray on Wednesday, sending a tweet to Trump.
"Even though they have invited you, know that you are not welcome," she wrote. "Mexicans have dignity and we repudiate your discourse of hate."
CNN's Rafael Romo, Rosa Flores, Alejandra Oraa, Christina Zdanowicz and Mallory Simon contributed to this report.