Story highlights
Astronomer: Signal detected from star HD 164595, 94 light years away, is likely "terrestrial disturbance"
Scientist recalls similar instance decades ago in which Soviet military satellite was responsible for signal
(CNN) —
Apologies to the Tin Foil Hat Clan, but that mysterious signal emanating from a star in the constellation Hercules? Yeah, probably not an alien.
If E.T. didn't phone home, what happened, you ask? It appears Earthlings are responsible, though scientists haven't explained exactly how.
Telescope researcher Yulia Sotnikova issued a statement Wednesday via the Russian Academy of Sciences Special Astrophysical Observatory saying analysis had "revealed (the signal's) most probable terrestrial origin," and that astronomers across the world continued to look for additional signals.
"It can be said with confidence that no sought-for signal has been detected yet," the statement said.
In an interview with the state-run TASS Russian News Agency, Sotnikova did not divulge a source for the signal, saying only that the signal "was most likely a terrestrial disturbance."
One possibility is a satellite. Alexander Ipatov, director of RAS' Institute of Applied Astronomy, told TASS that during "the Soviet period" he had been among a group of astronomers at Southwest Russia's Zelenchukskaya observatory that had discovered an "unusual signal."
"However, an additional check showed that it was emanating from a Soviet military satellite, which had not been entered into any of the catalogs of celestial bodies," Ipatov said.
How'd we get here?
The intergalactic hullabaloo over the most recent noise began Tuesday when media outlets reported that an odd signal was registered by the Zelenchukskaya observatory's radio telescope, known as the Ratan-600 (not to be confused with the illudium Q-36 explosive space modulator).
Astronomers devoted to the search for extraterrestrial intelligence, or SETI, began aiming powerful telescopes at the star, roughly 94 light years from Earth.
It's tough to make that number meaningful. You could break it down into miles – roughly 553 trillion – but that's likely more meaningless. How about 22 trillion times the Earth's circumference?
Eh, never mind. Let's just say it's a long dang way from here.
The star – catchily dubbed HD 164595 – is a "strong candidate for SETI," according to astronomers and was believed to be the origin of the radio signal.
Dimming star remains mystery, but it's likely not caused by comets
If, in fact, the signal was artificial, its strength was sufficient to determine "it was clearly made by a civilization with capabilities beyond those of humankind," said astronomer Douglas Vakoch, president of METI International.
Emphasis on "if."
"Without corroboration from an independent observatory, a putative signal from extraterrestrials doesn't have a lot of credibility," Vakoch said.
TTYL, aliens?
METI stands for messaging extraterrestrial intelligence, and we're not talking about DMing Yoda.
If this signal had come from aliens on or in the vicinity of HD 164595, it would've required some otherworldly juice to get it here, suggesting a civilization far more advanced than our own.
Mars simulation crewmembers 'return to Earth'
Considering humans play the lottery and often stick scalding-hot pizza in their mouths, that may not sound like it's saying a lot. But chew on this (once it cools): In 1964, Soviet astronomer Nikolai Kardashev developed an eponymous system for categorizing life forms.
"The Kardashev scale is based basically on the energy that that civilization might be able to funnel for its own use," Italian astronomer Claudio Maccone explained.
Humans are almost Type I, the designation for a civilization that can harness and store energy from the sun, wind, earthquakes and other fuels. No biggie.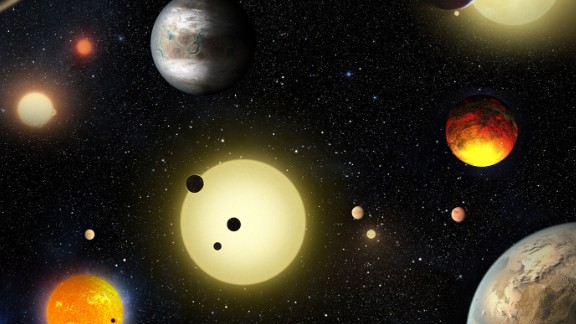 Photos: Where life might live beyond Earth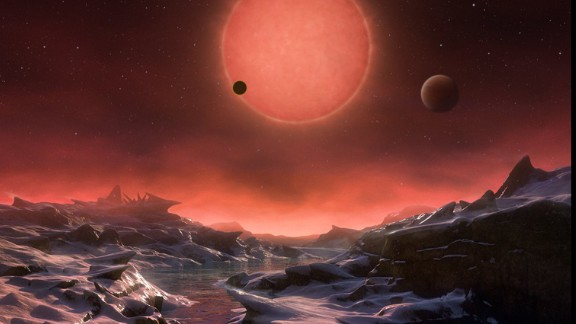 Photos: Where life might live beyond Earth