Story highlights
President says the peace deal "is the most comprehensive and the most complete"
FARC leader says, "Today, more than ever, we regret so much death and pain caused by the war"
Less than 24 hours after Marxist FARC rebels in Colombia put a permanent ceasefire into effect, President Juan Manuel Santos tells CNN the peace deal is "the most comprehensive" possible.
"If you compare it to other peace agreements throughout the recent history, you will find that this is the most comprehensive and the most complete. We did not leave any detail out," he told Christiane Amanpour.
The ceasefire came into effect at midnight Sunday, after 52 years of war between the government of Colombia and the FARC.
"Today, more than ever, we regret so much death and pain caused by the war," FARC leader Rodrigo Londoño Echeverri, known by his nom de guerre "Timochenko," said in Havana on Sunday.
"Today, more than ever, we want to embrace as compatriots and begin to work together for a new Colombia. The war has ended."
The conflict has claimed an estimated 220,000 lives and displaced nearly 7 million people from their homes.
The deal is not without controversy. It includes the condition that any rebel or government soldier who confesses to or is found guilty of a war crime will face a period of "restricted movement," but not jail.
READ MORE: Colombia: 52 years of war, 220,000 dead, now peace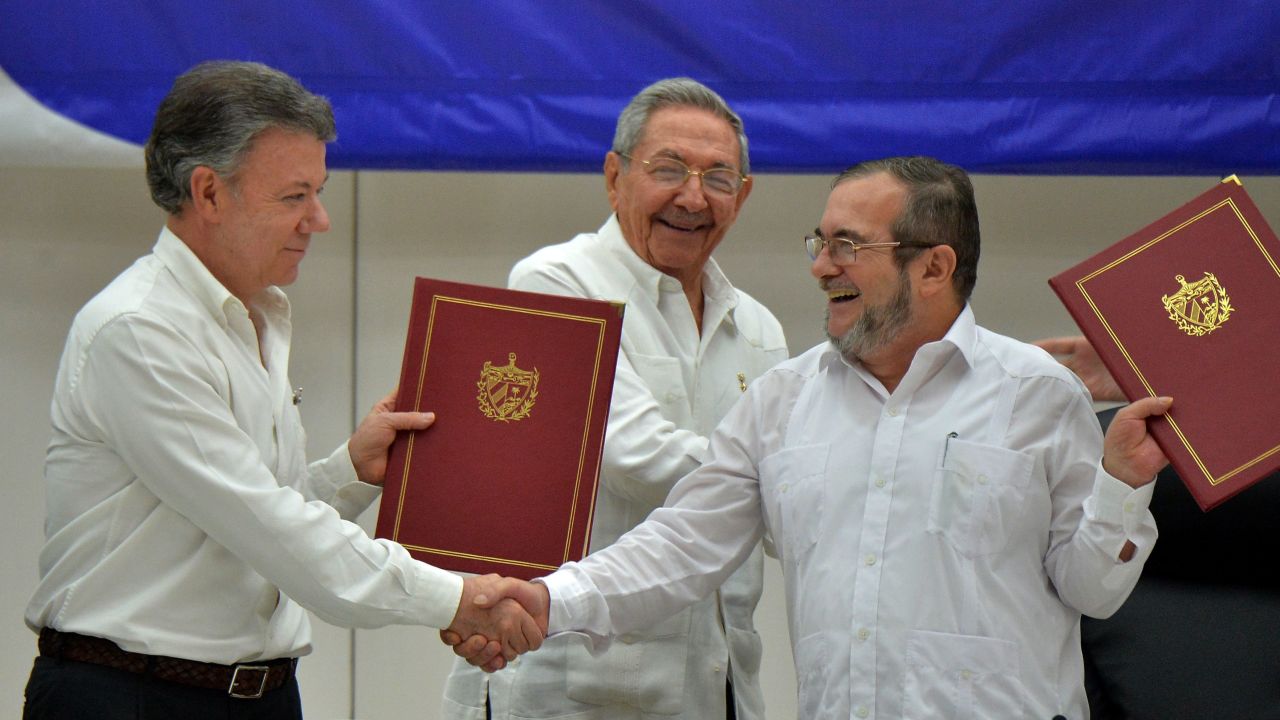 That has many critics outraged, including former President Alvaro Uribe Velez, whose father was killed by the FARC.
In a video posted to his Twitter account Sunday, he criticized President Santos.
"To this terrorist group, they also give impunity, and political legitimacy to all its actors, including those responsible for massacres [and] the most severe offenses, and crimes against humanity," Uribe said. "The government has also accepted all of the FARC's agenda."
Speaking with Amanpour, Santos called that "simply a lie."
"There's no impunity. The most responsible [for] crimes against humanity will be investigated, judged, and condemned."
"But they will be condemned in a transitional justice, which is the justice that the world has created to allow armed conflicts to reach peace. And that's what we are applying."
The object, he said, is to get an armed group to completely change its tack and enter the political fray.
READ MORE: War-weary Colombians react to peace deal with FARC rebels
"That's the whole purpose of this exercise – to force the FARC to lay down their arms, to accept our constitution, to accept our laws, to accept our institutions, and to continue their political objectives but without violence."
Despite the ceasefire, the peace deal is not yet final. That is contingent on a national referendum, to be held in October.
Santos was confident it would be approved.
Colombians, he said, "know that a perfect peace is impossible. But a good peace, like the one we just negotiated – that's the best thing for every Colombian and for the world."
He was surprised, he told Amanpour, how supportive the victims of the war were.
"What they say is that they don't want other people to suffer what they suffered."
Should everything go according to plan, Santos said, he intends to gift the FARC leader the white dove pin he has worn on his lapel since the beginning of negotiations in 2012.