Story highlights
Republicans are gaining ground in three states that could determine the presidential election
The GOP added about 300,000 more voters than Democrats since November 2012 in Florida
Hillary Clinton is enjoying a strong summer but her party's voter registration advantage is shrinking in three battleground states that could decide the election, according to a CNN analysis of newly released registration data.
With 10 weeks to go, Clinton is favored in CNN's latest Electoral College map. And there are still more registered Democrats than Republicans in Florida, North Carolina and Pennsylvania. But the GOP has improved its position in all three states by adding hundreds of thousands of voters to the rolls.
Shifts in voter registration don't necessarily indicate who is attracting new voters, because the rolls are fluid. People switch parties, or move to a new state. Voters die and are removed from the list. And other factors – like this year's competitive GOP primary – can boost registration levels. But when available, these statistics provide clues about the electorate and the changing political landscape.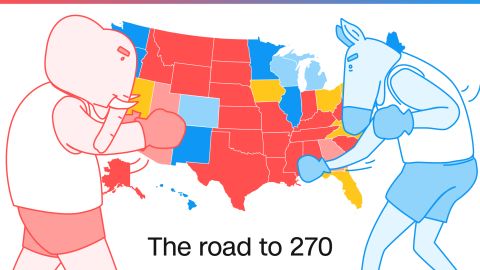 On Election Day in 2012, there were 557,544 more registered Democrats in Florida than Republicans. But President Barack Obama only won the state by 74,309 votes out of more than 8.4 million ballots cast.
GOP gains ground in Florida
This time around, Clinton could have a smaller cushion, because the GOP added about 300,000 more voters than Democrats since November 2012. About half of those Republicans were added in the past year alone, according to the Florida Department of State. The Democratic edge is now about 259,000.
Some of this shift has been driven by changes in Florida's white electorate. Democrats lost almost 195,000 white voters since the 2012 election, while Republicans gained about 149,000 white voters, the Department of State reported.
But there is good news for Democrats: They added 92,000 Hispanics to their voter rolls since 2012, and two-thirds of them were registered between February and August of this year. A Florida Democratic Party official also said three-quarters of all first-time voters registered since 2012 were non-white.
"I don't look at this as being dire for Democrats," said Professor Daniel Smith, who teaches political science at the University of Florida. "Their registration has been healthy, and their demographics are more representative of the state electorate. On the Republican side, it's disproportionately white."
In 2012, Democrats padded their lead by 102,000 voters in the fall. To replicate that, they could look to the 800,000 college students returning now to Florida schools. Democratic vice presidential nominee Tim Kaine held a voter registration event Friday at Florida A&M University in Tallahassee.
Tightening in North Carolina
North Carolina was the second-closest state in 2012, when Republican Mitt Romney won by only about 92,000 votes. It could be tight again: Trump and Clinton are essentially tied there in the latest CNN/ORC poll.
So far, compared to this time in 2012, the Democratic lead has narrowed by about 123,000 voters, according to the North Carolina State Board of Elections. And in the past year, Republicans doubled Democrats in terms of registration gains. The current Democratic lead is almost 642,000 voters.
Even though Democrats have the clear registration edge, Republicans still hold the governorship, both U.S. Senate seats, and 10 of 13 seats in the U.S. House of Representatives. There is one possible explanation: Some Tar Heel Democrats might not be stalwart Democrats after all.
"If you're 70 years old, and you registered 50 years ago, more of those older people all registered as Democrats," said Carter Wrenn, a veteran Republican strategist who has managed nine winning statewide races in North Carolina. "A lot of those older people are ticket splitters. About 15% of Democrats, mostly older Democrats, usually vote for the Republican nominee for president."
Dem edge drops in Pennsylvania
The latest polls suggest Clinton has a clear lead over Trump in Pennsylvania, and Democrats have long enjoyed a wide registration edge in the Keystone State. They still lead today, but it's smaller than at any time since November 2007, according to the Pennsylvania Department of State.
Republicans outpaced Democrats this past year, netting 83,000 more voters. This helped drive down the Democratic advantage to about 916,000, which hasn't been under 1 million in a presidential year since 2004, when Democrat John Kerry beat President George W. Bush by about 144,000 votes.
Kerry, and then Obama in 2008 and 2012, carried the state because they netted hundreds of thousands of votes from Philadelphia. To close the gap this year, and to make a play for the state's 20 electoral votes, Trump has focused on Rust Belt towns in Western Pennsylvania, where he thrived in the primary.
"We're an area that was historically Democratic but has been trending Republican for about 20 years now," said Michael Korns, chairman of the Westmoreland County Republican Committee, in the Pittsburgh suburbs. "We're seeing an acceleration of a trend that we've been seeing develop over the years. We're getting people to embrace the Republican Party and actually become full members."
Rep. Tom Marino, Trump's chairman in Pennsylvania, said the campaign believes at least 80,000 Democrats have switched their registration to the Republican Party this year.
Democrats see progress out west
In Colorado and Arizona, Republicans have a registration edge, but Democrats are narrowing the gap. In the past year, Democrats netted 45,000 more voters in Colorado and about 19,000 in Arizona.
Ten years ago, Colorado Republicans had registration edge of 170,000 voters. That shrunk to about 33,000 voters in 2012, and today it stands at 12,000, according to the Colorado Secretary of State. The Democratic gains are likely coming from an influx of Hispanic and college-educated voters.
"We continue to see strong support for Hillary Clinton in expanding diverse communities across the country," said Clinton campaign spokeswoman Sabrina Singh.
Boosted by these gains, and by strong polls, the Clinton campaign recently decided it won't reserve airtime for television ads this fall in Colorado. As that state becomes less competitive, Arizona is heating up: Clinton trails Trump by just 5 points in the latest CNN/ORC poll.