Editor's Note: Peggy Drexler is the author of "Our Fathers, Ourselves: Daughters, Fathers, and the Changing American Family" and "Raising Boys Without Men." She is an assistant professor of psychology at Weill Medical College of Cornell University and a former gender scholar at Stanford University. The opinions expressed in this commentary are solely those of the author.
Story highlights
After revelations in NY Post of alleged sexting, Huma Abedin has announced she is separating from Anthony Weiner
We can't know what goes on in a marriage, the reasons for staying or going; this is true of Abedin, says Peggy Drexler
Drexler: Let's not be so condescending as to congratulate her; ending a marriage is excruciating. No one can judge
Sunday night, the New York Post published photos that appeared to have been sent last year between former US Rep. Anthony Weiner and a "busty brunette out West" (said the Post), following a tip from said brunette. Perhaps the most damning photo — if the media reaction is any indication — features what the paper says is Weiner's crotch, clothed only in white briefs, and a small boy beside him. The Post says the boy is his his son with Huma Abedin, Hillary Clinton's close aide.
"Someone just climbed into my bed," read the accompanying text message, according to the Post.
The woman he was allegedly texting with was not an old friend. The Post received a number of explicit messages allegedly sent between her and Weiner between January 2015 and as recently as this month.
Abedin, Weiner split amid new sexting scandal
Before anyone could issue the shocked, judgment-laden incitements that are de rigueur with this kind of thing — What is Huma thinking? How could she stay with him? — Abedin announced that she and Weiner would indeed be separating, effective immediately.
"Anthony and I remain devoted to doing what is best for our son, who is the light of our life," she said in a statement issued Monday.
It's tempting to say "it's about time" (and some have: "Huma Abedin Announces She Is Finally Dumping Anthony Weiner," went the headline on Slate). Certainly, this would not be Weiner's first (or even second) transgression; in 2011, he resigned from office after it was revealed he'd been sexting random women online and then lied about it.
Get our free weekly newsletter
Sign up for CNN Opinion's newsletter.
But it's important to remember that we can never know what goes on in other people's relationships. To assume Abedin chose to stay with Weiner despite his many flaws is to ignore the fact that she quite possibly decided to stay with him because of the many good qualities he possesses, the ones that appealed to her in the first place.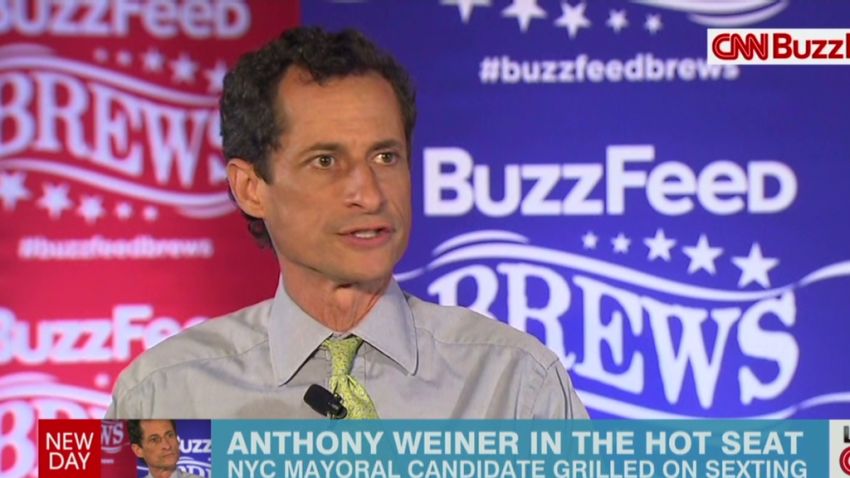 Weiner: 'What I've done has hurt' Abedin
A 2013 profile of the couple in The New York Times Magazine hinted at an early hesitation on Abedin's part; on their first date, she went to the bathroom and didn't come back. But it also described Weiner as a strong, supportive, compatible partner whose goals and ambitions for life and work fit in nicely with her own. It explained what about him she fell in love with.
There was also the matter of the child they shared. Six months after the culmination of Weiner's 2011 scandal, Abedin gave birth to their son. The Times Magazine profile revealed a couple working hard to mend their marriage.
Around the time of his resignation, Weiner entered an unidentified treatment center. The pair hadn't been to a major public event in two years. What's more, the Times story described Weiner as doing a lot of the domestic work and child care — picking up Abedin's dry cleaning, taking their son to the park during the day — while she was at work. In a modern marriage, that's no small thing.
Indeed, there are many reasons a woman might not leave a man who betrays her, just as there are many reasons a man might not leave a woman who betrays him. We don't tend to hear about those scandals, of course. Is it because they don't impact a marriage, or a life? Hardly. We just tend to prefer to put the woman in the role of victim, then condemn her for not having the courage to ditch that lying, cheating, sack of you know what.
But now that Abedin finally has announced a separation, let's not be so condescending as to congratulate her, or to agree that she'll be better off.
Let's not say, "it's about time." The end of a marriage, as anyone who's endured it knows, can be excruciatingly painful, no matter the circumstances. The "right time," if there is one, is different for every couple, and individual. And for one partner to make that call herself, if that is what happened here, is incredibly stressful. To imply that it should have been done earlier/ differently/ any other way, meanwhile, is cavalier, uninformed and maybe a little bit cruel.
As the vice chairwoman of the Clinton campaign, the timing certainly isn't ideal for Abedin to manage a personal crisis. But she's managing. Good for her, sure.
But also, really, not good at all.