Story highlights
Nykea Aldridge, cousin of NBA star Dwyane Wade, was fatally shot on Friday
Chicago police say they have charged 2 brothers with murder in her death
Chicago police have arrested two brothers in connection with the death of NBA star Dwyane Wade's cousin Nykea Aldridge.
Darwin Sorrells Jr., 26, and Derren Sorrells, 22, have each been charged with first-degree murder and first-degree attempted murder, police said Sunday. Darwin Sorrells has also been charged with a count of criminal trespass, a misdemeanor.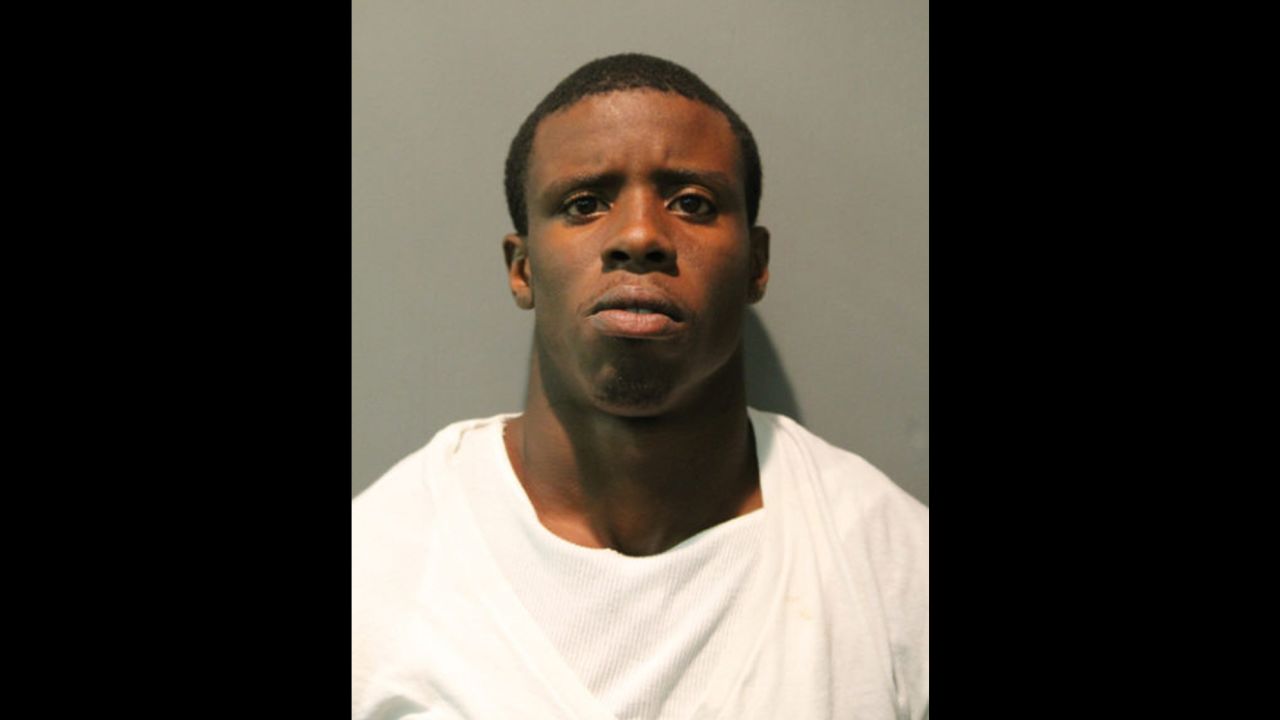 Both men are gang members who were on parole for gun convictions, Chicago Police Superintendent Eddie T. Johnson said Sunday at a news conference. They are both being held without bond, a source with knowledge of the case told CNN Sunday.
Aldridge was killed Friday afternoon when she was caught in the crossfire of a shooting while pushing her infant child in a stroller near Dulles School of Excellence on the city's south side, police said. The child, about 3 weeks old, was not injured, family members said.
Police: Driver was the target
The Sorrells brothers started shooting after one of them "exchanged looks" with a man who was dropping off women he'd picked up in the suburbs and driven into Chicago, Brendan Deenihan, commander of area central detectives for Chicago police, said Sunday.
The man was not an Uber driver, as had been previously reported, Deenihan said.
The Sorrells knew the man was not from the neighborhood and thought he might have been armed, Deenihan said.
"When he comes out to his vehicle now there are two offenders armed with handguns who began chasing him down and attempting to kill him and they miss and kill the female," Deenihan said.
One of the bullets hit Aldridge in the head and another struck her in an arm. She died about 45 minutes later at a hospital. She was near the school because she planned to register some of her four children, police said.
A security guard at the school helped police identify one of the suspects and the driver also cooperated with police, Deenihan said. The weapons have not been recovered, he said. School security camera images helped police make the case.
Suspects were on parole
Derren Sorrels had six felony convictions and was on parole for motor vehicle theft and escape from custody when the shooting happened, Johnson said. He wore an ankle bracelet but had taken it off during a period in which he was allowed to look for work, Deenihan said.
Darwin Sorrells was on parole for a gun charge. He had been sentenced to six years in January 2013 but was released early, Johnson said.
The police superintendent said the judicial system needs to demand more accountability for people convicted of gun offenses.
"This tragedy isn't just noteworthy just because Ms. Aldridge has a famous family member," Johnson said. "It's noteworthy because these two offenders are prime examples of the challenge we face in Chicago with repeat gun offenders who don't care who they shoot, don't care whose life they take and clearly, clearly don't fear the consequences of their actions."
Wade speaks out against violence
Wade, the 12-time NBA All-Star who recently left the Miami Heat to sign a contract with his hometown Chicago Bulls, took to Twitter to mourn his cousin's death.
"My cousin was killed today in Chicago," Wade said in one tweet. "Another act of senseless gun violence. 4 kids lost their mom for NO REASON. Unreal. #EnoughIsEnough."
Wade has been an outspoken critic of rampant gun violence and took the stage at this year's ESPY Awards with fellow NBA superstars LeBron James, Carmelo Anthony and Chris Paul to speak about the issue.
He and his mother, Jolinda Wade, a Chicago pastor, also participated in an ESPN discussion on gun violence in America that was recorded at a YMCA in Chicago.
According to the Chicago Tribune, which chronicles every homicide in the city, at least 455 people have been shot to death in Chicago in the first 7½ months of the year.
Four people have been killed and 24 injured in Chicago shootings since Saturday afternoon, police said Sunday.
CNN's Steve Almasy and Steve Visser contributed to this report.