Story highlights
Amatrice was supposed to hold its 50th spaghetti festival this weekend
Rescuers and demolition teams are working in 34 degree heat
One couple held their wedding Sunday as planned
Acquasanta Terme, Italy
CNN
—
They had been planning the perfect wedding for more than a year. The dress, the suit and the venue were all reserved.
And then four days before the big day, part of the church crumbled in an earthquake.
Still, Ramon and Martina Adazzi tied the knot Sunday in the town of Acquasanta Terme, near the epicenter of a devastating earthquake in central Italy that has killed at least 291 people and flattened entire villages.
The couple were heartbroken when their celebrant told them the church's altar was covered in debris. Cracks had formed up the walls, and 16th-century frescoes had torn open and crumbled. The building was not usable.
"At first I was shocked. We've been organizing this for more than a year," Martina Adazzi told CNN.
But the couple vowed to carry on with the ceremony.
"When Don Giovanni said the church was not safe, I told my wife: I want to celebrate my wedding there because they need a moment to think of other things now," Ramon Adazzi told CNN on the day of the wedding.
"I love the city. I love the people. Why would I take my wedding to another city?" he said.
So despite the ongoing aftershocks they moved the service to a village square, with the green Marche mountains and the town's fractured buildings as their backdrop.
The wedding – attended by dozens of people, including some from as far away as Brazil and Canada – was a brief moment of joy in the grim central Italian quake zone and a testament that life does indeed go on.
"Of course I was worried and nervous. And I didn't want to create even more problems for the village," Martina Adazzi said. "But everyone has been so wonderful and welcoming."
Demolition zone
Communities in this mountainous region of central Italy are grieving so much loss of life and overwhelmed by the thought of how to rebuild.
Some 20 kilometers to the southwest, the center of Amatrice was a demolition zone on Sunday.
The home of the famous Amatriciana pasta sauce was supposed to be bustling with tourists this weekend to celebrate the town's 50th spaghetti festival. Instead, rescuers had all but given up hope of finding any more survivors.
It has been four days since the earthquake jolted central Italy – now well past the 72-hour window in which experts say the chance of finding survivors is most likely. Many more bodies may still be trapped under piles of rubble.
Survivors: 'The future is finished'
But the task now has moved on to knocking down the buildings left half standing to make sure that they don't come crashing down in aftershocks, causing more deaths or injuries.
CNN correspondents in Amatrice saw bulldozers knocking down entire homes Sunday and cranes lifting containers to carry out mountains of debris in what promises to be an exhaustive cleanup.
A town razed
Much of the town's main street was destroyed or badly damaged. The popular Roma Hotel partially collapsed, its rooms gutted and its roof slumped on one side in the shape of a wave.
READ: Historical treasures lost, damaged in Italian quake
A single bell tower built in the 1400s stood tall among the rubble. But with its deep cracks, shaky foundations and little left around it, many fear that it, too, will have to be demolished.
What's left of Amatrice, it seems, is being razed.
Italy quake highlights our vulnerability to disaster
The town is usually home to just 2,000 people. But in the middle of summer its population can swell to 15,000, particularly on festival weekends.
This makes it more difficult to ensure that everyone is accounted for. Demolition and rescue crews were thoroughly searching each building with sniffer dogs and consulting with residents before knocking anything down in case another body might be found.
The rescuers who worked through each night in the initial days to find survivors are now racing against time for a different reason: Storms are expected to hit central Italy in a few days, threatening to turn the mounds of dust to mud.
They are also working under a scorching sun. Temperatures soared to 34 degrees Celsius on Sunday, well above average in the mountainous town.
Laying loved ones to rest
In his weekly Angelus prayer, Pope Francis offered condolences Sunday for those affected by the earthquake.
"Once more I say to those beloved people that the Church shares their sufferings and their worries. We pray for those who died and for the survivors. The quick way in which authorities, volunteers, civil protection members are working, shows how important is solidarity to overcome such suffering," Pope Francis said.
On Saturday Italy began burying the dead in a tearful state funeral attended by hundreds, many of them bandaged and bruised and still in shock from the week's traumatic events.
In the town of Ascoli Piceno, a local gym was transformed into a funeral hall, a basketball net the backdrop of the altar.
Thirty-five coffins adorned with flowers and framed photographs sat in three rows for victims from the town of Arquata del Tronto. Taped to the foot of each coffin was a white paper with the name of the deceased.
Among the coffins was one belonging to a young girl named Giulia Rinaldi. Bishop Giovanni d'Ercole, who led the ceremony, told a painful story of how Giulia was found dead on top of her younger sister, Giorgia, who survived. The older girl apparently shielded her sibling from harm.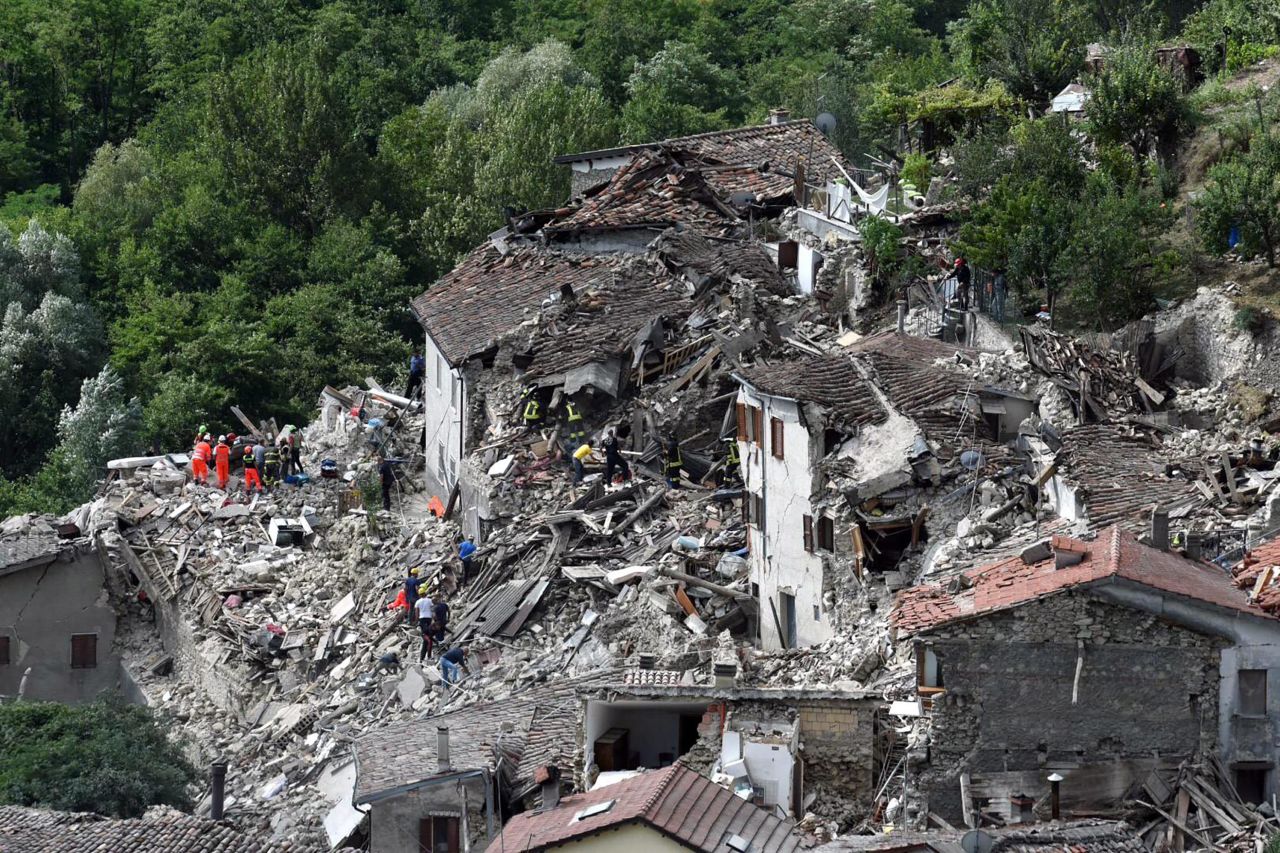 "They were holding each other, between them in embrace, both death and life," he said.
A woman at the funeral named Maria said she lost friends and family in the quake, and described how she and her husband used their bare hands to dig neighbors out of the rubble.
"Community is very important. In small villages like this," she said. "The relationship with the land and those you love, with our family, is very, very strong. It will be even stronger. We won't give up."
CNN's Atika Shubert, Tim Lister, Frederik Pleitgen and Livia Borghese reported from Italy. Journalist Angela Dewan wrote from London. CNN's Karen Smith, Rebecca Coleman and Bharati Naik contributed.