Editor's Note: Share your thoughts, memories and photos of Juan Gabriel on Twitter using #cnnireport.
Story highlights
NEW: A fan who attended Juan Gabriel's last show describes it as "incredible"
Juan Gabriel was scheduled to perform a concert in El Paso, Texas, on Sunday
He led Billboard magazine's Top Latin Albums chart five times in the past 18 months
Juan Gabriel wooed audiences with soulful pop ballads that made him a Latin American music legend.
For devoted fans around the world, his romantic rancheras were go-to tunes in the soundtracks of their lives.
The 66-year-old music star died in Santa Monica, California, on Sunday morning, two days after a sold-out show and hours before he was set to perform a concert in El Paso, Texas.
A cheering crowd at a Los Angeles arena heard him sing to them onstage for the last time.
Word of the iconic performer's death sparked an outpouring of condolences from political leaders, rock stars and fans.
Mourners flocked to Gabriel's star on the Hollywood Walk of Fame to share memories and pay tribute as his music played in the background.
Telenovela of his life story was set to air
Gabriel, whose legal name was Alberto Aguilera Valadez, died of natural causes, Los Angeles County Coroner spokeswoman Selena Barros said.
He had 15 other US tour dates scheduled through early December, and his life story was set to be told in a telenovela airing on Telemundo.
A statement on the singer's official website announced his death.
"He has gone to become part of eternity and leaves us his legacy through Juan Gabriel, a character he created with the music he sang and performed across this world," the site said. "Juan Gabriel hasn't died, as Alberto would say, 'As long as someone exists who sings my songs, Juan Gabriel will live.'"
'Incredible' final concert
Fans who attended Gabriel's final concert in Los Angeles described an electrifying show.
"It was incredible. He played extra, for like 30 minutes," said Roberto Trebor Jacquez, tears welling in his eyes as he visited Gabriel's star on the Hollywood Walk of Fame early Monday.
Gabriel's music was moving not just because of the notes he sang, he said, but because of what he showed millions of fans.
"He represents the opportunity we had as Americans, as Latino Americans, because he came here and he just showed us that we could be poor, but we can work hard and we can love each other … His music is a reminder of what's possible," Jacquez said. "His music represents what you can actually do."
Gustavo Rivera, brother of the late Latin music sensation Jenni Rivera, told CNN en Español he felt like he was learning an important lesson as he watched Gabriel onstage Friday.
"When I walked out of there, I said, 'Now that is a concert,'" he said. "That is a man that knows what he's doing onstage."
In Gabriel's final show, the performer – who also was known for his extravagant fashion choices – wore a silky bright blue shirt. He occasionally sat atop a silver throne with plush cushions as musicians played around him.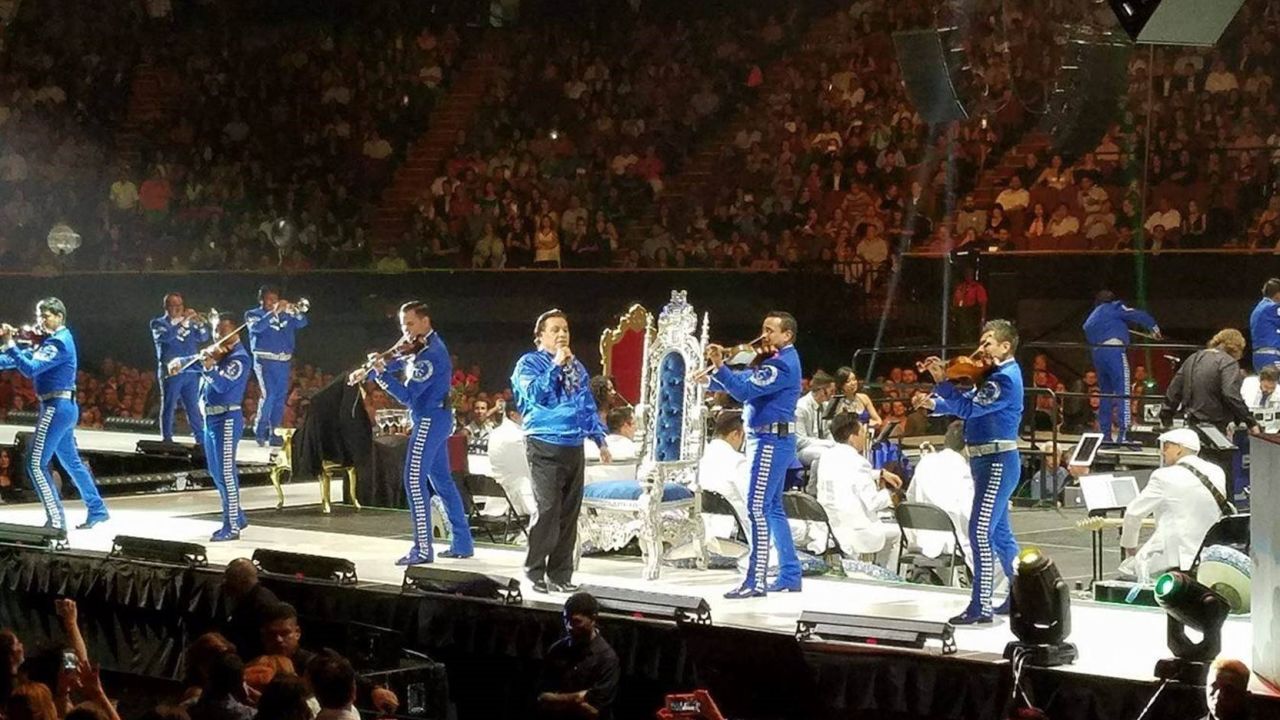 Daniel Herrera, who shared images of the concert with CNN's iReport, said he'll never forget it.
A video Herrera posted online shows Gabriel belting out ballads as people in the crowd sing along and sway their cell phones to the beat.
"I can't say how much of a blessing and honor it was to see him for his last show," Herrera said.
5 things you should know about him
100 million records sold
In his 45-year career, Gabriel sold more than 100 million records, according to his website. He also wrote songs for other artists and appeared in the 1975 Mexican film, "Nobleza Ranchera," and four other movies. His music ranged from rock and pop to Mariachi.
He was nominated for numerous Grammys and was inducted into Billboard's Latin Music Hall of Fame in 1996.
"We lament the death of Juan Gabriel, one of the biggest musical icons of our country," Mexican President Enrique Peña Nieto said on Twitter Sunday.
He added, "A voice and a talent that represented Mexico. His music is a legacy to the world. He left us too soon. May he rest in peace."
Known to his fans as El Divo de Juarez, Juan Gabriel led Billboard magazine's Top Latin Albums charts five times in the past 18 months.
"More leaders than any other artist in that span of time," according to Billboard.
His website lists more than 60 albums, with the first, "El Alma Joven," produced in 1971. His classic hits include "Querida," "Porqué me haces llorar?" "El Noa Noa" and "Hasta que te conocí."
'Like losing a family member'
Fans flocked to social media to share their memories – many of them rooted in childhood and family – of the man whose ballads resonated throughout their lives. Many said his death brought them to tears.
One fan tweeted that losing Gabriel "is like losing a family member..he was always at every party and event."
"Not only is it mourning his death, but it also feels like old wounds and memories of a childhood long gone," Erika Schwerdt told CNN. "His songs were what I would listen to when my mom cleaned the house on Sundays. They would be played at quinceañeras and house parties, and they also helped us remember our dead loved ones."
Gabriel was remembered for his impact. "We lost our Prince, our Bowie, our Elton John. Juan Gabriel broke stereotypes in our community for decades," tweeted Mariana Atencio, a news anchor on Fusion and Univison.
Another fan wrote: "In the next few days, he'll be called Mexico's Elton John, Madonna, Michael Jackson, etc. Don't believe it. Juan Gabriel was singular."
CNN en Español's Jaqueline Hurtado reported from Los Angeles. CNN's Mayra Cuevas and Catherine E. Shoichet wrote the story in Atlanta. David Williams, Eliott C. McLaughlin and CNN en Español contributed to this report.