(CNN) —
The new movie "Southside With You" depicts a young Barack and Michelle Obama, long before they were living in the White House. It's just the latest movie or miniseries about U.S. presidents before they earned that title.
Obviously, there's no shortage of movies devoted to presidents in office, most recently HBO's Emmy-nominated "All the Way" and Steven Spielberg's "Lincoln." Others, like "Amistad" and"Frost/Nixon," have dealt with stories that involved commanders-in-chief after they left office.
As for seeing presidents before they rose to greatness (sometimes incorporating the time they served), the pickings are a bit slimmer. And some – like Oliver Stone's "W.," and "Ike: Countdown to D-Day," a TV movie starring Tom Selleck as Dwight Eisenhower – are pretty forgettable.
With that in mind, here are five suggestions that might not be perfect, but are, historically or dramatically, worth the time:
20th Century Fox
"Young Mr. Lincoln" (1939): Shot in glorious black and white, director John Ford's imagined tale about Lincoln defending a pair of accused murderers features a wonderfully understated performance from Henry Fonda, shot so that it looks like he towers over the rest of the cast.
The movie also foreshadows Lincoln's political future, with eventual rival Stephen Douglas characterizing him as someone who shouldn't be underestimated. The stirring ending features Lincoln almost literally marching into history, as "The Battle Hymn of the Republic" plays on the soundtrack.
"Eleanor and Franklin" (1976): One of TV's great early miniseries, the project starred the late Edward Herrmann and Jane Alexander as Franklin and Eleanor Roosevelt, chronicling their courtship, his illness, her patient nursing and his betrayal of their marriage vows.
Told via flashback from Eleanor's perspective, the ABC production featured stellar performances and won a record 11 Emmy awards. It was followed by the movie "Eleanor and Franklin: The White House Years."
"Warm Springs" (2005): A virtual companion to "Eleanor and Franklin," this HBO movie starred Kenneth Branagh and Cynthia Nixon in the central roles, zeroing in on FDR being stricken by polio and his search for a cure and relief from the pain at a spa in Warm Springs, Ga., while gradually being prodded toward his political resurgence.
Notably, the role of FDR's imperious mother – who forbids the couple to divorce, even after Eleanor learns of his infidelity – is played by Jane Alexander.
Related: 5 Presidents and the jobs that got them started
Warner Bros
"PT 109" (1963): An account of John F. Kennedy's World War II heroism commanding the crew of a torpedo boat that sank after it was rammed by a Japanese destroyer, "PT 109" was released a few months before his death. It marked the first time Hollywood had put out a movie about a sitting president.
Cliff Robertson portrayed JFK (as Variety noted, the president had favored Warren Beatty), but the movie was only so-so and experienced interference from the White House, which secured approval over the script.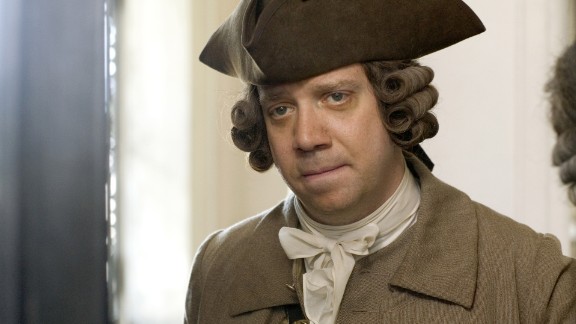 HBO
"John Adams" (2008): HBO devoted nine hours to this seven-part adaptation of David McCullough's 700-page biography, starring Paul Giamatti in the title role, Laura Linney as his wife Abigail and Stephen Dillane ("Game of Thrones") as Thomas Jefferson.
The project encompasses the full scope of Adams' public life, beginning with his entry into politics, the Continental Congress and his journey to France, as well as the indignities associated with being Vice President.
Produced by Tom Hanks, it's a handsome if stiff undertaking, meticulously recreating the period and language in ways that, just as a viewing proposition, make it both fascinating and at times challenging.