Story highlights
We need to honor Japanese journalist Mika Yamamoto, a journalist killed reporting on Syria's civil war, says Rudi Bakhtiar
Yamamoto was killed four years ago this month in Aleppo, where the continuing violence haunts the world, she writes
Editor's Note: Rudi Bakhtiar is a producer at Reuters who formerly worked for CNN. Fox News and Voice of America and was the communications director for the International Campaign for Human Rights in Iran. The opinions expressed in this commentary are hers.
(CNN) —
The first and last time I saw Japanese journalist Mika Yamamoto was on the day before she was killed in Aleppo four years ago this month.
Narges Naghdi
I couldn't help but think about Mika as the images of a blood-covered toddler being pulled from the rubble after an airstrike in the same city captured the world's attention last week. The photo of Omran Daqneesh, sitting alone and emotionless, soaked in blood and dirt, was a vivid symbol of the countless other children who have suffered the same fate, in a growing humanitarian crisis that has gripped Syria for five years.
We know about the awful human cost of Syria's civil war largely because of the fearless work of people like Mika. Bearing witness to, and reporting on, human atrocities comes with a heavy cost for journalists who go into a war zone, fully knowing they may not come out alive. To date, over 100 journalists have been killed in the Syrian Civil War, according to the Committee to Protect Journalists.
Witnessing the onslaught
The sun was punishing in its intensity on that August day four years ago. Mika and I were both on assignment along the border crossing separating Turkey and Syria. The area had just come under the control of the Free Syrian Army, or FSA, forces opposing the government of Syrian President Bashar al-Assad.
My team had returned to the border, having spent the previous 24 hours inside Syria, on the road to Aleppo, where opposition forces were embroiled in a ground battle with Assad's military. We had made it to within 10 miles of the city before being forced to turn our vehicle around. We were still dazed by having witnessed the onslaught of Assad's forces on the city residents, all fellow Syrians.
Our driver guided us through Ezaz and Tal Rafat, both cities in ruins after bombings that had destroyed homes, schools and hospitals. Economically isolated, with no access to clean water or electricity, residents were stunned from the most recent assault. We talked to many who repeatedly blamed Iran for its support of the Assad government.
At a cemetery in Ezaz, we came upon a 4-year-old girl and her younger brother standing by their father's grave. Even at 4, she seemed world-weary, bearing the look of someone who had lived much longer. Her eyes didn't seem to question her circumstances, a characteristic shared with the photos we would later see of Omran. I was overcome with shame.
My team and I had not eaten since the day before, and we had rested for only three hours overnight. We were hot, thirsty and hungry. But, I was determined to get us all to a hotel in the Turkish border town of Kilis, where we could rest for a few hours, before trying to return in the direction of Aleppo at sunrise.
The border was chaotic with FSA activity. The anti-Assad group was losing ground in Aleppo and trying to send in reinforcements. The road to Aleppo was no longer under their control, and their reluctance to admit this defeat put us in grave danger.
A taxi cab from the town of Kilis pulled up and Mika, 45, climbed out and into the calamity of the border. Her thick, black, shoulder length hair framed her gentle features. Her dark eyes darted ferociously around to take in the activity before landing on me, silently bombarding me with a million questions. I forced a smile, which at the time, I remember, was difficult to muster.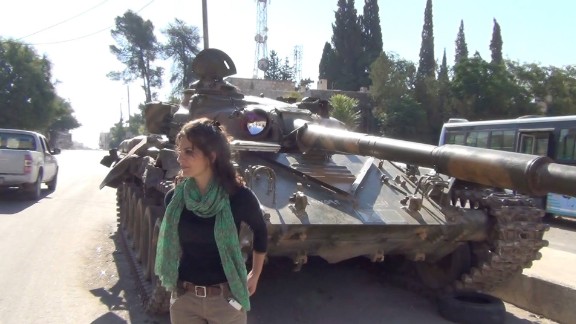 Afshin Nariman
Mika chatted urgently with a man who we later found out was her colleague and boyfriend, photographer Kazutaka Sato. I guessed that Mika had just realized that even if they were permitted entry into Syria, gaining access to some form of transportation was almost impossible.
A career of fearless reporting
Mika was not at that border crossing by accident. She had made a career out of chasing death.
Born in Tsuru, Japan, on May 26, 1967, Mika had always wanted to be a reporter, like her father, Koji Yamamoto.
After graduating college, Mika began her career in 1990 as a reporter for Asahi Newstar, before becoming one of the most celebrated correspondents for Japan Press, covering major conflict zones in Kosovo, Bosnia, Chechnya, Afghanistan and Iraq.
Mika fearlessly reported on the suppression of Afghan women in Kabul and interviewed Taliban members in Afghanistan. Mika was so concerned about the effects of war on ordinary citizens, she lectured about it at her alma mater, Tsuru University, where she also talked about the role of journalism during wartime.
She received one of the highest recognitions for journalists in Japan, the Japanese Newspaper Publishers and Editors Association's Vaughn-Uyeda Memorial Prize, for her reporting of international affairs.
Mika had even cheated death once. In April 2003, she survived a coalition airstrike on the Palestinian Hotel in Baghdad, where two journalists from the Reuters News agency and a Spanish broadcaster were killed.
Traversing the terrain of war
This was my second time inside Syria. We were told by the FSA border guards we were only the sixth news organization allowed to pass through this particular border since the FSA had taken control.
Two weeks before, my team and I had climbed into the war-ravaged region of Latakia, Syria, through a food smuggling route in the mountains south of Turkey with the help of the FSA. We traversed the difficult terrain in complete darkness for hours, while Assad's forces carried out airstrikes over women and children ahead of us.
At the time, I was on assignment for Voice of America, a US government news agency, governed by the Broadcasting Board of Governors, and meant to provide, per its charter, "an accurate, objective and comprehensive" news source in countries that otherwise would not have it.
I worked as a senior adviser for the Iran service, and as such had advised that Voice of America expose Iran's massive financial and military support of the Assad regime. My team included freelance Iranian-Kurdish journalist, Ali Javanmardi, Iranian cameraman, Afshin Nariman, and a Syrian minder named Montasser Sino.
I met my Arabic language counterpart, Bashar Fahmi, at the cemetery in Ezaz that same day. Bashar had the type of infectious smile that made you forget for an instance that you were in a war zone. He had immediately joked about his first name when we met, and I had instantly warmed up to him. Although we had only known each other for hours, you develop a strong bond when you walk through a war zone with another person.
Bashar and his Turkish cameraman, Cuneyt Unal, were working for the Arabic language news organization Al Hurra, which also reported to the Broadcasting Board of Governors. They needed transportation into Aleppo, and we had agreed to share our van with them. That left no room for Mika and her team of three.
At the border, Mika's partner, Sato, walked over to me, introduced himself politely, and asked me if there was room in the van heading to Aleppo the next day. I told him there wasn't but that it could change. Afshin and Montasser were unwilling to go back in given that we missed a near ambush earlier in the day.
Ali was off in the distance speaking quietly to one of the FSA members who had provided us with the van and the driver.
I knew if I pushed, he would go back inside with me.
But when he walked back over to me, his face had a look of notable concern. "They know you are here," said Ali. By "they," he meant the Iranian forces aiding the Assad regime.
"They know your name. And they have orders to shoot to kill you." An informant on the Assad side had relayed the message that we should leave Syria and Turkey immediately, Ali said.
"We are going to be ambushed," Ali said, hoping to jar one cautious cell in my head. "But, if you want to go in, I will go in with you."
"We were so close," I started to argue.
But even as the words came out of my mouth, I knew we had to go back. Ali was the father of two beautiful little girls. How could I ever live with myself if something were to happen to Ali? The eyes of the young girl in the cemetery hovered inside my head.
I succumbed, tears pouring down my face embarrassingly. I wasn't afraid of dying. I was more afraid of living with myself after this experience. How could we just leave all these children behind?
I walked over to Mika's partner to tell him he could take the van and driver.
He nodded excitedly, while I recounted the story that he risked being ambushed. He was unimpressed. I could tell that nothing I was going to say could stop him or Mika.
I went back to the media room to say goodbye to Bashar.
Join us on Facebook.com/CNNOpinion.
Determined to go
Bashar, like Mika, was determined to go back into Syria. We exchanged numbers and emails and he promised to connect with me once he made it back out to safety.
As I came out of the media room I saw Mika and Sato talking to each other and unloading their gear from the cab they had just rode up in.
I silently saluted Mika for her courage, and I turned and walked toward Turkey.
The van carrying Mika was attacked the next day, by troops who surrounded them. Sato told Reuters later, "We saw a group of people in camouflage fatigues coming toward us. They appeared to be government soldiers. They started random shooting. They were just 20, 30 meters away or even closer," said Sato.
Mika died at a nearby hospital after suffering a gunshot wound to the neck. Bashar, also wounded, according to reports, and taken hostage by Assad's military, has not been heard from since.
His cameraman Cuneyt was also captured by Assad's forces, but later released into Turkish custody.
Few people are willing to put themselves in unimaginable danger for others in need. Mika was one of the those extraordinary journalists, an unsung hero of our time, willing to pay the ultimate price for justice to prevail.
We must remember, and honor, her sacrifice.