Story highlights
Clinton appeared on the Jimmy Kimmel show
She offered to let Kimmel take her pulse to show she's healthy
Despite some Republicans raising questions about her health, Hillary Clinton cracked jokes on Monday about the conspiracy theories.
Clinton dismissed the claims that she's ill as "part of the wacky strategy" against her during an interview with Jimmy Kimmel in Los Angeles.
"Back in October, the National Enquirer said I would be dead in six months. So with every breath I take I feel like I have a new lease on life," Clinton joked. "I don't know why they are saying this. I think on the one hand, it is part of the wacky strategy, just say all these crazy things and maybe you can get some people to believe you."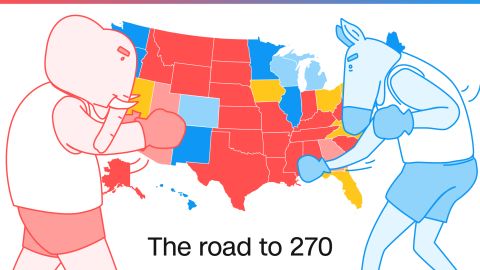 Clinton continued, "On the other hand, it just absolutely makes no sense. I don't go around questioning Donald Trump's health. As far as I can tell, he is a healthy as a horse."
Making light of the questions, Clinton asked Kimmel to take her pulse to show she's in good health – "Oh my god, there is nothing there," the host joked – and Kimmel asked Clinton to open a can of pickles to prove her strength, which the former secretary of state did.
RELATED: The new birthers: Debunking the Clinton health conspiracy
Clinton went on to dismiss the false claims by saying that Republicans are taking the campaign "into an alternative universe."
"I am out here talking about [issues] and then I have to step into the alternative reality and answer questions about am I alive, how much longer I will be alive and the like," Clinton said to laughs.
On Thursday during a speech in Reno, Nevada, Clinton will "address Donald Trump and his advisors' embrace of the disturbing 'alt-right' political philosophy," an aide said Tuesday.
"This alt-right brand is embracing extremism and presenting a divisive and dystopian view of America which should concern all Americans, regardless of party," the aide said. "In her remarks, Clinton will contrast Donald Trump's divisive views and dangerous temperament with her vision of an America that is stronger together and where everyone has a role to play in the future."
Monday's appearance on Kimmel was Clinton's third, making the Los Angeles-based show her most-visited late night show. The former secretary of state visited the show for the first time as a candidate in November and once again in March.
Clinton also commented on an issue that her campaign is currently grappling with: How to prepare for debates against Trump.
Clinton, who said she was taking the preparation seriously, added that she knows she needs to be "prepared for, like, wacky stuff."
"I'm planning," Clinton said, "on drawing off my experiences from elementary school."