Story highlights
Ross is nominated for an outstanding lead actress in a comedy Emmy
She is the first African American woman nominated in the category in 30 years
Tracee Ellis Ross is looking forward to the day that there is no longer discussion about diversity in Hollywood.
The actress is the first African American woman to be nominated for an Emmy in the outstanding lead actress in a comedy category since Phylicia Rashad was recognized in 1986 for her work on "The Cosby Show."
Ross more than understands the significance of the nomination for her role as Rainbow Johnson on ABC's very popular sitcom, "black-ish." The show – nominated for three Emmys this year including best comedy series – artfully takes on tough issues about parenting, politics and race, with humor.
Ross is very cognizant of the fact that both she, and her show, are having a moment.
"At this point in my career, and as an actor on a show that I feel so proud of, it's a very exciting moment," Ross said. "Being nominated for awards is not why I do what I do but these are wonderful, very exciting moments and the Emmys is a big one."
Ross recently spoke with CNN about diversity on television, playing a modern sitcom mom and nakedness.
How does it feel to be nominated for an award that hasn't had an African American nominee in decades?
In terms of the historical significance of being the first black woman to be nominated in the lead actress in a comedy category in 30 years, and one of only five, it really adds a whole other layer of importance.
It's another layer of importance, of intrigue on my part, asking myself, our industry and our culture the question 'Why is that?' I don't know that I've come up with any real answers.
The interesting point of conversation, for me in my own dialogue, and as I've talked to my friends and different people, is the interesting convergence right now of both race and gender – the story of women in television, the story of women in American culture, and human culture and how we are portrayed and what the belief is about who we are.
Tell us about that convergence.
I feel like there are very few opportunities for women of color to really share the complexity of what it is to be that. And also for women period. I think it's changing for women.
If you look at women [nominated this year] in this category – and the roles that they are playing – these stories are being told through their eyes, which I think is a testament to what is happening on television. It makes me feel really humbled to be in the category because there is some extraordinary talent happening.
But at the same time, if you look at why has there not been a black woman nominated in this category in 30 years, there have not been many roles there to nominate.
The other thing that is fascinating and fun to me is that I am playing a wife character. This story is not told through the eyes of Bow on "black-ish." And yet, at the same time, I am playing a very full woman.
It's a role where both career and family are expressed, with all the energy and contradictions and all that comes with being a career woman, a full-time mother and a wife.
All of that is expressed in this role in a way that I don't think has been seen before on traditional television.
There are a lot of pieces to this moment that I don't take for granted.
What is it like to play a TV mom in this era? Especially given some of the heavy subjects – including race – that "black-ish" tackles.
The traditional TV mom is a trope and I think this is a departure from that. Then to also have that mom be a black woman, in this setting of a black family with that intimacy, and in the context of race, is exciting to me.
Keep in mind that diversity does not just mean black. It means all of it – age, weight, gender. And yet there is something very powerful with what "black-ish" is doing on television.
One of the things I think is interesting with our show is that we deal with race without the objectification, because we are in the reality of the family, not looking AT the family. [The audience] is actually sharing the internal experience of it, as opposed to someone telling you about it.
That, in and of itself, changes how people relate to it.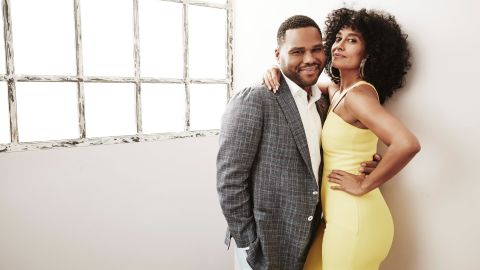 Thinking about what you said about diversity meaning so much more, are we there yet?
No!
Someone said something to me lately that I loved and I wrote it down. It was so simple and so key when it comes to this diversity question. She said "Yeah, it's still a question, cause it's still a problem." I was like 'Oh yes! That's so good!'
I long to live in a world where we do not have to ask these questions. Where we are no longer asked "Do you think women can be funny?" Like why are you even asking that question? "Can black couples [on TV] really be in love?" What? Yes!
But while we are still asking these questions, and equality still does not exist, I think it's important to have these conversations so we can unpack and pull these things apart.
I think the issue is we need to do a better job – as an industry and as a culture – of looking for equality in a colorful world that is filled with an abundance of extraordinary stories.
We as black people are not a monolithic bunch. We are not all the same and neither are women. Instead, we are all individuals who have these extraordinary stories to tell and share with each other that will enrich all of our lives and help us all become more ourselves and better people.
I think the show does a really good job of exploring so many aspects of that all in 22 minutes, while still making you laugh.
I have to ask you if there is another show you would like to appear on? Please say "Power." [Ross has tweeted about the Starz drama]
(Laughing) I really do like that show but I don't know if I am up for being that naked.