Editor's Note: Craig Sager, the longtime Turner Sports sideline reporter best known for his colorful wardrobe, lost his battle with cancer on December 15, 2016. Here's a look at our profile of him from August 2016.
Story highlights
Sportscaster Craig Sager was diagnosed with leukemia in 2014
The U.S. men's basketball team missed having NBA sideline reporter Craig Sager at the Olympics in Rio. So they sent him a special message during the broadcast at the start of the games.
"We wish you were here, man. We're gonna try to win this gold for you … you know you're a part of our family," said star forward Kevin Durant.
"Keep the faith, and we gonna do this for you," added teammate Carmelo Anthony.
The upbeat sportscaster has inspired players, coaches and fans with his "never give up" attitude during a grueling two-and-a-half year battle with cancer.
Known for his lively interviews and colorful outfits at NBA games, the 65-year-old Sager said he realized something was amiss at a game in April 2014.
"I ran into the doctor for the [Dallas Mavericks], and he looked at me and said, 'Sager, what's wrong?' I go, 'Doc, I don't know.' He says, 'You've got to go to the emergency room.'"
When Sager arrived at the hospital his red-blood cell count was so low he was near death. The veteran reporter for TBS and TNT (both networks, like CNN, are part of Turner Broadcasting), who had never missed a day of work in his life, was suddenly sidelined. The diagnosis was grim: acute myeloid leukemia.
"Your world just comes crumbling down. It's devastating," said his wife, Stacy Sager. "What he needed to do was just be strong and know that he and I can fight this together."
A son steps up
Sager went through chemo and needed a bone marrow transplant. As it turned out, his son Craig was a perfect match.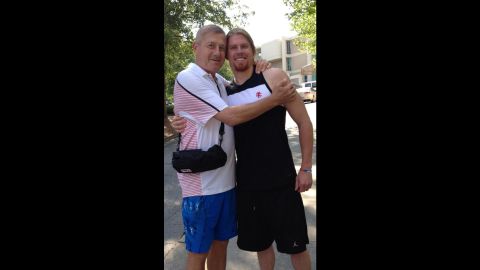 "It's a bond that you can't talk about or describe with a son," Sager said. "Now I was relying on him, and I needed him."
The transplant was successful, and Sager couldn't wait to return to the court. He received a standing ovation from fans at his first game back in March of 2015.
"It was just an incredible night," he said. "I thought that was it. I'd beat cancer, and I'd never have to worry about it again."
But the cancer came back.
Sager's only option this time was a grueling clinical trial of 14 days of chemo at MD Anderson Cancer Center in Houston. When he needed a second bone marrow transplant, his son saved his life again.
"I didn't really even think of it as donating," said his son, Craig Sager II. "We were in it together."
Sager recovered just in time for the start of the 2015-2016 NBA season.
"I went through the whole year, and I didn't miss a game. I felt great," he said.
A second relapse
Then in February, another relapse. Doctors told him that without treatment, he had three to six months to live.
But Sager has refused to let cancer win.
#SagerStrong: Fans sport splashy duds to support TNT's Craig Sager
"Craig and I had some serious conversations," said Dr. Naveen Pemmaraju, Sager's physician. "They essentially went like this: 'Doc, you gotta let me keep working.' I said, you better believe it."
"They wanted to try this outpatient chemo, and I said no problem. I was adamant. I didn't want to miss any games," Sager said. "It's where I'm supposed to be, and I wanted to be there."
Through chemo and blood transfusions, he never stopped working. ESPN invited Sager to cover Game 6 of the NBA Finals in June – the first NBA Finals of his career.
"It was a tremendous night," Sager said. "I was just glad I was a part of it."
'Stolen time'
Now Sager is back at the hospital enduring intense chemo to prepare for a rare third transplant, this time with an anonymous donor. But Sager's son is still supporting his dad any way he can.
"We almost have stolen time. I mean I've been told he's had two weeks to live five times. And each time he's fought his way through it," his son said.
The elder Sager, who has five children, said he wants "to embrace every day."
"There's no way to know how many months or how many weeks somebody has," Dr. Pemmaraju said. "I've never seen anyone as positive as him."
"The most important thing for us is just to live our normal life and [for him] to just continue to do what he loves," said his wife Stacy.
Even though Sager couldn't travel to Rio for the Olympics, he left the hospital to support the U.S. men's basketball team at their final exhibition game in Houston.
"I was really surprised that Coach [Krzyzewski] asked me to address the team [in the locker room]," he said. "It was a special moment."
Last month, Sager received the "Jimmy V Perseverance Award" at the ESPYS, the ESPN awards show. He delivered an emotional speech, declaring he "will never give up."
"I will continue to keep fighting, sucking the marrow out of life as life sucks the marrow out of me," Sager told the audience. "I will live my life full of love and full of fun. It's the only way I know how."