Story highlights
Brazil wins its first football match in Olympics, beats Denmark
OUCH - Armenian weightlifter breaks arm
(CNN) —
Katie Ledecky crushed it, again. She helped anchor the US women's 4x200m relay team and lead them to a gold medal, her third.
Brazil finally showed up to play a sport it's used to dominating – football. The boys in yellow needed a win, and they needed some inspiration too. They got it from the most famous of Brazilians, Pele.
The Samba boys finally won, after disappointing draws with Iraq and South Africa. They beat Denmark 4-0, but superstar Neymar, who was kept out of the Copa America earlier this summer specifically so he'd be fresh for the tournament in Rio, has yet to find the net.
'Final Five' takes gold
Taylor Swift broke her Twitter silence to congratulate the US women's gymnastics team after their win Tuesday.
The Final Five responded appropriately…
Speaking of epic responses, Chinese swimmer Fu Yuanhui is coming to grips with her newfound fame – not for the bronze medal she won in the 100m backstroke final on Monday, but for her facial reactions.
Fu was THRILLED with her time in the semifinal Sunday. "I was that fast? I am so happy!" she enthusiastically told Chinese state broadcaster CCTV after the race. Her facial reaction was priceless.
She also had a noticeable reaction after the bronze medal was placed around her neck Monday.
Since then, she's spawned multiple memes and parodies.
Social media collectively went "awww" when US cyclist Kristin Armstrong showed her son the gold medal she won in the individual time trial. BTW, she turns 43 on Thursday so be sure to wish her a happy birthday.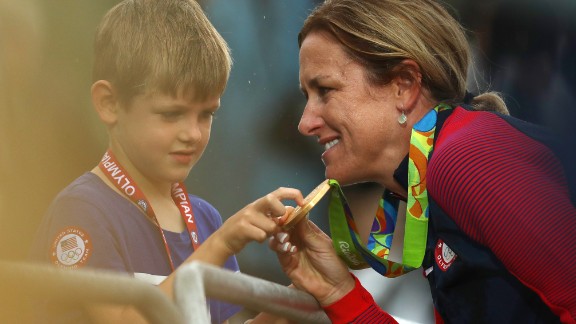 Bryn Lennon/Getty Images South America/Getty Images
She was also congratulated by another famous cyclist with the same last name.
That's not awkward at all.
On the other end of the spectrum, social media collectively went "OUCH" when Armenia's Andranik Karapetyan spectacularly broke his arm during the weightlifting competition.
We're warning you, it's pretty painful to see, but if you really, really, really want to, click here.
Here's how others reacted…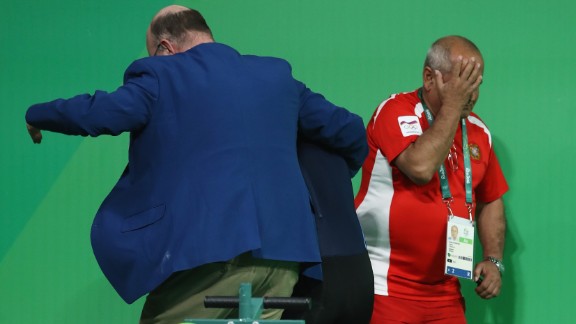 Julian Finney/Getty Images South America/Getty Images
US gymnast Gabby Douglas is being slammed by Twitter trolls, all because of her natural Afro hairstyle. It's not the first time Douglas has come under scrutiny for her hairstyle choice. She faced similar criticism in the 2012 Olympics.
Many shouted down the negative chatter, including R&B star Ledisi, who posted, "I love your hair but most importantly, I LOVE your talent and spirit!"
Dan Craven was in a quandary about competing and did what every undecided athlete would do. The Namibian road cyclist appealed to social media to help him decide if he should take part in Wednesday's men's individual time trial.
And sure enough, his loyal followers responded, including this commenter, who couldn't possibly have foretold the trial results.
Craven earned 35th place (there were two non-starters) with a finish time of 1 hour, 27 minutes and 47 seconds. Last, but definitely not least.
For a recap of the day's events, get caught up here.