Story highlights
Fiji takes the gold medal in men's rugby sevens after beating Great Britain
It's the first Olympic medal in Fiji's history
South Africa took the bronze medal
As the final whistle sounded Fiji's rugby sevens captain Osea Kolinisau sank to his knees, struggling to take in what he and his team had achieved.
The Pacific island nation's long wait for an Olympic medal was over. And when it finally arrived, it was a gold in a sport embraced with near-religious fervor among its 900,000 people.
Billed as heavy favorites ahead of the tournament, Fiji delivered with an emphatic, bruising 43-7 defeat of Great Britain.
"I was just thankful to the lord for blessing us and giving us an opportunity to win in a mega-sport arena like the Olympics," Kolinisau told a press conference that began with the sound of applause.
"I never dreamed of being an Olympian, let alone being a medalist, let alone being a gold medalist. So I was just thankful to up above for the journey God has brought me on."
This landmark triumph arrived at Fiji's 14th Summer Games and in sevens' first appearance in the Olympic program. The raucous atmosphere at a packed-out Deodoro Stadium suggested the country and the sport had been well received by the locals.
And in a bid to further endear themselves to one particular distinguished guest, Fiji's players knelt when handed their medals by Britain's Princess Anne.
Among the many Fiji fans in the crowd, many of whom had adopted the team over the course of the day, was Etu Baravilala.
The 48-year-old stood on the front row throughout Fiji's golden day, beating his bare chest and bellowing at the top of his lungs.
READ: Fiji rugby's secret to sevens success
He could scarcely be any further from his day job as a prison guard in Hawaii. Baravilala has lived in the US for 30 years but his heart still belongs to Fiji, the land of his birth.
Bedecked in traditional warrior dress, Baravilala sought to infuse his countrymen on the field with "mana" – a term which refers to granting people or objects supernatural power or strength. It seems his efforts paid off.
Asked what this win would mean to the people of Fiji, he had a simple demand.
"We want a day off!" he told CNN. "That'd be good!"
In an ironic twist, Fiji's victory was masterminded by a Brit. Ben Ryan has coached the team for three years and is credited with instilling discipline into his team's outrageously talented players.
"I feel very lucky that I'm in charge of such an unbelievable group of athletes with a country behind us that is so passionate about rugby sevens," said Ryan.
"I try to explain it to people who don't go to Fiji or who have never been and it's impossible really," Ryan added on his adopted nation's love for sevens.
"The boys are front page and back of newspapers, six o'clock news… You come out of the airport and there's a 20-foot billboard of them. They're superstars in Fiji.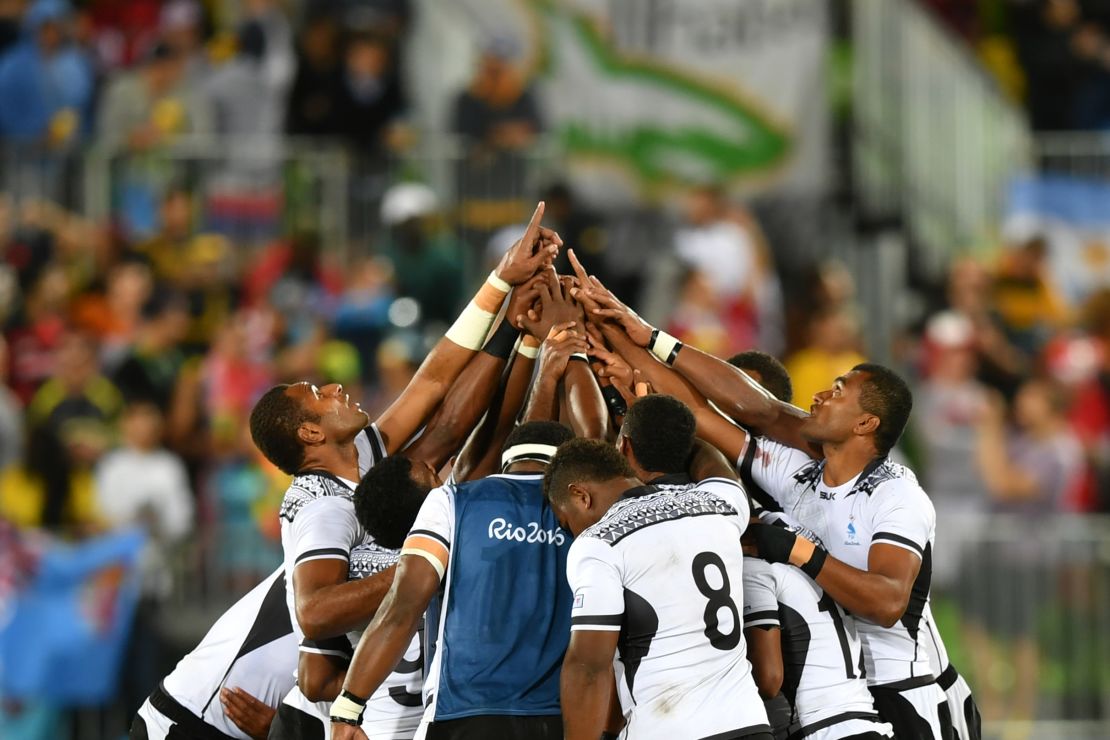 "I can have an hour-long drive to work and I can see 50 villages playing rugby. It's a passion. It's the national sport. They won't be having parties in sporadic parts of the country, it will be across the entire nation."
The celebrations come at a time when many in Fiji are still struggling after the devastating effects of Cyclone Winstone, which killed more than 40 people and left more homeless in February this year.
A first Olympic medal, especially in rugby, will doubtless be a welcome distraction.
"Rugby is like a religion in Fiji, and we're already a very religious country," deputy editor-in-chief of the Fiji Times, Elenoa Baselaia, told CNN.
"It's normal that we go to church on Sundays, it's also normal that everywhere you turn, there is people playing rugby every afternoon.
"Whether it's with paper scrunched together to make a ball, it's with bottles or a real rugby ball, somebody in the neighborhoods is playing rugby."